Talk of the Town
The TED Talk Club has been able to meet virtually and has high hopes for the end of the year.
North Allegheny's TED Talk Club was halted due to recent pandemic complications and sat idle in the back burner of NAI teacher Mr. Hull's mind for almost over a year. It was recently revived, however, by the hard work of NASH junior Coleman Walsh and NAI sophomore Rajat Reddy.
The club focuses on developing public speaking skills, learning about topics each individual student is interested in, and finding confidence in oneself.
Due to the ongoing issues from COVID-19, like most other clubs, TED Talk Club had to adapt and change. For the time being, all club meetings will be held over Zoom. Breakout groups replace small group sessions in the hallways during meetings, and Google comments replace direct feedback from club leaders.
COVID-19 restrictions also limit the ability to host large public speaking events, which in return, will be replaced by virtual presentations broadcasted to all that wish to participate.
"It is a great opportunity for kids that aren't comfortable with public speaking to develop the skill with a topic they're knowledgeable about," Walsh explained.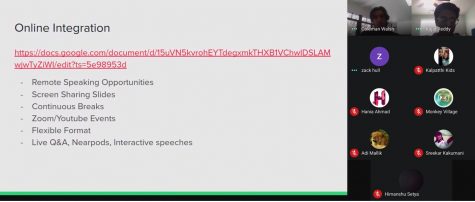 An average meeting consists of workshopping topics and helping members decide on what they want to center their talk around. Sometimes, this takes a few tries to figure out.
Eventually, once members find their topics, the rest of the meeting time is used to review what has already been done and help improve each student's talk.
All meetings are planned to occur online, in hopes of an end-of-the-year event being held in person—a final TEDx event, offering members a chance for kids to present their work on a more significant level in front of fellow peers.
"This club has never been more important than now," Walsh said.
The club is a platform for students to speak on what they're interested in and help encourage a more substantial discussion about the issues they're passionate about. 
The club's sponsor, Mr. Hull, grew interested in creating a safe space for students to speak freely about what they are passionate about outside of the classroom.
The club began in the 2019-20 school year, accepting a grant from the Remake Learning Foundation, and also recruited multiple local area schools to present TEDEd Talks on the topic of "Global Citizenship."
"TED club is about 'what-ifs,'" Hull explained. "What if we can reach out to multiple schools? What if we can get published on the TED website? It's exciting to think about the endless opportunities that the club offers." 
For Hull, the club is an opportunity not only for its members but also for its audience.
"Teenagers have so many smart things to say, and I don't feel like people get to hear that enough," he added.
TED Talk Club is now running every Thursday after school until the end of the school year. Interested students should email [email protected] for more information.