Back in the Stands
Attending events that were once common occurrence can provide the first glimpse of what life could look like after the pandemic.
Two weeks ago, I sat at PPG Paints Arena, with a box of nachos on my lap, a bottle of root beer in my hand, and tears in my eyes. The Pittsburgh Penguins skated onto the ice for their warm ups, and I was convinced that the sounds of skates gliding along the smooth ice and pucks hitting the boards were the best things I had ever heard. It was bittersweet and beautiful and, overall, incredibly emotional.
You might be thinking that I was overreacting to a hockey game, and, to be fair, I have almost unnecessarily cried over one or two of Sidney Crosby's mesmerizing backhanded goals before, but that night was special. It was the first time I had been to a hockey game in 14 long months and, more importantly, the first time I had felt any sense of normalcy in an entire year. 
Before the pandemic hit, every one of my Christmas and birthday gifts involved Penguins tickets. My friends and I would spontaneously buy cheap seats and head downtown for something exciting to do. Being at a hockey game was my idea of a perfect night. 
In September, I actually wrote about how much I missed going to hockey games and how not having them around as some kind of constant made the world even weirder. I didn't know when I'd be able to go to another one or if I'd ever feel comfortable around a large group of people again. Returning to PPG Paints Arena was a milestone for me. 
So, yeah, after a year of disappointment, anxiety, and global suffering, watching Sidney Crosby trace the M on the McDonald's logo on the ice— an infamous superstitious ritual of his— almost made me cry. It was the first thing I did in twelve months that didn't feel ruined, or at least dramatically affected, by COVID-19.
Of course, there were safety precautions, including masks and spaced out seats. The building was then only allowed to hold 15% of its capacity, which has since been increased to 25%. All tickets were sold in pods of two or four seats, and each of those pods were six feet away from each other. Everything from scanning your ticket at the gate to buying concessions was contactless.
"
It was all so familiar, and I think that's why I was so moved. When everything in the world feels uncertain, that familiarity is sorely missed."
Some other differences were a little disappointing. The restaurant that sold my favorite barbeque sandwiches was no longer there. I couldn't park my car a few miles away and ride the T-train to the arena like I usually do, both because I wanted to limit my exposure to others and because the desolate city without its normal commuters and visitors felt much more intimidating.
But, for the most part, I didn't even care about those changes. Every single usher we walked past enthusiastically welcomed us back. The arena roared to life as the lineups were announced. The screen above the scoreboard showed a cheesy Pittsburgh tribute video that, once again, made me way too emotional. Jeff Jimerson sang the national anthem. The crowd booed when the Penguins couldn't get any shots off on the power play, a few individuals who have probably never played hockey before in their lives screamed at the professional players to "shoot the puck," and we all cheered when they scored three goals in 61 seconds.
And when the Penguins beat the New York Rangers 5-1, Mike Lange's voice proclaimed that "Elvis has just left the building."
It was all so familiar, and I think that's why I was so moved. When everything in the world feels uncertain, that familiarity is sorely missed. Seeing that, even after the coronavirus, Crosby will still have his pregame superstitions, the same song and obnoxious horn will still sound after the Penguins score a goal, and Pittsburghers will still be Pittsburgers was comforting.
I went home feeling ecstatic, hopeful, and grateful. I had just spent three hours with someone I loved watching a sport I loved, surrounded by strangers also with people they loved. Maybe it took a once in a lifetime plague to make me appreciate the beauty in that, but I'm going to do my best to never take it for granted again.
Sure, for most people, it was just a hockey game, but it was also a very welcome step in the right direction. And the promise of more nights like that— more familiarity, more "welcome back"s, more community— is enough to get me through the rest of the pandemic.
About the Writer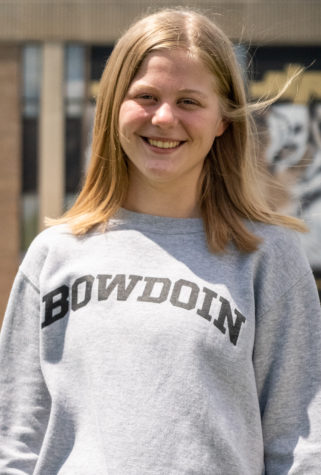 Kristen Kinzler, Co-Editor-in-Chief
Kristen Kinzler is a senior at NASH who loves expressing her opinions and drinking excessive amounts of coffee and tea. When she's not writing or rewatching Supernatural for the fourteenth time, she can probably be found playing lacrosse, reading, or watching hockey. She plans to attend Bowdoin College next fall.