Remember When?
While movie theaters are not the same, hopefully in the near future they will be back to normal.
The lights slowly start to dim, the chatter dies down, and I, along with everyone else, stare in anticipation at the screen in front of me. After watching all of the trailers on TV and YouTube, I excitedly wait for the movie that I have been waiting to watch for months. 
One of my favorite things to do during my free time was to go see movies. I found nothing more relaxing than grabbing dinner with a friend before and then seeing a movie at the Cinemark in McCandless Crossings. 
I was instantly hit with the aroma of popcorn when I entered the theater, and I saw groups of friends and families waiting in lines for tickets or debating over which snacks to get. 
Though some people find going to movie theaters a less social experience, I always thought it was enjoyable to see an entertaining or thought-provoking movie and be able to share and discuss it with others. 
After waiting in line to buy tickets with my friends, we would always instantly go to one of the most anticipated parts of the movie experience- the snacks. From popcorn, slushies, sodas, candy, and so much more, there was never a lack of options for over-priced food and beverages.
I loved getting to the theater early with my friends to get good seats and then settling in before the movie started. By the time the movie trailers at the beginning finished, I usually was more than halfway done with my seven-dollar popcorn.
During the movie, I was transported to a whole new world. Whether I was sent back in time or thrust forward into a future dystopian world, there was always a new and enthralling plot to entertain me. I loved watching everything from historical fiction to science fiction movies because it was refreshing to see new and different things. 
By the end of the movie, I felt like I experienced a whole new life, and I never even had to leave my seat. There is something surreal about walking out of the movies late at night. When the street lights and fresh air hit, it is almost like being grounded back to reality. I do not think that I have ever found another experience that replicated this feeling exactly. 
While I went to the movies at least every few weeks or months, I always took the experience for granted. It was something fun to do, but I never realized how much of a pleasant escape from reality it was until it was taken away. 
Now, while theaters might slowly be reopening, the experience is fundamentally different. Big, crowded rooms of strangers are no longer an option. Also, movie production was halted for months, so there are barely any movies showing either way.
During the time that people most needed an escape from what was going on in the world, it was not even an option for them. Of course, there are luckily many streaming services and options for people, but it is not quite the same as the big screen. 
Hopefully, in the near future, it will be safe again for people to see movies and experience the magic of the theater. I do not know when that will happen again, but I know that I will be there. Until then, I just have to remember when I got to go and look forward to better days.
About the Writer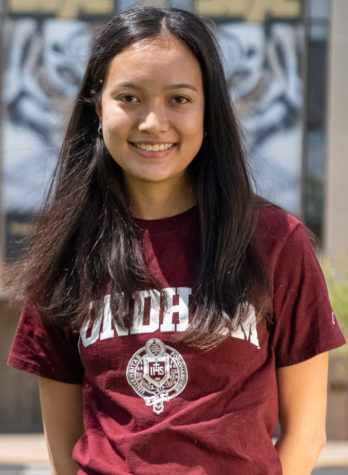 Emma Kim, Staff Writer
Emma Kim is currently a senior at NASH. She enjoys playing field hockey and participating in different clubs. If she is not doing that or homework, she is most likely reading a book or watching too much Netflix.