Good Eggs
The TigerThon organizers are raising funds in a unique way this Easter.
While the pandemic made it hard for TigerThon members to hold their typical annual event, the event captains have not given up the on their goal of raising money to support the fight against childhood cancer.  And their latest fundraiser, an Easter egg hunt, is quite in season.
For NASH senior and TigerThon captain Jordan Richards, raising funds during a pandemic is posing a unique challenge and opportunity. 
"The pandemic has definitely made this year challenging in ways that we wouldn't have expected, " Richards said. "We are unable to do a lot that Matt [Turzai] and I had been planning since freshman and sophomore year," she continued. "We could definitely be having a more successful year without the pandemic, but one thing we've learned to do is roll with the punches and make the best out of the cards that we have been dealt." 
TigerThon member and NASH senior Kennedy Stana feels similarly.
"The pandemic has really affected us," Stana said. "Not being able to do a lot of the same events that we love doing because of social distancing rules has been a huge challenge." 
The annual event was cancelled last year, but the organizers' hopes have rebounded this year, as their numbers attest.
"TigerThon is composed of 39 captains, including myself and Matthew Turzai, the head captains, and 175 committee members across both NASH and NAI," Richards said.
This year, the group found a new way to raise funds for their various charities — taking an egg hunt to the homes of NA families and hiding them in their yard the night before Easter.
"
We needed 8,000 easter eggs ordered from Amazon. You'd be shocked at the size of the boxes that showed up at my front door."
— Jordan Richards, TigerThon Captain
"We are filling the eggs with candy that was donated from our captains and committee members," Richards said. "The idea was sent to us by a captain's parent. She saw something similar to it on Facebook for another school district and we just used it as a guideline."
The idea quickly gained support and attracted plenty of donors who are all eager to help the cause as well as enjoy a special Easter Day activity.
"So far, we are at 195 sign ups for the fundraiser. We definitely have our hands full," Richards said. "100% of these proceeds go to TigertThon's grand goal of $100,000. TigerThon supports UPMC Children's Hospital oncology and hematology departments as well as a local organization, Pennies from Heaven, run by an NA family, Joni and Jon Perry."
While Tigerthon has taken time to plan many events through the years, they were still able to form the idea for their egg hunt quite quickly.
"The plan for the egg hunt was honestly somewhat last minute," she explained. "Once we got approval from Dr. Dirda, we spent about three weeks getting it all planned and bringing in orders." 
Nevertheless, there were still plenty of preparations that needed to be taken care of.
"We needed 8,000 easter eggs ordered from Amazon," Richards said. "You'd be shocked at the size of the boxes that showed up at my front door."
While the pandemic presented a whole host of new obstacles, it was not the only worry for the organization.
"We are a little bit concerned about the weather, but it's nothing we haven't handled before, and a little rain has never hurt anyone," Richards added. "Most people with big dogs have let us know and given us a fair warning, not really about the dog, but the surprises they leave around the yard so we know what to avoid."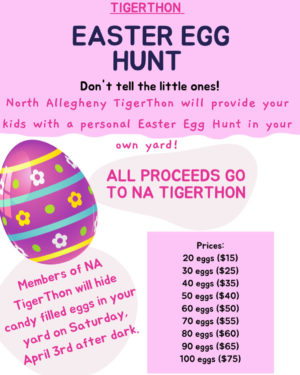 The egg hunt is, of course, the main priority for now, but the organizers will have their sights set on other goals shortly after this event concludes.
"We're organizing the classic senior water gun game called 'Elimination'," Richards said. "We are also hoping to have the actual dance marathon at the end of the year like we have in past years." 
While things may not have gone exactly to plan for anyone this year, club leaders and members alike share a sentiment of hope for the future.
"It's awesome that kids still want to be involved," Stana said.
For Richards, there are no signs of slowing down now.
"Keep your fingers crossed and have high hopes for the end of the year event becoming a reality," she said. "We are trying our hardest to make sure TigerThon 2021 is a go and we can celebrate all of our year-long efforts, not only as captains and committee members, but the school as a whole."
About the Writer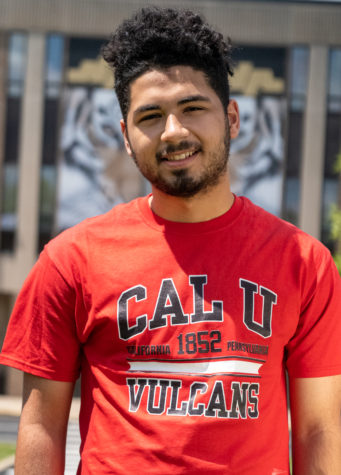 Christiaan Titus, Staff Writer
Christiaan Titus is a senior at NASH and is beginning his first year writing for the Uproar. He is also a member of the Multicultural Student Union, as well as the Social Justice Club. Some of his favorite activities include playing soccer, watching Impractical Jokers, and running.