Oscars 2021: Best Picture Nominees
These eight films will contend for the grand award at the 93rd Academy Awards.
For only the fourth time in its history, the Academy Awards have been postponed from their usual February date. Due to COVID-19 precautions, the 93rd Oscars ceremony will now take place on April 25 at 8pm, without in-person attendance.
Nominations were announced about two weeks ago, in categories such as Best Picture, Best Director, Best Actor/Actress in a Leading Role, and more. The 2021 Best Picture nominees are The Father, Judas and the Black Messiah, Mank, Minari, Nomadland, Promising Young Woman, Sound of Metal, and The Trial of the Chicago 7.
******
Producers: David Parfitt, Jean-Louis Livi and Philippe Carcassonne
Director: Florian Zeller
Writers: Florian Zeller and Christopher Hampton
Genre: drama
The Father, a drama directed by Florian Zeller, is one of this year's eight nominees. The film follows the story of a man named Anthony (Anthony Hopkins), who suffers from dementia but refuses assistance from his daughter (Olivia Colman) in his old age. Over the course of the film, he tries to understand his changing circumstances during his heartbreaking mental decline. In his hardships, he begins to doubt his loved ones, his ever-shifting mind, and the fabric of his reality.
******
Producers: Shaka King, Charles D. King, and Ryan Coogler
Director: Shaka King
Writers: Will Berson, Shaka King, Kenneth Lucas, and Keith Lucas
Genre: biographical/historical drama
Shaka King directs the story of Fred Hampton (Daniel Kaluuya), a young activist from Illinois. After the charismatic Hampton becomes the Chairman of the Black Panther Party, tensions increase between him and the government, the FBI, and the Chicago Police. In order to shatter the impending revolution, the authorities must conspire with someone on the inside: Hampton. FBI informant Bill O'Neal (LaKeith Stanfield) infiltrates the Black Panther as he tries to gather information about Hampton.
******
Producers: Ceán Chaffin, Eric Roth and Douglas Urbanski 
Director: David Fincher
Writer: Jack Fincher
Genre: biographical comedy/drama
The year is 1940. Film studio RKO hires a 24-year-old filmmaker, Orson Welles (Tom Burke), giving him a contract that grants him full creative freedom for his films. Welles hires Herman J. Mankiewicz (Gary Oldman), a recovering alcoholic, to write the screenplay for his first film. Mank follows the story of Mankiewicz racing to finish the screenplay for Citizen Kane, which is an iconic film even to this day.
******
Producer: Christina Oh
Director: Lee Isaac Chung
Writer: Lee Isaac Chung
Genre: drama
Tired of his life as a chicken sexer in California, Jacob Yi (Steven Yeun) yearns to own his own piece of land. He relocates his Korean-American family to rural Arkansas, despite their skepticism. This drama, which takes place in the 1980s, encapsulates the theme of chasing the American dream. However, Yi and his family learn that new beginnings are often challenging and that their dreams are easier said than done. Amidst the challenges the characters face, they learn the true meaning of family.
******
Producers: Frances McDormand, Peter Spears, Mollye Asher, Dan Janvey and Chloé Zhao
Director: Chloé Zhao
Writers: Jessica Bruder (book) and Chloé Zhao (screenplay)
Genre: drama
After losing everything in the Great Recession, Fern (Frances McDormand) decides to pack her van and set off on a journey through the American West. Fern lives as a modern-day nomad, exploring life outside of conventional society and learning lessons along the way. The film explores societal constructs, as well as the meaning of happiness and home. 
******
Producers: Ben Browning, Ashley Fox, Emerald Fennell and Josey McNamara
Director: Emerald Fennell
Writer: Emerald Fennell
Genre: crime/drama/thriller
Cassie (Carey Mulligan) believes that some wounds never heal. Haunted by a crime from her past, which involved her friend Nina, Cassie discovers the perfect way to deal with her troubling past. At night, she frequents her local bars and nightclubs, pretending to be drunk and vulnerable. Wanting to avenge Nina, Cassie goes on the lookout for wolves in sheep's clothing in order to teach them a lesson. This dark revenge comedy/thriller addresses rape culture and the emotional effects of a traumatic experience.
******
Producers: Bert Hamelinck and Sacha Ben Harroche
Director: Darius Marder
Writers: Darius Marder, Abraham Marder, and Derek Cianfrance
Genre: drama/music
Following a series of one-night gigs, punk-metal drummer Ruben (Riz Ahmed) starts to experience intermittent hearing loss. After a specialist tells him that his condition will worsen if he continues performing, Ruben fears his music career may be over forever. His bandmate/girlfriend Lou (Olivia Cooke) sends him to a secluded sober house for the deaf, hoping it will help him recover from his heroin addiction and learn to adapt to his hearing loss. Ruben then has to wrestle his hopes of regaining his passion and the life he once knew.
******
Producers: Marc Platt and Stuart Besser
Director: Aaron Sorkin
Writer: Aaron Sorkin
Genre: historical drama
The Trial of the Chicago 7 takes place during the 1968 Democratic Party convention in Chicago, Illinois. The convention is interrupted by protests by activists from the Students for a Democratic Society, led by Tom Hayden (Eddie Redmayne), and the militant Yippies, led by Abbie Hoffman (Sacha Baron Cohen) and Jerry Rubin (Jeremy Strong). When the protests lead to a violent clash with local authorities, seven of the accused ringleaders are charged with Conspiracy. Over the course of the unfair trial, the Chicago 7 must overcome their differing political philosophies in order to stick together in their fight for justice.
About the Writer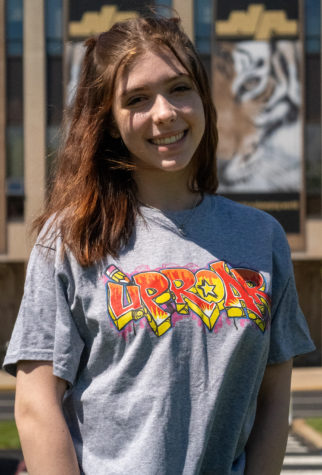 Michaela Golik, Staff Writer
Michaela Golik is a junior at NASH, and it's her first year writing for The Uproar. She enjoys dancing, spending time with her friends and family, painting, and writing. She loves filmmaking and aspires to be a director. When she's not working or dancing, you can likely find her online shopping or daydreaming about traveling the world.