Charming Eateries Around Pittsburgh
Unique in their own way, there are multiple eateries and bakeries throughout the Pittsburgh metro area that are most definitely worthy of the short drive. Unbeknownst to many, these hidden gems are sure to catch the eye of any food enthusiast. Each encapsulating a distinctive vibe, the places listed below are nothing short of delectable.
Geppetto's Cafe
Located in the heart of Lawrenceville amongst the hustle and bustle, Geppetto's Cafe is as charming as it is quaint with its combined playful and industrial decor. Adorned on the inside with peculiar hanging puppets and mini umbrellas, Geppetto's is known for its assortment of sweet and savory authentic European crepes. Its friendly and warm atmosphere makes for an all around enjoyable experience.
Oakmont Bakery
Serving Pittsburgh high quality goods since 1988, Oakmont Bakery takes the cake as one of the largest retail bakeries in America. Oakmont sells cakes with extravagant, eye-catching designs and mouth-watering pastries. Oakmont has received many awards including "Retail Bakery of the Year" in 2010 by Modern Baking magazine, the most prestigious award in the retail baking industry, which is only given to one bakery in the country each year.
Naturoll Creamery
Also found in the heart of Lawrenceville, Naturoll Creamery is Pittsburgh's original rolled ice cream, featuring over 60,000 combinations of different ingredients. Applying techniques popular in Hong Kong and Thailand, Naturoll Creamery has perfected the art of rolled ice cream and has an assortment of fun flavors to choose from.
Prantl's Bakery
First established in 1960 and found in Shadyside, Prantl's Bakery is best known for its delicious world-famous almond cake. Following German tradition due to its array of unique pastries such as coffee cakes filled with nutcakes and traditional fruit danish, Prantl's serves high quality goods. It has won multiple national awards, toted as the "Best Cake in America" by the Huffington Post, referred to as the "Best Cake in Pennsylvania" by the Food Network and also "Top Places to Eat" by the Food Network.
Caffé Mona
Located in Bloomfield, Caffé Mona is a Euro-style cafe that offers a variety of breakfast, lunch, and brunch options. Gourmet crepes, bagels, french toast, sandwiches, etc. make for a plethora of choices to choose from, being either American or French cuisine. Its dining features colorful umbrellas overhanging a quaint patio, and its interior consists of local artwork.
La Gourmandine
Yet another gem in Lawrenceville, La Gourmandine is an authentic French bakery. La Gourmandine strives to give off the ambiance of a traditional boulangerie, or bread bakery common throughout France. Their baked goods consisting of pastries, cakes, and bread are hand-crafted and made from scratch using special techniques.
Everyday Noodles
Established in Squirrel Hill, Everyday Noodles is a Chinese restaurant that is most known for its fresh, handcrafted noodles that are made daily. Customers can watch the noodles be made behind a plate glass window, and choose from a multitude of either hot or cold noodles and dumpling options.
Burgh'ers Brewing
Located in the quaint village of Zelienople next to Historic Harmony, Burgh'ers Brewing is known for their gourmet burgers and rosemary infused french fries. For the over-21 crowd, it is also a craft brewery, which brews their own beers on site. Burgh'ers Brewing is dedicated to their sustainable practices, priding themselves in their local sourcing as all ingredients used in the restaurant are purchased within a 200-mile radius from local farmers. They also enforce a no-paper-napkins policy. In fact, the burger joint has earned a Platinum Design from Sustainable Pittsburgh in their efforts to be a responsible restaurant, the organization's highest honor.
Gaby Et Jules
Selling macaroons and exquisite chocolate and pastries, Gaby Et Jules delivers complex flavors and textures to anyone stopping by.The upscale French bakery was founded by David Piquard, who came from Metz in the Alsace-Lorraine region of France. David was so dedicated to his gift of making pastries that he left his award-winning career in France when asked in 2010 to be French Bistro Paris 66's Head Pastry Chef. He brought his 20 years of experience to Gaby Et Jules with his role as Executive Pastry Chef.
The Two Fraus Bakery
Farther out in Harmony is The Two Fraus Bakery, a sure-to-be delight for all soft pretzel lovers. Known for their German and Hungarian baking traditions, Two Fraus Bakery uses organic, natural ingredients for the majority of their baked goods. If this is right up your alley, the bakery has pretzel Saturdays, where customers can choose from a wide variety of flavored pretzels for the day and observe as the pretzels are crafted.
This selection of eateries is bound to bring flavor to your palette and satisfy your taste buds. If you're willing to go a little out of the way to try unique food, check out these places!
About the Writer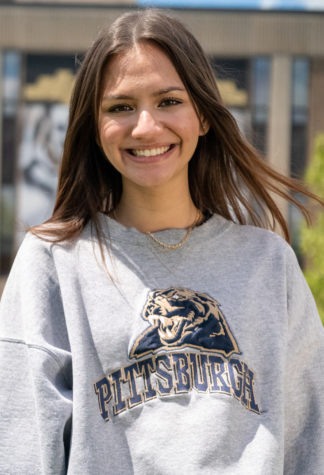 Sofia Brickner, Senior Staff Writer
Sofia Brickner is a senior at NASH who enjoys listening to oldies, watching movies, skateboarding, and playing the ukulele. When she is not working you can find her frequently adding new music to and listening to her Spotify playlists religiously, as well as editing movies.