NASH to return to hybrid model
The district announced on Tuesday afternoon that NASH and NAI will once again enter a hybrid instruction model.
Senior Will Palicki returned to in-person school on Tuesday after completing a full quarter of NACA and was excited to finally see his friends and teachers again. Later that afternoon, however, he was shocked when it was announced that he would spend even more time learning from home.
"I really liked coming back in person," he said. "It finally felt like a normal school year again."
On Tuesday afternoon, the district issued an email announcing plans in returning back to a hybrid instruction model. This announcement was made after the county reported a substantial level of community spread for two weeks.
"Just my luck," Palicki said. "The day I come back, the district decides to go back to hybrid."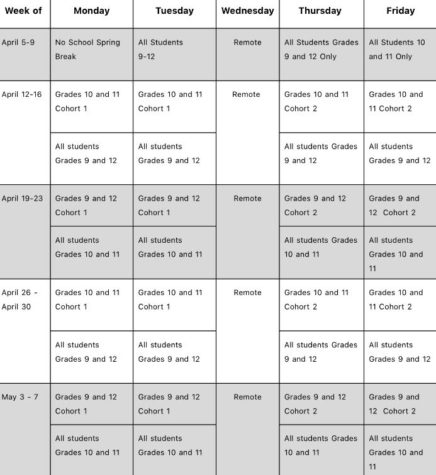 Starting this Thursday, April 8th, NASH and NAI will enter a hybrid model, similar to that used while the district phased into full-time. 
On Thursday of this week, seniors will be in person while juniors are online, and vice-versa on Friday. Next week, seniors will attend full-time in-person, and juniors will follow the cohort schedule. These plans are set to alternate between juniors and seniors weekly for four weeks, although there is a chance of it being cut short.
"If the county enters moderate or low level of transmission for two weeks in a row, all students will return to a four-day-a-week full in-person instruction," the district noted in the email.
The announcement was met with mixed opinions districtwide.
"I fully support the district taking these steps for our safety," Palicki said. "It's a strange transition from NACA back to the building, so I'm glad to know I'll be safe."
Since the start of this school year, the district has made many last-minute changes to instruction models, leaving many students unsurprised by Tuesday's announcement.
"At this point," senior Nova Kroll said, "I'm just tired of the constant switching back and forth between in-person and remote instruction."
Unlike Kroll, others were shocked by the instruction change, thinking local COVID-19 case numbers were headed in a positive direction.
"I heard a rumor recently that we were going to be switching to five days a week," senior Alexis Arrigo said. "Because of this rumor, I'm even more surprised by this sudden change."
Situations like Tuesday's announcement were what made Palicki choose NACA in the first place.
"When the third quarter started, I thought the district was moving very quickly while phasing into full time," he said. "I didn't like the uncertainty of staying in-person or having to move online at sudden notice."
As graduation is quickly approaching, however, Palicki was seeking the feeling of traditional high school again.
"I didn't want to regret staying remote for half of my senior year," he said. "I decided to go back because I didn't want to miss out, but now, I still am, and so are my friends."
As NASH begins to transition back into the hybrid model, the district is urging students to continue following the Commonwealth Mask Order, report any positive COVID-19 cases to the building nurse, and continue completing the daily symptom screening checklist.
Although Tuesday's announcement was less than ideal for some, Palicki is trying to seek the positives in remote learning.
"I suppose my first day back was too good to be true. At least, I'll have more chances to nap from home," he said.
About the Writer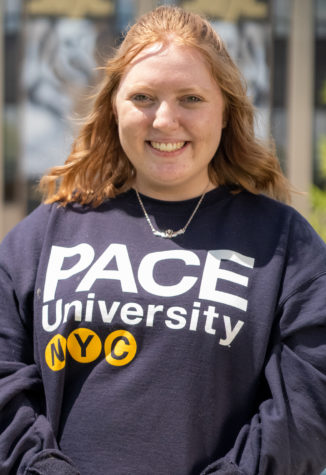 Lucie Flagg, Co-Editor-in-Chief
Lucie Flagg is a senior this year. She enjoys the finer things in life, such as sushi, napping, and her dog, Daisy. Along with writing for The Uproar, she also contributes to NATV. Outside of school, Lucie works at Naturally Soergel's, and she watches Impractical Jokers whenever that's not happening. Lucie plans to attend Pace University in New York City next year to pursue a career in media production.