The Truth About Georgia's New Voting Laws
The state's new voting laws have drawn criticism across the country.
The State of Georgia recently passed a number of new voter regulations that have stirred up controversy throughout the nation, and the new rules have left many Americans confused about what they really mean. Many Democrats have claimed that these new regulations make it harder for minority citizens to vote, and many large, Georgia-based corporations have been pressured to speak out about the laws.
In the 2020 election, Democrats won the state of Georgia for the first time since Bill Clinton took it back in 1992. This key part of President Joe Biden's victory was made possible by record turnout in the state, mostly due to the introduction of mail-in ballots due to COVID-19. Mail-in ballots are here to stay, so the state's new laws aim to increase security around them for future elections.
In the future, absentee and mail-in ballots will require a valid identification to be counted. While ID has always been a requirement for in-person voting, it had not been for absentee ballots. Voters can submit their driver's license number or a photocopy of another form of ID should they not have a driver's license. 
Other measures are being taken to speed up the counting of ballots. The massive influx of mail-in ballots around the country took weeks to count and certify, leaving Americans stressed about the outcome of the election. To speed up the count, poll workers will be allowed to process mail-in ballots 15 days before election day. Workers will be allowed to approve that ballots are valid and filled out correctly, however they will not be able to count the votes until 7:00 AM on election day. This allows the state to focus solely on counting votes on election day, speeding up the counting and approval process.
New measures are being put in place to speed up in-person voting as well. Polling places that attracted over 2,000 voters in 2020 are required to create an additional polling place to reduce wait times. Additionally, polls that had long wait times in 2020 will be required to invest resources into shortening wait times.
Early voters will also have more time to cast their ballots. The state is requiring at least 17 days for voters to cast their ballots early and will require early voting to be open from 9 AM to 5 PM. Polls will also be able to expand their times to 7 AM to 7 PM if they choose.
Here's where the controversy begins. Democrats are outraged over restrictions with ballot drop boxes. In 2020, early ballots could be dropped off at drop boxes at any time during the day, however, new regulations would make it so drop boxes are only accessible during early voting hours.
The most controversial of the new laws has been a restriction on what can be given to voters while they wait in line. People could now face possible misdemeanor charges for handing out food and water to voters waiting in line. Many Democrats have been extremely critical of this portion of the new laws. President Joe Biden called the laws "Jim Crow in the 21st century," referencing the laws used to keep African Americans segregated until the 1960s. Black Votes Matter and Rise Inc. are two voting rights activist groups suing the Georgia state elections board, as they claim that the new laws violate the first and fourteenth amendments.
Voting rights advocates have pressured a large number of Georgia corporations as well as companies nationwide, to speak out against the new laws. Over 170 companies have spoken out against the new laws, with Coca-Cola and Delta Airlines, who are both based out of Georgia, making the most noise. This year's Major League Baseball All-Star Game was set to be played at Truist Park, home of the Atlanta Braves, however, the game was moved to Colorado in response to the new laws. Activists even tried to pressure the PGA Tour into canceling its most popular event, The Masters, held at Augusta National Golf Club, however, the tournament has begun without acknowledgment of the new regulations. 
Democrats and voting rights activists around the country have heavily influenced large corporations in the past few days and Republicans are not happy about it.
"Corporations will invite serious consequences if they become a vehicle for far-left mobs to hijack our country from outside the constitutional order," said Senate Minority Leader Mitch McConnell said in a recent statement.
Lots of accusations and opinions have been thrown around in recent days, but the fate of Georgia's new rules could be decided by lawsuits against the state elections board as well as federal legislature regarding voting rights that currently await Senate approval. Republicans are committed to keeping their new legislature around, and Democrats are determined to take it down, meaning many debates are yet to come.
About the Writer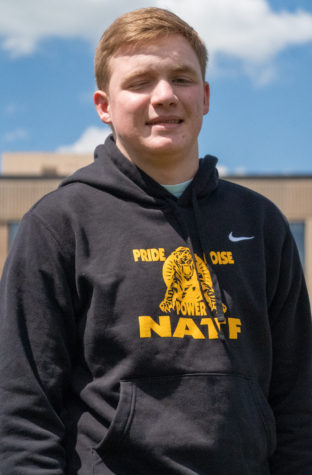 Flynn McGurrin, Staff Writer
Flynn McGurrin is a junior at NASH who enjoys golfing and watching any sport he can find.