Getting a Shot at a Normal Life
With about 30 states making vaccines available for teenagers, the United States has the chance to get back to normal if everyone does their part.
I had been anxiously awaiting my chance to get a COVID-19 vaccine for a very long time, but it may not be for the reason you think. Of course, I was worried about getting infected. No one wants to get sick. But for over a year now, I have been absolutely terrified that I might put one of my immediate family members, who have even more compromised immune systems than myself, at risk. So when an opportunity opened up for me, I eagerly snatched it. I am honored to say that I received my first Pfizer-BioNTech vaccination on Tuesday, April 6.
My mother and I arrived at Butler Memorial Hospital for my appointment at 5:45 p.m, where we were greeted enthusiastically by a team of smiling healthcare workers. After taking my temperature, I was asked to provide them with my identification and an information form that I completed in advance. Then, I was told to take a socially-distanced seat until it was my turn.
Despite its name, I did not have to wait in the waiting room at all. After about three minutes, a very kind healthcare worker called me over to her table. She very thoroughly explained some of the symptoms I may experience in the days after receiving the shot. After I assured her that I did not have any questions or concerns, she swabbed my left arm with a cotton ball, counted down from three, and told me that I would feel a slight pinch. A bandage sealed the deal. I had finally received my first dose!
For safety purposes, I was required to sit in a chair for fifteen minutes to make sure that I did not experience a bad reaction to the vaccine. Luckily, the only "symptom" I felt at that time was a very sore arm. In fact, the mild pain felt pretty much like every other shot I have received.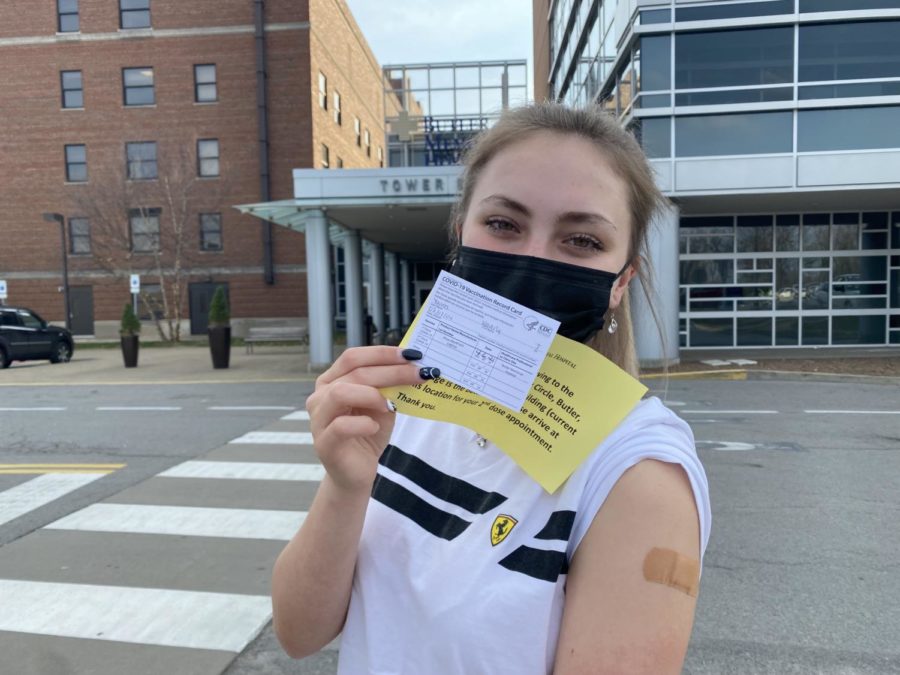 On the drive home, I began getting very tired. So, after I ate dinner, I crawled into my bed and fell asleep very quickly. According to the Centers for Disease Control and Prevention, fatigue is a very common side effect that typically goes away after a few days.
When I woke up twelve hours later, I still felt exhausted. Lucky for me, it was Wellness Wednesday. This is North Allegheny School District's shortened day that allow students to focus on their mental health and catch up on assignments from the comfort of their own homes. I groggily logged on to my first class with no other symptoms besides a still achy arm. 
However, around the third period of my school day, I began to experience a brutal headache and body aches that made it very difficult to focus. Hoping it would help, I took ibuprofen but got very little relief.  Even though I was very uncomfortable, I was not worried. The healthcare worker had prepared me, and I knew these were normal symptoms.
Additionally, I would rather feel poorly for a few days than possibly contract COVID-19 and spread it to the people I love. It is a concern much bigger than just one person. Similar to wearing a mask, getting a vaccine is about doing your part to help all humanity get over this horrendous global pandemic and get back to normal. I'd do anything to achieve that goal.
For teenagers like myself, this past year has felt like an eternity. We have missed out on so many social activities and sporting events, and we have been robbed of many future fond memories. Our lives have been turned completely upside down. And for someone with a Type A personality like me, it has been really difficult not having a set schedule. The pandemic has forced us to live on a spontaneous calendar, as governments, businesses, and school boards struggle to keep up with the new scientific discoveries and safety concerns regarding the virus. 
Nevertheless, the incredible accomplishments from those who have helped to administer more than 165 million vaccinations to citizens in the United States should be celebrated. Scientists were able to roll out the first vaccine in December of 2020, the same year our country went into lockdown. Although it feels like we have been living in dog years, in reality, it has not been that long of a time. It is almost a miracle that three vaccines have already been approved and that President Biden has upped his goal to distribute 200 million vaccines by the end of April.
Getting a vaccine is a very important step that will help us all return to a normal life. For me, it's my chance at having a "normal" senior year, which means actually going to the homecoming football game and prom. It also means I will finally be able to go on vacation, take tours of college campuses, and hug my grandparents again.
Let's face it. We all want to get back to normal, and the only way we can do that is if we all do our part. When you get your shot at getting a vaccine, be sure to take it.
About the Writer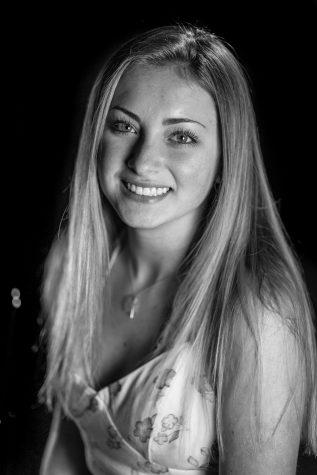 Waverly Younts, Staff Writer
Waverly Younts is a junior at NASH. She wrote for NaEye and is continuing to hone her journalistic skills this year by contributing to The Uproar. She is a cashier at Monte Cello's Wexford, near NASH. When she is not working, Waverly is most likely playing soccer, running track and field, petting her beautiful tuxedo kitten, Stella, or inventing new dishes in her kitchen.