In Defiance of Guilt
As COVID-19 vaccines are slowly become more available, feelings of guilt must be ignored.
I am COVID-19 vaccinated.
That sentence has taken me well over a month to admit. I received my first dose of the Pfizer vaccine in early March and my second just a few weeks ago. For me, the process of getting the shot was physically simple—I experienced only very mild side effects—but it was mentally draining. 
In late February, my mom sat me down, and we had a candid discussion about my qualification. My condition had qualified me under group 1A, but I never actually fathomed that I could get it. I suppose I always assumed that it would go to the elderly first—those who I thought were the only group at high risk. 
I had a weakened mindset about the whole process after my grandfather died from the virus back in January. He was just weeks away from receiving his first dose. I thought that those who appeared healthy and were getting the vaccine were just stealing from the elderly, but I now know I couldn't have been more wrong. 
"
Anyone, young or old, can be high risk without appearing to be, including me."
Anyone, young or old, can be high risk without appearing to be, including me. Even though I qualified and knew that I had a right to the shot, I still felt immense guilt and shame. I had heard stories of elderly people missing out on vaccines because they didn't know how to register online. Or people who waited hours in line for nothing. I continued to hear the stories after receiving my first dose, and I quickly regretted my decision. 
I tried to tell myself that I was advocating for high-risk individuals, but in reality, I believed that I was simply contributing to the problems in distribution. I didn't tell anyone except for my closest friends and family. And even when I did, and still do tell people, their response is usually positive—"Good for you" or "Congratulations!"
Occasionally, though, the phrase that I feared the most comes out of their mouths—"How did you qualify?" It's a simple question with a simple answer, but it's not one that I'm comfortable telling just everyone. Imagine if you were a smoker in the past, and it's now something that you're ashamed of. This question of qualification is not something that everyone needs to know—that's why doctor-patient confidentiality exists in the first place.
Let's say I was a smoker (which I am not). If I were to tell an asthmatic that I had received my vaccine before them, chances are that they'd be angry. I don't blame them for it, but we also can't blame the person who got the vaccine. I had an opportunity, and I took advantage of it. At the time, this opportunity was pretty rare.
"
My guilt was valid because of the stigma society has placed on healthy-appearing individuals receiving the vaccine."
My guilt was valid because of the stigma society has placed on healthy-appearing individuals receiving the vaccine. Looking back, my guilt was, and occasionally still is, a healthy sign. It came from a sense of morality. By feeling guilty, I was telling myself that I cared about others and their well-being. I've worked hard to get past this feeling, and I even still feel it sometimes. Nevertheless, it doesn't mean that I don't care about others anymore—it just means that I put myself and my health at the top of my own personal priority. 
The biggest lesson that we as a society need to take away from this process is that everyone who wants a vaccine will get it. It's not about who deserves it—everyone does—but rather about who needs it. There are so many high-risk individuals who feel as though they'll be shamed if they get it. Take it from me—so much of that feeling is simply derived from our own conscience.
I'm not an activist for COVID-19 vaccine distribution, even though I may have told myself that I am a time or two. Nobody can force others to take the vaccine, but what we can do is help to decrease the stigma surrounding it. There are people who are afraid to take the vaccine because of what others will say. I know this because I was this.
At first, I regretted getting the shot, but now, I regret that I didn't allow myself to enjoy it. It was a major moment in my life that I spent too much time shaming myself for. If you qualify, get it. After all, if the goal is herd immunity, as health authorities have made clear, there's no quicker way than to get your shot the moment you qualify.
You can never truly understand the relief that it is until you just do it. It's worth it, trust me.
About the Writer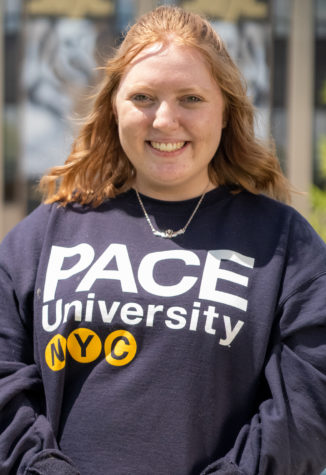 Lucie Flagg, Co-Editor-in-Chief
Lucie Flagg is a senior this year. She enjoys the finer things in life, such as sushi, napping, and her dog, Daisy. Along with writing for The Uproar, she also contributes to NATV. Outside of school, Lucie works at Naturally Soergel's, and she watches Impractical Jokers whenever that's not happening. Lucie plans to attend Pace University in New York City next year to pursue a career in media production.