Straight Talk
The NA Ted Talk Club held its first in-person event with the goal of providing student perspective and furthering communication in the community.
After months of preparation, the North Allegheny TED Talk Club was able to meet in-person and hold their first TEDx student-run event. Due to COVID-19, it was one of the first in-person events held in the NASH auditorium this school year.
Music Department Chairperson Mr. Tozier helped make the event happen, and he was ecstatic to see the auditorium put to good use again.
"This year has been rough on our kids, and we have had to cancel most events that take place inside. Concerts, assemblies, and musicals were just a few events that got scrapped," Tozier said. "It was a treat to set up the stage and prepare for this event. I feel like I even learned something new."
For junior Co-President Coleman Walsh and the rest of the TED Talk Club, the event was a product of months of hard work.
"We met over the course of two months, holding weekly meetings every Wednesday after school. During these meetings, we discussed topics and club members began drafting individual speeches. At the end of the day, we ended up with five speeches presented by members of the club," Walsh explained.
The five speeches were given by juniors Alok Shah, Zayaan Tirmizi, Sam Podnar, and Walsh.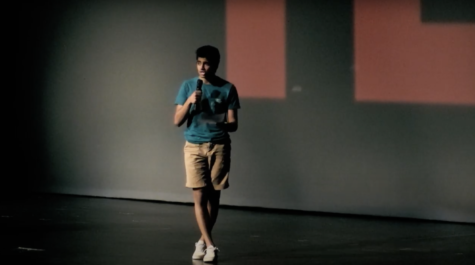 Shah's speech, entitled "Comedy Died and We Killed It," explored the truths and hardship of cancel culture. The junior explained that it feels like comedy has slowly faded away. He questioned if Generation Z has become too sensitive to satirical attempts.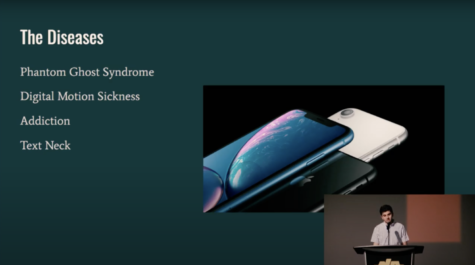 Tirmizi discussed the harmful impacts of technology in his presentation, "Your Worst Enemy Is in Your Pocket." He looked into the effects that excessive screen time has on the human brain and hypothesized what technology will mean to future generations.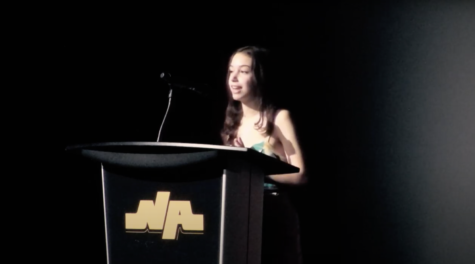 In "Distance is an Illusion," Podnar discussed the American incarceration system. Her thesis was that prisons create a physical, mental, and social distance between incarcerated individuals and the rest of society, which makes it difficult to adequately address the issues in the criminal justice system.
While this year's event was naturally toned down to adapt to health and safety restrictions, club sponsor and NAI English Teacher Mr. Hull has big plans for the future.
"Next year, I am planning on going full force with our TEDx event. Our plan is to invite neighboring schools and make an event that lasts over the weekend," Hull said. "This event would allow students to display their interests and knowledge in front of fellow students and possibly be rewarded."
This year's event, more than anything, was simply a starting point, and it provided the students a sense of community during a difficult year.
"While I was giving my speech and looked out at my fellow peers, I just felt a glimmer of hope for next school year," Podnar said.