A Review of Crumbl Cookies
Crumbl Cookies offer new flavor options each week and have recently taken over the internet.
Crumbl Cookies, a gourmet cookie company, is taking over Tiktok and gaining a lot of attention from cookie lovers across the country. The company first opened its doors in Utah in 2017 and has since expanded to 194 locations in thirty-three states, the fastest-growing chain of its kind. They claim to have the best cookies in the world and even offer an exciting rotating menu that allows customers to try four different specialty flavors each week. If you are not intrigued by their unique cookie flavors, Crumbl Cookies keeps their milk chocolate chip and chilled sugar cookies available on the menu at all times. 
When their Tiktok account first popped up on my feed, my mouth watered as I stalked their page and website. The closest location to Pittsburgh is in Delaware, Ohio, which is sadly over two hundred miles away. However, as I continued to look at the delicious looking cookies, I knew I had to place an order for them to be shipped to my front doorstep.
I quickly selected the most captivating flavors and added them to my order of a dozen cookies. My order came to an expensive total of $47.06. Despite the pricey cost for just twelve cookies, I pressed the submit order button with no hesitation. I was too excited for the arrival of these delicious treats to even pay attention to the high price. After only six days, the classic pink box arrived at my house. 
The cookies were carefully packaged in the box thanks to packing peanuts. They came individually wrapped in plastic, guaranteeing freshness. The Crumbl Cookies website suggests warming the cookies up, so I immediately headed to my oven and let my mom know it was time to taste test. I ordered two of each of the following flavors: milk chocolate chip, Butterfinger, peanut butter chocolate chip, M&M, hazelnut churro, and circus animal.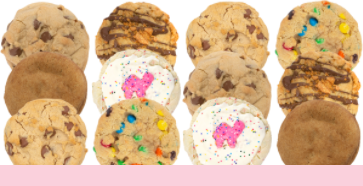 To begin, I started with the most classic cookie, milk chocolate chip. In my professional connoisseur opinion, it is hard to mess up this very traditional sweet treat. And boy, Crumbl did not disappoint. This fresh out of the oven cookie was studded with melted milk chocolate chips and was crisp and buttery with each bite. It was one of the best chocolate chip cookies I have ever had. 
Immediately after the chocolate chip, I sampled the Butterfinger cookie. I am not the biggest fan of the Butterfinger candy, but I wanted to up my flavor palate and give it a try. The cookie was definitely pleasing to the eye with both chocolate and Butterfinger candy pieces placed on top. I really enjoyed the texture and salty-sweet flavors in the cookie, but it was probably my least favorite out of the box. 
Peanut butter chocolate chip cookies incorporate a lot of flavor with each bite. The mix of salty and sweet provides an immense amount of flavor. Crumbl's version of this cookie was absolutely divine. It had the perfect mix of both milk chocolate and peanut butter morsels. 
The M&M cookie had the ideal amount of M&Ms, leaving the flawless ratio of cookie to candy pieces. However, I enjoy a light and crispy cookie. This cookie was on the soft side and slightly underbaked for my liking. 
Next up was the hazelnut churro cookie. Similar to the fried dough dish from Spanish and Portuguese cuisine, the churro, this cookie was packed with cinnamon sugar flavor. The addition of the hazelnut complemented the taste magnificently. 
I was the most excited to try the circus animal cookie as I had never heard of anything like it. This very sweet treat was topped with smooth white icing, rainbow sprinkles, and a pink animal cookie in the middle. It was the greatest way to end this taste test and was my all-time favorite.
Overall, Crumbl Cookies exceeded my very high expectations, as each cookie I tasted satisfied my sweet tooth. The only downside of my experience is the fact that they were extremely overpriced. However, if there were a closer location, the shipping fee would be eliminated. I really hope that a location opens up closer to Wexford because I would go and try the new flavors each week. I truly recommend trying Crumbl Cookies to those who fancy decadent cookies.