They Knocked His Socks Off
NASH senior Patrick Birmingham was surprised Friday morning to see his face all around the school.
When senior Patrick Birmingham showed up to school Friday morning, he was shocked to see his face in so many unexpected places.
"I feel so amazing," he expressed. "My face is on socks."
Patrick, who is a much-loved member of NASH's Tiger Den staff, has long been an admirer of socks, especially those that have funky patterns or colors. When Magistra Ramsey noticed this attachment, she knew what she had to do.
"Patrick always loves looking at our socks," Ramsey said. "I remember one time, he wore socks with his dog's face on it, so I thought, 'Why not put Patrick on socks too?'"
Ramsey, along with special education teacher Ms. Beck, began the process of creating the surprise. 
"I had a student a few years ago who gifted me socks printed with his face before he graduated," Ramsey explained. "I found an Etsy seller that made the same thing and got to work."
Beck contacted Patrick's parents for approval and reached out to the NASH staff with their plans for purchasing a pair.
"Magistra Ramsey and Ms. Beck contacted all of us in Patrick's orbit and asked if we would be interested in participating," Mrs. Rhinehart said. "Of course, I knew I had to get a pair."
Ramsey and Beck quickly received significantly more interest from NASH staff members than they had ever anticipated, ultimately handing out 55 pairs.
"Patrick comes by my room every morning and just makes my day," Señora Cerqua expressed. "Anything I can do to gift that happiness back into Patrick's life is an easy, absolute yes—I had to participate."
Those who work in the Special Education program alongside Patrick have formed a particularly meaningful bond with him and were excited to make his day.
"Patrick is a delight," Ms. Eckenrode said. "He's one of the main reasons why I come to school every day, and I wanted to make his day in return." 
Many teachers held similar sentiments, expressing Patrick's ability to light up a room.
"I've known Patrick for five years, and he always brightens up my day," Madame Butler said.
When the Special Education program moved to the second floor two years ago, those nearby, especially in the World Language hall, first got to experience the charm several of the students, particularly Patrick, offer.
"For many years, I didn't realize that the special ed students were the part of the [World Language] hall that we were missing," Ramsey said. "A lot of my students have grown and happily greet Patrick at the door."
When Patrick first arrived at NASH on Friday morning, he was greeted by many friendly faces wearing especially friendly socks. 
"Patrick is always a very happy boy, but today, he is just on cloud nine," Eckenrode said. 
For Ramsey, his reaction immediately made all the effort worth it.
"He was so surprised and happy," she said. "He pointed at them and said, 'That's me.'"
The staff bought an extra pair for Patrick and each member of his family. Throughout the day, he proudly showed off his new socks to everyone in sight.
"Patrick is probably the best thing that ever happened to NASH," Beck said. "He brings people together, and everyone is always happy to see him."
Leave a Comment
About the Writer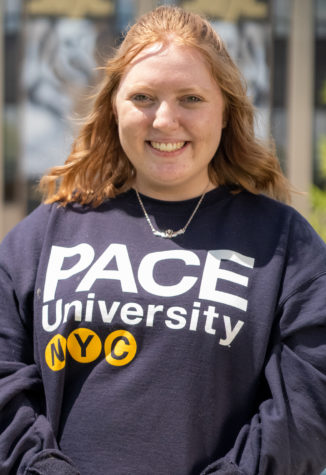 Lucie Flagg, Co-Editor-in-Chief
Lucie Flagg is a senior this year. She enjoys the finer things in life, such as sushi, napping, and her dog, Daisy. Along with writing for The Uproar, she also contributes to NATV. Outside of school, Lucie works at Naturally Soergel's, and she watches Impractical Jokers whenever that's not happening. Lucie plans to attend Pace University in New York City next year to pursue a career in media production.