The One With a New Episode
The cast of Friends will air an interview and special reunion episode on Thursday, May 27th.
Friends, one of the most iconic sitcoms of the 90s, is back after nearly 20 years in their brand new episode, "The One Where They Get Back Together."
Set to air on May 27th, 2021, the new episode will actually not be an episode. It is going to be more of a big group discussion and interview hosted by late night comedian James Corden, according to an article in the BBC.
Rumors surrounding a reunion of the show began to be seriously considered on February 21st, 2020, when the show's Instagram page posted an image of an old photo of the cast captioned "It's happening… #FriendsReunion." 
However, before the post and talk of a reunion was announced, there was much speculation among producers as to whether there would be enough funds to go forward with the special episode. An article in Elle Magazine suggests that there was nearly an "eight figure gap" between the actual and the needed money.
Cast members have publicly disclosed that a new scripted episode will never air on television. David Schwimmer (Ross Geller) even told Elle, "I just don't know if I want to see all of us with crutches [and] walkers."
Matthew Perry (Chandler Bing) has even had "nightmares" about a failing reboot of Friends. His fear is that the cast members go to the work of putting together a whole new series, and having nobody care in the end, essentially making the work meaningless. Fears like Schwimmer's and Perry's are reasons why the producers and cast members opted for a non-scripted episode.
"We're all ourselves, the real people," Schwimmer told Elle.
After serious and confirmed rumors continued to spread about when the new reunion episode would be released, HBOMax posted a teaser trailer on May 13th, 2021. In it, the cast is shown walking away from the camera in slow-motion to the theme music "I'll Be There For You." 
Less than a week later, the streaming service released a real trailer for the reunion. The trailer gives away lots of information about what exactly will be happening. A game of trivia, much like the one in episode "The One With the Embryos" for example, will be included in the festivities. 
Other special events along with the new episode include a multitude of guest stars. A post on the Friends Instagram page lists celebrities that will make cameos in the reunion, including Cara Delevingne, Mindy Kaling, and even Justin Bieber. 
While it is not revealed what exactly stars will be doing in the special reunion episode, clips of Delevingne walking down a makeshift runway in Rachel Green's iconic Little Bo Peep dress that she wore to Barry and Mindy's wedding as a bridesmaid. So naturally, viewers are in for a surprise. Other clips from the fashion show in the trailer include footage of the classic holiday armadillo strutting down the catwalk. Fans across the country have their "fingers crossed for Bieber" to be in the costume.
But in addition to special guest stars, old characters from the show return to make an appearance in the episode. Characters such as Gunther (the manager of "Central Perk," played by James Michael Tyler), Richard (Monica's ex-boyfriend before she began dating Chandler, played by Tom Selleck), Jill (Rachel's little sister, played by Reese Witherspoon), and even Janice (Chandler's ex-girlfriend, played by Maggie Wheeler) are among those who will be returning for the reunion.
Whether you were a fan of Friends in the 90s or if you binged it a few years ago (like many from Gen Z), there is no secret that the show is causing quite a stir. You are bound to hear about it sometime in one of your classes, or perhaps in your office building. And when you do, this article is guaranteed to be "there for you" when you need a quick refresher or run-down of what's going on in "The One Where They Get Back Together."
About the Writer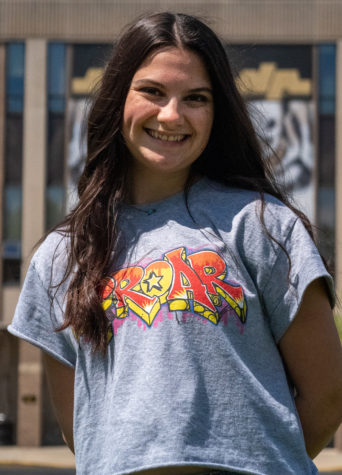 Claire Majerac, Staff Writer
Claire Majerac is a junior at NASH and is excited to be working for The Uproar. It will be her second year in journalism. She enjoys running for both the girls Cross Country and Track teams, hanging out with her friends, and coming to school on Thursdays and Fridays. Her favorite ice cream flavor is Chocolate Oreo from Brusters (any other place is unacceptable, according to her).