The Anthropocene Reviewed, Reviewed
John Green provides heart wrenching, funny, and hopeful commentary on the human condition in his newest book.
What do scratch and sniff stickers, Canadian geese, Monopoly, and the world's largest ball of paint have in common?
Author John Green reviews them all in The Anthropocene Reviewed: Essays on a Human-Centered Planet, his poignant, moving, hilarious first nonfiction book.
The Anthropocene Reviewed began as a podcast, which Green has written and narrated since 2018. Every approximately 20 minute episode features him reviewing "facets of the human-centered planet on a five star scale."
I've listened to the podcast religiously for the past two years, so when Green announced that he would be transforming it into a book, I was ecstatic.
The novel, which consists of 46 mini chapters each devoted to one topic, came out May 18th and contains several new reviews in addition to the ones Green read on the podcast.
The reviews often start off as factual, as Green explains what the topic is and provides any necessary historical context. Then, they develop into more of a personal story. Green begins to express how his own life intertwines with whatever subject he's examining, usually coming to some kind of figurative significance.
It's a book for nerds in the best way possible. Green's storytelling captures the objects and events that make up our everyday lives through a human lens, which is incredibly interesting. More than that, however, the writing, language, and ideas are so well-articulated. It's a fun book to read, simply because it is beautifully written.
I've been a fan of Green's young adult books since I read The Fault in Our Stars when I was in fifth grade, but I think that The Anthropocene Reviewed is his best work so far. I want to stay away from the stereotype that young adult books cannot offer valuable perspectives or profound ideas, because so many young adult books change teenagers' lives, but it seems that, outside of that genre, Green has risen to a whole new level.
Maybe it was the honesty or the intimacy that a nonfiction memoir allows for, but he does a fantastic job at telling so many intricate, thorough, emotionally powerful stories. 
"
It highlights the mistakes we all make, the uncertainty we all face, the pain we all feel, but it argues that there can be hope and love in spite of those things."
I was consistently impressed by how meaningful Green is able to make every one of his reviews. His review of the 1950 movie Harvey ends up being an in-depth examination of mental health, and the chapter on the New Year's Eve song "Auld Lang Syne" serves as an honest yet comforting discussion of grief.
The reviews also evoke a wide variety of emotions. The chapter on academic decathlons made me think about being young and the people that mean so much to me right now, and I felt a somehow good aching in my chest. The review of the song "New Partner" made me nostalgic, the review of a hotdog stand in Iceland made me hopeful, and the review on whispering made me smile.
I never thought that I would end up crying over reviews of Sycamore trees or the practice of Googling strangers, but I did, and I have a feeling most readers with any kind of a heart will, too.
I think the part I find most refreshing about The Anthropocene Reviewed is how truthful it is about human suffering and cruelty. It offers optimism without pretending that the world is perfect. It highlights the mistakes we all make, the uncertainty we all face, and the pain we all feel, but it argues that there can be hope and love in spite of those things. That cautious approach to hope feels realistic, and, right now, I think it's all the optimism I can manage.
The Anthropocene Reviewed is a book that, like the podcast, I can see myself often returning to. It's the perfect book to pick up and read a couple of chapters here and there, just for a dose of humanity and good writing. It's also a novel that pairs well with this weird stage of life we're all currently in — somewhere between a pandemic and normal life, filled with uncertainty but trying our very best.
If I had to review this facet of the human-centered planet on a five star scale, I would give it five stars.
About the Writer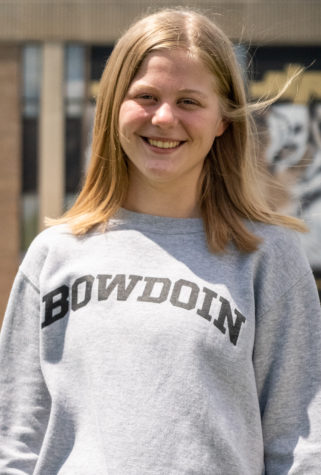 Kristen Kinzler, Co-Editor-in-Chief
Kristen Kinzler is a senior at NASH who loves expressing her opinions and drinking excessive amounts of coffee and tea. When she's not writing or rewatching Supernatural for the fourteenth time, she can probably be found playing lacrosse, reading, or watching hockey. She plans to attend Bowdoin College next fall.