Soon to be a Senior
For the Class of 2022, the arrival of 12th grade brings a mix of emotions.
One of the scariest things in a young person's life is the aspect of growing up and getting older. As juniors, we are starting to prepare ourselves for the next stage in our lives. To some, thinking about life after high school can be intimidating and stressful. But for others, the final year of high school can also be a fresh and exciting change. 
Being in 11th grade starts to make students realize that they have to enjoy what they have while they have it. Pretty soon, all of their closest friends could be miles away for who knows how long. 
Matt Mihm, a junior, said "As excited as I am to begin a new part of my life, it will be sad to say goodbye to all of the great friends I have made throughout my high school career." 
Sonia Lofgren, a junior, agreed, expressing how she will be sad to go away but is still excited for what's to come. 
"I am hopeful for me and all my friends' futures, and it is sad that we won't all be together," Lofgren said, "but I hope once we get to that point in our lives I will still be able to stay in touch with my close friends."
One junior expressed how they are just ready to take on senior year. 
"I am excited to have only one more year left of high school, but I do not want to only think about graduating," Cece Malarky said. "As important and exciting that graduating is, I just want to enjoy my senior year and not rush it." 
Although most are very nervous for the next chapter of their lives, some are excited that they are finally reaching the end of their high school life. There is nothing more exciting than a good change in someone's life, and a lot of students, including junior Bela Falo, are eager to complete senior year and move on with their lives outside of the North Allegheny walls. 
"I am thrilled to move on and see what I will do with my future," Falo said. "I am more happy and excited than scared because I know I am going to make a lot of new friends and make a lot of cool new memories." 
Other students expressed similar sentiments and are happy that all the hard work they have put into their high school years is finally going to pay off. 
"I am exhilarated to become a senior, 17 years of hard work, determination, fun, and discipline has all paid off and I will be put to the test once I go to college," Abdelrahmen Kassem, a junior, enthusiastically said. "I cannot wait to graduate. I cannot wait to throw my graduation cap up in the air and feel all the relief and pride I have. I am excited to be a senior and even more excited to graduate as a North Allegheny Tiger. GO TIGERS!" 
About the Writer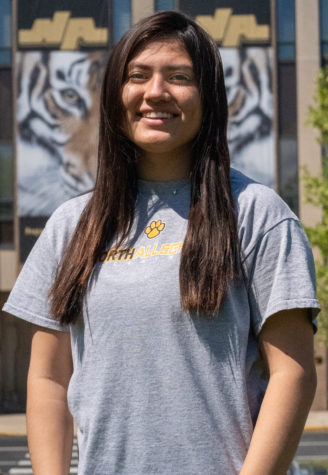 Eva Bellissimo, Staff Writer
Eva Bellissimo is a junior at NASH. She began writing for the NAEye when she was a sophomore. She is very excited to get the chance to write about more things she loves and publish them on The Uproar for everyone to see. She works two jobs in the summer and one during the school year. She is a lifeguard during the summer and works as a hostess at Goodfellas Drafthouse. In her free time, she likes to...