Last One, Fast One
Senior year is going to be a roller coaster of emotions.
Usually when I wake up on the morning of the first day of school, I'm giddy. A fresh start and a new year is something that I always look forward to. New clothes, new teachers, new subjects. It all excites me. But during the remaining days of summer leading up to this year, I was anything but giddy.
To be blunt, this school year makes me uneasy. On top of COVID protocol, AP classes, and applying to colleges, I already feel worn out at the start of the school year.
In addition, the idea that this school year is my last one of high school makes me upset. I have had as many ups and downs at North Allegheny as anyone, but it's the only world I've ever known, so the idea of going out into the college world by myself is daunting.
"
But during the remaining days of summer leading up to this year, I was anything but giddy."
When the senior class of 2021 was entering graduation season last year, I was extremely jealous. AP tests, the ACT, and working to have good final grades had me anxious and irritable, wishing desperately to just leave high school and start fresh at college in peace.
But now that I am a senior, leaving my friends and family for college is one of the last things I want to do. My immediate family got really close during hybrid learning and especially during the first quarantine of the COVID pandemic. Like every family, we had our fair share of frustrations with each other (like when my Dad would not stop shouting whilst trying to be heard on Google Meet). But most of the past two years were full of sentimental experiences with my family that I would not trade for anything. For two whole years, we did everything from eating meals together to going on college tours as an entire family. 
Part of me wishes that I could rip senior year off like a Band-Aid, and not have to go through the sadness of leaving everything behind. In some weird way, it feels like all the senior nights and special senior events are just dragging out the inevitable, bittersweet goodbye that we'll all have to endure the night of June 3rd. 
But then, I remember that the goodbye is what makes this year so special. We don't get another year to try a new sport or a new club or to decide to skip out and go to next year's Homecoming dance. We have to fill this year with everything we possibly can.
At the same time, trying to fit everything into this year and having to apply to college and maintain a certain GPA is overwhelming. It's a paradox. You want to get into the schools you desire, but you also want to have fun and enjoy your last year of high school. 
"
But then, I remember that the goodbye is what makes this year so special."
Right now, I am overwhelmed with balancing everything schoolwork, extracurriculars, friendships, and college work, often leading me to a series of freakouts.
For example, one night last week I was up doing homework, when I began to think about the future. I thought about where I would be in a year felt a sudden pang of worry. That uneasy feeling soon grew into panic, which led to a full-blown freakout.
Now, I know for a fact that there are other North Allegheny students stressed to the point of panic about college. But shouldn't that say something about the world we've created? Why are we so focused on the future? What is the rush?
To my fellow seniors (and to myself): take this year slowly. Take the time to make memories with your friends and try new things. You never know what can happen if you put yourself out there. There's no doubt that this year will be bittersweet, but it is up to you to make it memorable.
_____________________________________________________________________________________________________
Editors' note: All opinions expressed on The Uproar are a reflection solely of the beliefs of the bylined author and not the journalism program at NASH.  We continue to welcome school-appropriate comments and guest articles.
About the Writer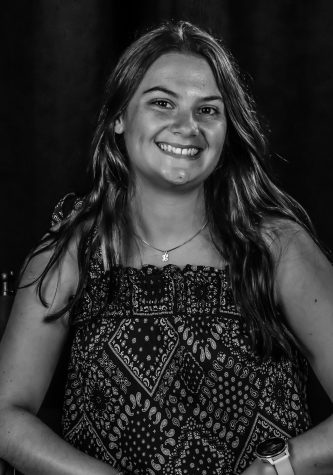 Claire Majerac, Opinions Editor
Claire Majerac is a senior at NASH and is excited to be working as the Opinions Editor for The Uproar. She enjoys reading, trying new breakfast recipes in her kitchen, and making pros and cons lists with Michelle Hwang.