Puppies for Pools
The Allegheny County Pools hosted an event on Labor Day in which county residents' dogs could swim and cool off.
At North Park County Pool on September 6th, 2021, the sounds of laughter, excitement, and even barking could be heard from a mile away. The county pools held an event on the last day of the season in which dogs from around the area could swim in the pool for $25. 
"Pooches in the Pool began in 2016. That was my first year here as a manager," said North Park Pool manager Patricia Schriver.
However, Pooches in the Pool is not a totally county-sponsored project. A group called Paws Across Pittsburgh helped out.
"Paws Across Pittsburgh does the registration, and a portion of the proceeds go to them," said Schriver.
Yvonne McAvoy of Paws Across Pittsburgh spoke with The Uproar and elaborated on the group's mission.
"We are a non-profit animal rescue and we started in early 2016," said McAvoy. "We're one of the largest rescues in Pittsburgh."
Paws Across Pittsburgh is also an entirely foster-based organization, meaning that all of the animals they rescue are in foster homes. These homes protect the animals from shelters where they would be euthanized.
"We're one hundred percent volunteer, which means all donations go to the care of the animals," added McAvoy.
Without the help of the volunteers at Pooches in the Pool, the day would not have been as organized or safe.  
"We try to have at least six volunteers who register with the parks. We volunteer by making sure every [dog] has their rabies tags before they can get in," said McAvoy.
"
My favorite part of Pooches in the Pool is getting to pet these fluffy dogs and getting paid for it!"
— Anna Kegel, NASH senior
But other than helping out animals, watching the event was just as special. Lifeguards were to guard during Pooches in the Pool, but that did not stop them from enjoying the spectacles of the dogs swimming in the pool. 
"My favorite part of Pooches in the Pool is getting to pet these fluffy dogs," said lifeguard Anna Kegel, a NASH senior, "and getting paid for it!"
Kegel saw one dog in particular that she especially liked.
"I met this dog named Daisy. She's very fluffy. I don't know what breed she is, but I love her and I want her forever," she said.
Lifeguard Tristan McClleland, a Fox Chapel grad, met a similar (if not the same) dog.
"There was this big, white, fluffy dog," McClleland said, "It straight up looked like a cotton ball on four legs. I don't know what kind of dog it was, but it was awesome."
Pet owners brought a variety of items from home to watch their dogs swim, from toys to play catch with their dogs, to even bringing life jackets for their dogs.
"My favorite part was watching the dogs jumping in the pool and chasing the balls. It was very funny," said McClleland. 
For North Park attendant Nina Pietrzak, a NASH junior, just being around the dogs was what made the day so special.
"My favorite part is watching all the dogs get in the water. Sometimes they poop on the ground, but that just adds to the excitement. I really just like seeing all the dogs run around having fun," Pietrzak said.
Interaction with the dogs was just as important to Pietrzak as well.
"They even like it when we pet them and sing to them," she said. 
But for lifeguard Lylah Simeone, another Fox Chapel grad, the money was the biggest thing on her mind. When asked for her favorite part of the day, Simeone responded simply with "getting paid."
About the Writer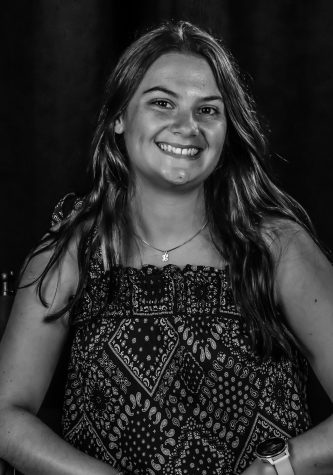 Claire Majerac, Opinions Editor
Claire Majerac is a senior at NASH and is excited to be working as the Opinions Editor for The Uproar. She enjoys reading, trying new breakfast recipes in her kitchen, and making pros and cons lists with Michelle Hwang.