#youwillbebored
A review of "Dear Evan Hansen"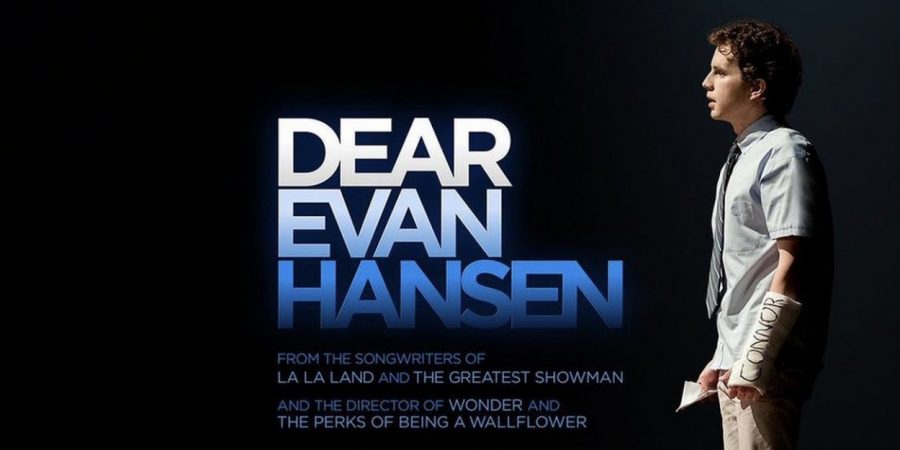 From Broadway to the silver screen, the Dear Evan Hansen movie hit theaters last Friday. 
The long-anticipated stage-to-screen musical follows Evan Hansen, a high school student with social anxiety. Directed by his therapist, Evan must write letters to himself. 
Connor Murphy, another student at Evan's school, finds one of the letters that Evan has written. 
"
Seeing this stellar cast would make one think that the Tony-winning Broadway show must be a hit. "
When Connor passes away and one of Evan's letters is found in his pocket, his family is led to believe that Evan and Connor were close friends. 
After being invited to dinner to talk with Connor's family about him, Evan lies about his relationship with Connor. He claims that they were best friends and tells made up stories about their adventures to Connor's grieving family. 
Because of these lies, Evan, along with his friend Jared, create a series of fake emails that were supposed to be between Evan and Connor. The story spirals into a web of lies, a fund to keep Connor's memory alive, and havoc for the Murphy family. 
Directed by Pittsburgh native Stephen Chbosky, the movie feature several large Hollywood names, including Julian Moore (Carrie, Hannibal, and The Hunger Games) as Heidi Hansen, and Amy Adams as Cynthia Murphy (Man of Steel, Enchanted, and American Hustle). One of the most notable cast members is Amandla Stenberg, who is known among the current generation for their roles as Rue in The Hunger Games and Starr Carter in The Hate U Give.
Additionally, Dear Evan Hansen is the breakout movie for young actors like Colton Ryan (Connor Murphy) and Danny Pino (Larry Murphy).
Evan is played by Ben Platt, who originated the role both on and off Broadway. He has been in film and TV shows before such as the Pitch Perfect franchise and The Politician.
Seeing this stellar cast would make one think that the Tony-winning Broadway show must be a hit. 
Alas, nothing could further from the truth. The 2021 film is lackluster. 
Platt honestly shouldn't have been cast. Evan is supposed to be a high school student. Platt is almost 30 years old. While it's common for actors who look younger to play high school students, Platt looks his age.
Ben Levi Ross, who played Evan on the national tour, would have been a more appropriate choice to play Evan Hansen. At only 23 years old, Ross still looks like he could play a high schooler. 
The movie opens with Evan sitting in his room working on one of the email assignments. In the original Broadway show, this scene would have been backed by the song "Anybody Got a Map" in which Evan's and Connor's moms discuss their parenting fears. 
"
The other actors during this section of the movie at times look like they are confused why Evan is singing in the first place."
In the movie, however, this song is cut and Evan goes immediately into singing "Waving Through a Window" This change, while understandable, cuts out a fan favorite.
In addition, "Anybody Got a Map" gives Cynthia and Heidi a depth that is lost in the movie. This song shows that both moms have good intentions for their children and are just trying their best. It also gives a look into Evan's, Connor's and Zoe's lives. 
During 'Waving Through a Window," we still get insight into Evan's life at home. However, because there isn't a part in the song to look into the Murphy family's life, we lose a depth to Connor's and Zoe's lives. This look is important because it gives Connor more substance. It shows that he is overlooked or looked down upon by his family. 
In the movie, the reason why Connor dies isn't really explained. The little bit of "Anybody Got a Map" that shows his family looking down on him subtly gives a possible explanation for Connor's passing. 
The most uncomfortable part about this movie is watching Ben Platt. His acting is fine and so is his singing. When Platt puts the two together, things go sideways. 
Probably his worst performance throughout the whole movie is "For Forever," which occurs when Evan is invited to dinner with the Murphys after they think that he was friends with Connor. The song feels like it goes on for forever, with Platt struggling to keep the theatricality of Broadway at bay. 
Acting on the stage and in film is quite different. Film acting is more subtle, whereas the intent of a stage actor is for emotions to be seen from even the nosebleed sections. In short, a stage actor gives a much more expressive performance. 
This proves to be Platt's downfall. "For Forever" is a ballad, making him look like he is in pain each time the camera is trained on him — and it is on him for a long time. The other actors during this section of the movie at times look like they are confused why Evan is singing in the first place.
But after a rocky start, Dear Evan Hansen offers about thirty minutes of redemption. 
"Sincerely Me" is a song that shows Evan and his friend Jared as they come up with more fake emails that detail the "relationship" between Evan and Connor. Instead of making it seem like it's something that should feel natural, "Sincerely Me" lends itself more to the theatricality of musical theater. 
Much of the musical was tell and not show. "Sincerely, Me" changes that. Instead of the scene depicting Jared and Evan at a computer writing the emails, the movie shows Evan and Connor acting out the fake scenarios. Chbosky's decision makes the movie much more enjoyable. 
"
In the end, this movie is not the worst it could have been, but it isn't good."
The movie has another hit of a song, "Requiem," sung after "Sincerely, Me" during a scene when the Murphys are contemplating whether to grieve over Connor's death.  The song lends itself to multiple cuts as each family member sings about how they feel about Connor's death. It keeps the viewer engaged and excited to learn more about everyone's grief. 
This is a song that performers must have strong voices for. Each family member excellently portrays how they are feeling. However, Kaitlyn Dever as Zoe is the standout. She shows how Zoe is conflicted with her brother's passing because he was not a nice person. Eventually, she starts to blame herself for what he did saying, "you were not the monster."
The scene in which Zoe begins to blame herself is one that is special to movie musicals. She drives her car and keeps going faster as her moment becomes more cathartic. 
But after these two gorgeous scenes that are beautiful to listen to and to watch, Dear Evan Hansen dips right back into its home of mediocrity. 
"If I Could Tell Her" is another painful number to watch. 
While this song isn't relatively important, it does show that the upcoming Connor Project is something that Connor would have wanted. It creates depth for Evan, as it shows that he genuinely wants the charity, thus giving him a moment to actually be good and attempt to recover from the lies he told. 
However, in the movie, "If I Could Tell Her" is followed by a new song sung by Amandla Stenberg's character Alana. The song, '"The Anonymous Ones," is filmed in a similar sense to "For Forever," but this time it isn't painful to watch. It is just a quiet moment of vulnerability, something the seasoned actor, Stenberg, does beautifully. 
"You Will be Found" is sung next. Neither bad nor good, it is exactly how audiences normally would have expected. 
"To Break in a Glove" is cut for time and replaced with a song at the very end of the movie. 
There are many issues with the Zoe/Evan romance that happen in both the movie and the stage musical. Neither of them does a good job at creating build-up for the romance. Even though I enjoy the song "Only Us," which is a duet about Zoe and Evan falling for each other, I would have preferred this number to have been cut from the movie. It doesn't provide anything to the story. The original reason could have been so that the ending would be more dramatic, but the movie fails to do that. The two characters' friendship is stronger and still causes the same amount of drama at the end. 
"Good for You" is also was cut for time. In the musical, this song was always the perfect lead up to "Words Fail," a song in which Evan expresses how sorry he is for what he did. "Good for You" shows how much he hurt the Murphy's. Instead, the movie just shows them in shock. 
'So Big/So Small' should have been cut. While there is nothing wrong with Moore's performance, it doesn't provide much to the story. It shows that Evan is being comforted because he is remorseful for the pain that he caused. 
In the end, this movie is not the worst it could have been, but it isn't good. From cutting songs that give characters depth to uncomfortable moments focusing on Ben Platt, I suggest you skip the theaters and wait for Dear Evan Hansen to come out on Netflix if you still want to see it. 
Leave a Comment
About the Writer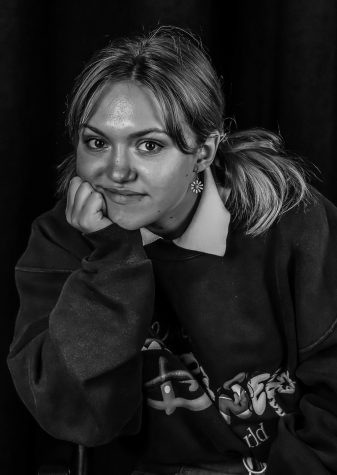 Kat Klinefelter, Staff Writer
After being Co-Editor in Chief of the NAEye their sophomore year, Kat is excited to spend her junior year writing for the Uproar. In the future, Kat dreams of creating nature documentaries like notable Shark Week videographer, Andy Casagrande. Outside of school she likes to perform in the NA musicals and has been in Lion King Jr., Titanic, 2021 Musical Review, and Mamma Mia. Kat also enjoys playing...