She's Got That Swing
Katie Rose Rankin's passion for the game contributes to the success that has made the Lady Tigers a WPIAL contender.
The North Allegheny Varsity Girls' Golf team is looking for redemption this year.  After last year's 6-5 record, the team aims to improve their performance and advance to WPIALs, hopefully leaving the season as champions.
This year, one player is making this goal feel a bit more in reach. 
Junior Katie Rose Rankin has been North Allegheny's number one girls' golfer since the beginning of this season and has been playing consistently since late August.
"I would say this season has been very successful for me and my team. We are undefeated in our section and my average score is a 40 with my lowest score being a 37," Rankin said.
"
Golf was always a big part of my dad's life, so as soon as I could stand, there was a golf club in my hands.
— Katie Rose Rankin
At age 12 she began taking golf seriously and playing competitively. Belonging to Diamond Run Country Club with her family, Rankin has been training there for about ten years now. However, her love for the sport really blossomed because of her dad.  
"Golf was always a big part of my dad's life, so as soon as I could stand, there was a golf club in my hands," Rankin said.
Katie Rose Rankin has played in over 50 tournaments and on several different courses. One of her most significant moments in golf was playing at Oakmont Country Club in 2020 for the final section of WPIAL qualifiers.
"Nothing could ruin that day. I shot my worst round of the year, but I felt like I shot even par," Rankin said.
At one tournament in the summer of 2021, Rankin played golf with a man who belongs to Laurel Valley Golf Club, which she labeled as "one of the hardest and legendary golf courses around the area." She shot her lowest score ever of a 76. He then invited her to play with him at Laurel Valley. Rankin said this was because he was impressed by her skill level.
Rankin is a two-sport athlete, also cheering competitively for the Cheer Athletics Cheer Gym. When she was younger, she participated in an even larger number of sports, but ultimately, she chose golf.
"I've also played softball, basketball, and I have danced," she said. "None of those sports compared to golf. Golf reminded me of family, and it made me so happy." 
Rankin has been on the varsity team since her freshman year and since then has been rising in the ranks. She quickly realized golf is something she loved and wanted to do for a long time.
"I have never thought about college without golf," she said. "My goal is D1, but I'm going to aim for a scholarship to a D2 or D3 college.  I've never had a dream college, but if Pitt adds a girls' golf program, it will be at the top of my list."
Pitt is an exception, as many colleges have golf scholarships – but getting one can be monumental for a student-golfer. Rankin is currently working on showcasing herself and her skills to a number of colleges and coaches.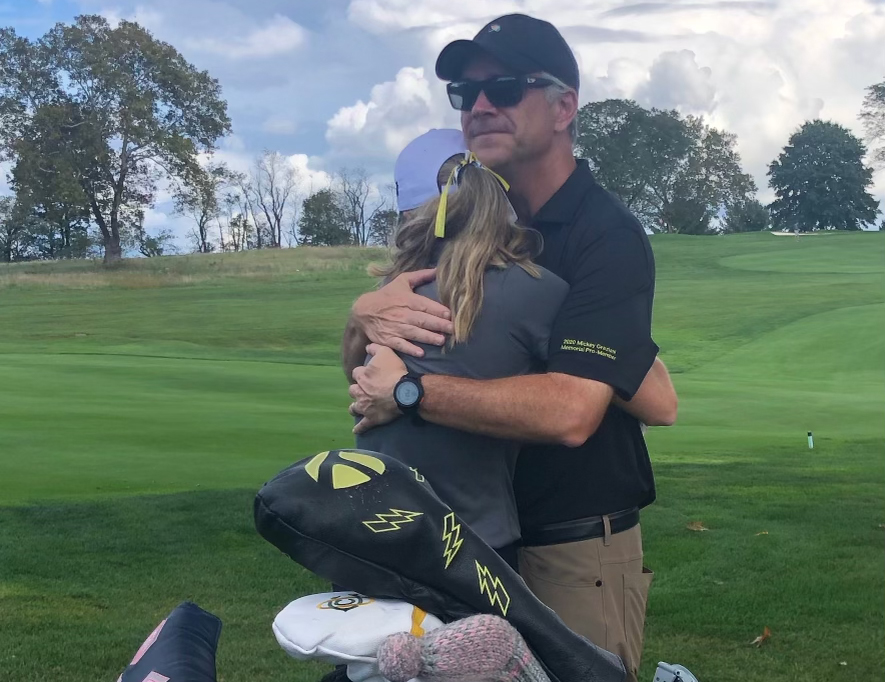 "This year I have set up a college scouting account so coaches around the United States have a source to see all of my archives throughout my high school career," she said.
To play competitive golf, Rankin has traveled to golf clubs across Pennsylvania. However, nothing compares to the team she began with when developing her passion for golf.
"My favorite golf course is Diamond Run Country Club. It is my second home," Rankin said. "However, I also love the Palm Course, a Walt Disney World Resort Golf Course." 
Having been a member at Diamond Run for such a significant amount of time, Ranking counts the golf pros, members, and staff as close friends and role models. Growing up and learning the game of golf at Diamond Run have made the course feel like home to her. 
According to Rankin, the lessons she learns from golf transfer off of the green.
"Golf etiquette will help anyone in the real world. Golf showed me how much more people succeed when they are kind and mature," she said.
Rankin's ability to drive the ball over 200 yards and make massive putts sets her apart from the rest of the high school golf community, but it is her passion for the sport and the lessons she brings away from it that will take her far.