Fur Real!
Earlier this month, therapy dog Quigley visited NASH, much to the delight of students and staff.
On Friday, November 13th a special furry guest visited NASH. The kindhearted and playful black labradoodle Quigley was greeted with warmth and enthusiasm from students and staff. 
"I strongly think that dogs are a calming influence on humans," owner Donna Macsuga said. "They brighten your day, and they're just fun."
Macsuga noticed right away that Quigley was very caring and gentle with people. After Quigley turned three, she decided he would be a good therapy dog and got him certified at Animal Friends Therapets. 
"He was too nice not to share," said Macsuga. 
"
Humans can be judgmental, but dogs will love you no matter what.
— Donna Macsuga, therapy dog owner
Quigley got about 50 visitors on the second floor of NASH on the 13th, and students and staff alike were overjoyed to see the labradoodle's wagging tail when they walked into Room 241. Quigley is a well traveled pup, having been to local nursing homes on a regular basis, hospitals, and other high schools. 
This is not the first time therapy dogs have visited NASH. School Social Worker Mrs. Tengowski has facilitated the visits in the past, originally involving NASH's emotional support and autistic support classes. 
"We got the idea actually from NAI. I knew that they were doing it, so we reached out and started doing the same thing," Tengowski said.      
After a school makes a request of Animal Friends, the organization then contacts a volunteer who owns a therapy dog.  
"I can just go online and fill out a form," Tengowski added. 
Therapets certifies dogs, cats, and even rabbits as therapy pets. NASH has stuck with having dogs visit because of student and staff preferences, but if the opinion ever changes cats and rabbits could visit NASH someday.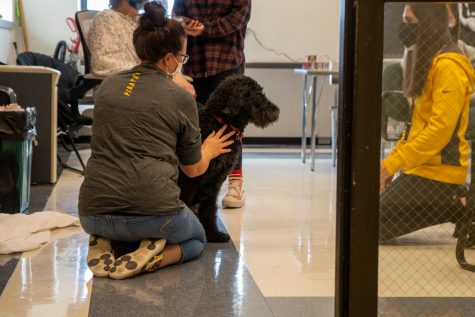 Although the pandemic temporarily prevented Tengowski from continuing the program, she was delighted to resume the tradition earlier this month.
"Even if you have your own pet at home, there's something special about being at school or at work and being able to just go see a dog and get in a few pets or a few kisses," she said.
Macsuga added that Therapets is also catching on local colleges. 
"I know Duquesne University has a lot of special times when the kids are studying for finals and the school has dogs visit. CMU has lots of events involving dogs," she said.
The excitement of seeing a dog at school can change the school environment. It's different, and that's what makes it so special. School can be a stressful place for both staff and students, so having a happy dog there to lift their spirits can be a welcome relief. 
"Humans can be judgmental, but dogs will love you no matter what," Macsuga said.