QB1 of the Future
Sophomore quarterback Logan Kushner took not a single snap for granted as he cemented his place in the varsity starting lineup.
In western PA, no sport receives more attention than football.  And no position on the football field stands brighter in the spotlight than quarterback.
But at North Allegheny this past fall, the lights were even brighter and the scrutiny was more intense on quarterback Logan Kushner, a sophomore who earned the starting spot in week seven this season.
Kushner led the Tigers to a 49-26 win over Canon-McMillan in the WPIAL quarterfinals, completing eight of thirteen passes for two hundred sixty yards, three touchdowns, and one rushing touchdown. The young QB does not hesitate to acknowledge how much he loved the post-season.
"The playoff atmosphere was just different," Kushner said. "The practices leading up to our playoff games had a different type of intensity than we had not seen all season. The games had a different feel, knowing that they were do or die, win or go home. Everyone seemed to have new hope and drive inside of them to give their all each and every play."
Although the Tigers' season came to an end the following week, Kushner remains focused on the positives.
"I learned a lot about myself and this new level of football," Kushner said. "It all starts with the game speed and how much faster it is than freshman football. I realized that I would have to use my mind and pre-snap reads to get an advantage on the defense. Also, I learned a lot about taking care of the football and limiting turnovers, which is something that I need to work on for next season."
Though he was new to the varsity squad this year, Kushner has been playing football since age seven.
"I was always interested in the sport and loved to throw around a football in the backyard," he said. "Just the idea of being able to forget about everything around you and go outside and have fun for two hours. Throughout my youth football career, I always played wide receiver, until I was switched to quarterback in middle school and never looked back."
Kushner loves to study the greats that are currently in the National Football League.
"I can't remember one specific person that inspired me to play football, but there are a lot of NFL players that I looked up to when I first started playing that I still look up to today," he said. "Ben Roethlisberger is the first that comes to mind. Being from Pittsburgh, I have been watching him play for my whole life, going through all of his ups and downs, his Super Bowl wins and injuries, and he is still out there giving it his all every single game."
Now that the off-season has arrived, Kushner has time to reflect on his goals, particularly on his next two years in an NA uniform.
"My short-term goals before I graduate are to win back-to-back WPIAL championships and to win a state championship, or even multiple," he said. "Another goal of mine is to lead the WPIAL in passing yards and passing touchdowns, a difficult task for a quarterback."
"
Logan is a sophomore QB who earned the starting job in 6A which is not an easy task. He has the potential to be an outstanding QB and leader for the next two seasons.
— Art Walker, Head Coach
Even though it is early in the sophomore's career, Kushner does think about the future after high school. 
"I hope to receive a scholarship to a Division One football program within the next two years of my high school career," he said. "After that, I honestly don't know what I want to pursue, whether it is to keep playing football or to move on and get a job with my college degree. All I know is that I am going to cherish the time I have playing football because it will come to an end at some point."
Many say that it is not Kushner's ability on the field that makes him great but rather his personality off the field. 
"He's a humble guy and works hard on and off the field. [I'm] really excited to see him develop these next two years," said teammate Nate Spak.
Sam Lenchner, one of Kushner's lineman, added, "Kushner was a key part of our offense this year. Being a sophomore and getting put into the position of starting quarterback is not an easy thing to do. He has that ability to make prime-time plays, which is rare for his position."
Teammate Harron Lee added. "He's only a sophomore and plays like he has been playing for 20 years.  He has tremendous leadership on and off the field, always rooting for his teammates no matter how the play turned out. The kid is going to be really special."
Head Coach Art Walker was especially impressed with Kushner's work this season and is looking forward to the next two years.
"Logan is a sophomore QB who earned the starting job in 6A, which is not an easy task," Walker said. "He earned it by being extremely coachable, hardworking, and focused.  He has the potential to be an outstanding QB and leader for the next two seasons."
But none are prouder of Kushner throughout his journey to QB1 than those closest to him.
"What makes him so special is how hard he works," said his brother Brayden, who is also on the NA team. "Every day when I looked out back he was out there throwing the ball, and he did that every day for an hour. You could tell he was improving because every week he would throw fewer balls over the hill. Now he can throw 50 yards with no effort and drop it right in the basket every time."
Bev Kushner, Logan's mother, has always remembered the small things Logan did when he was young that led up to this moment.
"I can remember when he was seven, he was throwing a football with his uncle in the front yard, she said. "His uncle couldn't believe how hard and fast he threw a spiral at such a young age. He's continued to develop his football game from then on."
John Kushner, Logan's father, has always known that his son's hard work would lead to success.
"When Logan puts his mind to something, he can accomplish whatever he wants. He has an incredibly strong work ethic and determination," he said.
And for the North Allegheny folks out there, specifically the Student Section, Kushner has a message for y'all.
"I want people to know that this year was just the beginning, and I am going to work hard all offseason to ensure that I improve my game for next season," he said. "Next year, our team is going to come out with a new type of energy and intensity and the mindset that we are going to win the WPIAL. NA is going to be one of the most exciting teams in the league, putting up points and shutting teams out."
View Comments (5)
About the Writer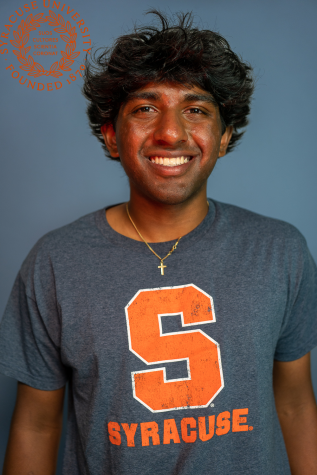 Manas Kathir, Sports Editor
Manas Kathir is currently a senior at NASH who serves as the Senior Class President. He also loves to play sports, hang out with his friends, read books and articles, play percussion, and speak in front of large audiences. Manas got his interest in journalism from Stephen A. Smith. He hopes to become a sports journalist for ESPN one day.