They're Ready for Some Football
After weeks of planning, TigerThon's Powderpuff is ready for kickoff.
Friday night lights may have ended here at North Allegheny, but the rush of a football game is far from over. Tonight the junior girls will face the senior girls in American high school tradition — Powderpuff.  The game dates back to 1972, when a Connecticut gym teacher, the late Judy Samaha, wanted to involve more girls in athletics. 
But this evening, North Allegheny's TigerThon has added their own twist to it.
"All the proceeds from the Powderpuff game support TigerThon and our fight against pediatric cancer," TigerThon co-captain and NASH senior Abbey Hahn said. "All of the money we make throughout our year-long fundraising endeavor benefits Children's Hospital of Pittsburgh and Pennies from Heaven." 
As the game time draws near, both the players and coaches are ready to compete.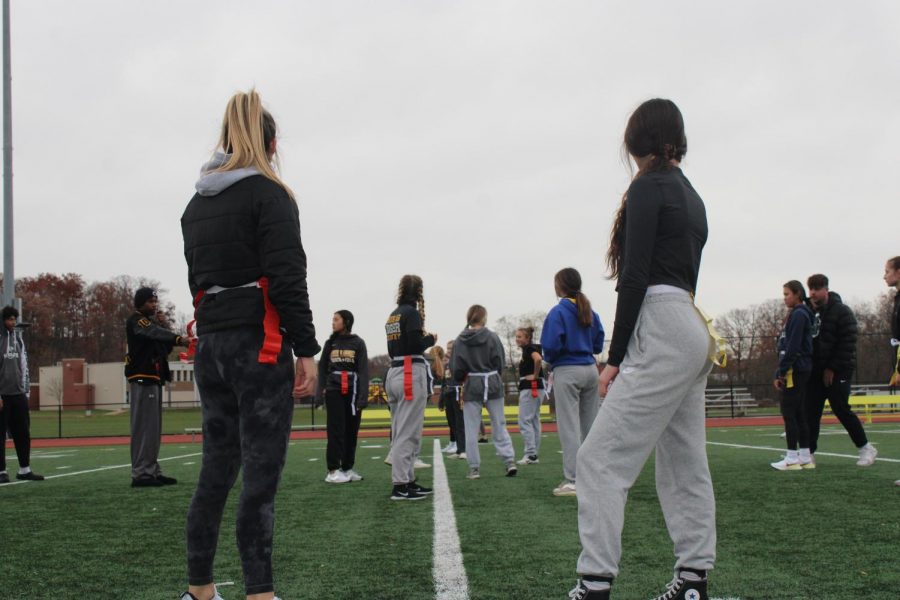 "I am most excited about the atmosphere and fun the game will bring," Powderpuff coach Harron Lee said. "The girls are all enthusiastic and willing to play a very exciting sport. Since NASH hasn't had a Powderpuff event for a while, it has gotten a greater amount of attention and media than expected. The girls as well as the coaches and the staff members involved are all ready to have a fun time."

Hahn is thrilled to be on the field playing with her teammates.

"The juniors have been talking lots of smack," she said. "We seniors have been putting in the work at practice and doing our homework, studying different plays that have been shared with us. I'm excited to get out on the field and put up a good fight." 

In the past, TigerThon captains have had to get creative with their fundraising, and tonight's football game is yet another way that they hope to reach their goal by the spring.

"TigerThon has looked a lot different over the past few years," Hahn said. "Last year, Jordan Richards and Matt Turzai had to get creative and work around COVID protocols. They hosted a variety of COVID-friendly fundraisers, such as Yard Easter Egg hunts and a Trick-or-Treat drive-through. They were determined to hold some sort of dance marathon event and ended up settling for an outdoor version."

Thankfully, this year has brought a return to some sort of normalcy, allowing for the current TigerThon captains Kara Mihm, Hannah Shin, and Abbey Hahn to come up with new and creative ways to raise money.

NATV

"New activities excite the student body and gain a lot of support," Hahn added. "I think the captains this year as well as our captains in the past would agree that being creative in terms of fundraising is key to success." 

So far, TigerThon members and the 100 players involved in tonight's Powderpuff have been please with the event's progress. In fact, it appears to be a tradition that will last. 

"I would love to see a big tournament of the four grades," Lee said. "It could really bring the NA high school community together. Also, a possible expansion to play other schools' Powderpuff teams is something we are considering for next year." 

Be sure to come out to Newman Stadium tonight to watch the players fight it out on the field for a good cause!