Top 10 Sports Nicknames of All Time
Nicknames have long been a part of sports. But the Top 10 are sure to be controversial.
You can't have a top ten sports nicknames list without sparking some controversy. So let me set some guidelines on how I judged these nicknames and where they land.
First of all, the nicknames can't be something you replace a player's name with. So nicknames like Magic or AI or even AB for Antonio Brown were ruled off as true nicknames. I wanted creativity. Nicknames that play on a player's name or the way they played helped their case. Context was rewarded.
The nicknames also had to roll off the tongue. So while a nickname might be creative, is a play on words, and gives context to the player, if it isn't something that I would easily say or enjoy saying, then it probably didn't make the list. An example would be one of the great nicknames in baseball "Bert "Be Home" Blyleven". 
Lastly, if the nickname isn't well known by most people, then it didn't make the cut. Mainstream nicknames mean they truly stuck with the player and aren't just an inside joke within the players' respective fanbases. 
Now, before we get into the true top ten, I'd like to share a few nicknames that are personal favorites, Pittsburgh favorites, and just honorable mentions that didn't make the list. Nicknames are a broad category to judge, and it was hard enough making a top ten for them.
Some of my personal favorite nicknames are Big Sexy (aka Bartolo Colon), Big Time Timmy Jim (aka Tim Lincecum), Bauer Outage (aka Trevor Bauer), Scary Terry for Terry Rozier, and Terry McLaurin, "Sugar" Ray Leonard, and Matty Ice (aka Matt Ryan).
Some of the great Pittsburgh nicknames in history that didn't make the list are Sid the Kid, Super Mario (aka Mario Lemieux), "Muuuuth" (aka Pat Freiermuth), Young Hayes (aka Ke'Bryan Hayes), Big Ben Roethlisberger, and, of course Cutch, for Andrew McCutchen. 
Honorable mentions were also tough, and I had to leave some great nicknames out. But some of the names that barely didn't make the cut: "Say Hey" Willie Mays, "The Big Hurt" Frank Thomas, "The Glove" Gary Payton, Clyde the Glide, "The Iceman" George Gervin, "The Big Fundamental" Tim Duncan, Hakeem "The Dream" Olajuwon, "White Chocolate" Jason Williams, and "Charlie Hustle" Pete Rose.
10. OJ "The Juice" Simpson
Photo Courtesy of Wikimedia Commons
While OJ 's name may now be notorious, The Juice is a great nickname to start the list. It's a great play on words with his name as OJ and the phrase "The Juice is Loose" is too good to not appreciate.
9. Reggie "Mr. October" Jackson
Photo Courtesy of Wikimedia Commons
Reggie Jackson arguably has the most famous baseball nickname of all time. Mr. October signaled the clutch home runs he would routinely hit during postseason games. It was one of the first baseball nicknames to truly stick across generations.
8. "Mean" Joe Greene
Photo Courtesy of Wikimedia Commons
"Mean" Joe Greene is a Steelers legend in his own right and one of the greatest defensive tackles of all time. His play style that practically created the modern stereotype of a hard-nose linemen in the trenches and violent tackles earned him the nickname that fits him so well. And it slips off the tongue with ease.
7. Jerome "The Bus" Bettis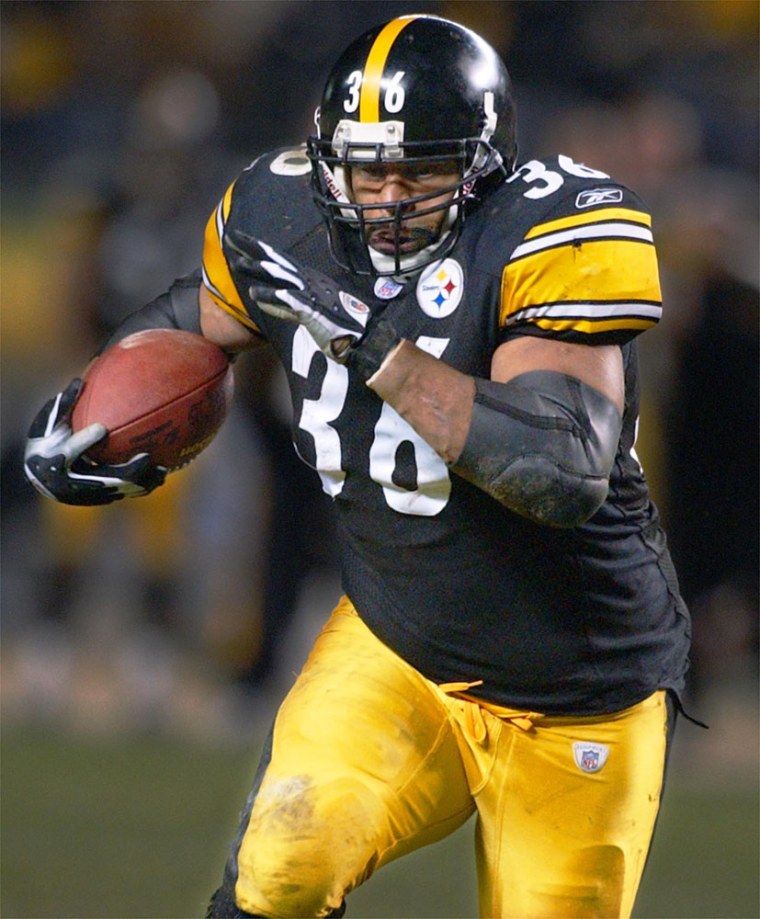 Photo Courtesy of NBC News
Another Steeler reached the top ten, and I promise I'm not biased. The Bus personified Bettis as a player as a bruising running back that ran over defenders like a very large vehicle. Bettis's last name even sounds like "bus," and the nickname stuck throughout his whole career.
6. Dwayne "The Rock" Johnson
Photo Courtesy of Wikimedia Commons
The Rock is just too famous of a nickname to not put on this list. With arguably the most famous nickname in the history of media, Dwayne Johnson is built like a rock and wrestled like a rock. He still embraces the persona of the Rock to this day, and the nickname is too perfect.
5. Calvin "Megatron" Johnson
Photo Courtesy of Wikimedia Commons
Calvin Johnson is the best receiver of my generation and sadly had his career cut short by injury and the Lions. Megatron was who everyone wanted to be during elementary school recess, and his robot-like performances made the nickname Megatron perfect for his inhuman ability on the field.
4. Andrei "AK-47" Kirilenko
Photo Courtesy of Wikimedia Commons
Kirilenko's nickname is so perfect it seems fake. AK-47 already covers his name and number. He's from Russia, where the military-grade weapon was originally made. Kirilenko also was known for his shooting ability and called a "sniper" due to his precision. Just too perfect a nickname to not be on the list — but not top three potential.
3. Kobe "Black Mamba" Bryant
Photo Courtesy of Wikimedia Commons
Kobe Bryant sadly passed away in 2020 in a tragic helicopter accident that shook the hearts of all basketball fans alike. But they all remember his presence on the court and ability to takeover games at any instance. His nickname, The Black Mamba, also the name of venomous snake, pays homage to his mindset on the court as well as his game.
2. Deion "Prime Time" Sanders
Photo Courtesy of Wikimedia Commons
Deion Sanders started his career in the spotlight after refusing to play for some teams who drafted him. He continued to be the greatest show on dirt for various teams in the NFL, making big play after big play for the Cowboys and being arguably the most famous football player of his era. Prime Time was who he was and how he played.
1. Dick "Night Train" Lane
Photo Courtesy of Wikimedia Commons
Night Train Lane was honestly an easy choice for the number one spot. He basically went by Night Train in his playing career and was one of the greatest cornerbacks of all time. The nickname denoted his hard-hitting ability as a defender. That's why Dick "Night Train" Lane tops my list as the best nickname in sports history
If you have any other opinions on nicknames maybe I left out (I'm sure I did), let me know by yelling at me in the comments. It's hard to pick the ten best in sports history, so cut me some slack.