A New Era of Representation in Holiday Movies
A staple of the holiday season, Christmas movies have only recently begun to feature LGBTQ+ characters.
The time in my life during which I was coming to terms with my bisexuality happened to be the same time that I began to question religion. After being raised Christian and baptized in a church that told a gaggle of youth group attendees, including little three-year-old me, to "stop being gay," every day became a struggle that forced me to grapple with how my identity could be impacted by something so seemingly innocent as a belief in God. 
Don't get me wrong, the church that I later moved to now flies a rainbow pride flag at its entrance for all of its members to see, despite a looming threat of controversy. I would never make the claim that homophobia was what pushed me away from the church, though it did play a role in my decision, because I still believe that the overall message of the Bible is to "love thy neighbor as thyself" and that there are plenty of genuinely good religious people that believe in this idea first and foremost.
However, I sometimes get to wondering how different my experience would have been if I had felt more represented and welcomed within religion. Even when I was merely questioning myself, I never saw LGBTQ+ people in Christian media, especially in its most basic form – Christmas movies. 
I have watched and enjoyed the stereotypical Hallmark Christmas movie for longer than I can remember, and for most of my life, I can't recall it bothering me that there had been absolutely no queer representation on this channel that ran such films 24/7 in the months leading up to the holiday. Nevertheless, in this day and age, media is what often forms young people's perception of romance and love.
I can't help but question how different my outlook on Christianity would be today if I had seen queer love in such a context. 
But as television and film media have modernized and expanded representation to different marginalized audiences, a few notable Christmas films with LGBTQ+ main characters have emerged very recently. 
Happiest Season, a Pittsburgh based movie that was released in 2020, tells the story of a lesbian couple that is going to spend the holiday season together and suffers through turmoil due to family drama and other relationships. It is even more impressive that a large majority of the cast members who play queer characters in this festive romantic comedy are also members of the LGBTQ+ community in real life.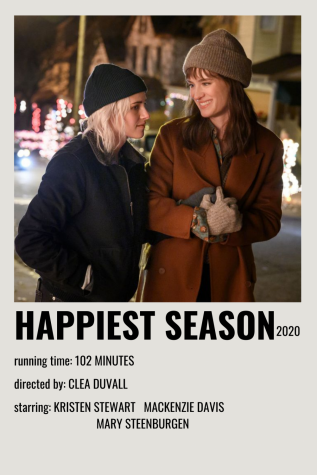 After watching this film almost immediately after its release, I remember being impressed at how the plot was not entirely based on the main characters' queerness but instead on their personal lives and struggles. I had expected a film that was solely about identity, which is common in many areas of media, seemingly with the intent to gain woke points in the eyes of its audiences. Instead, Happiest Season maintains a good balance between romance, queer struggles, and the characters' lives outside of their identities, which is what the clear majority of films that star straight couples do.
The film received some negative criticism from queer audiences, though, because it is largely based around how one girlfriend forces the other to pretend as if they are just close friends in front of her unknowing family, leading some viewers to believe that director Clea DuVall was enforcing toxic relationship dynamics for gay couples. While the argument may be valid, I was still amazed to see a cast of A-listers in a popular and critically-acclaimed queer Christmas movie. 
Hallmark's The Christmas House, its first Christmas film featuring gay characters at the forefront of its cast, was also released in 2020. The film never explicitly discusses how the two men are gay, but it does examine the couple's struggle with adopting a child, which is a serious issue for LGBTQ+ couples in the United States due to sexuality-based discrimination in adoption. 
In August of this year, Hallmark released Wedding Every Weekend, its first film to feature a same-sex wedding. Despite backlash, it is extremely admirable that the network took this step in the right direction toward representative media. 
Seeing as these films were all released within the last year and a half, it is frustrating to think about how long it took for it to get to this point. Nevertheless, for young queer people who are currently struggling with questions of sexuality, I hope that this kind of media becomes an ever-improving trend.