A Review of Dawn FM
The "dawn" of the Weeknd's new era
"You are now listening to 103.5 Dawn. You've been in the dark for way too long. It's time to walk into the light."
Abel Tesfaye, better known by his stage name, "The Weeknd," recently dropped his fifth studio album—Dawn FM. As the name suggests, the album follows a recurring radio motif, complete with "ad breaks" narrated by Jim Carrey and theme music to boot.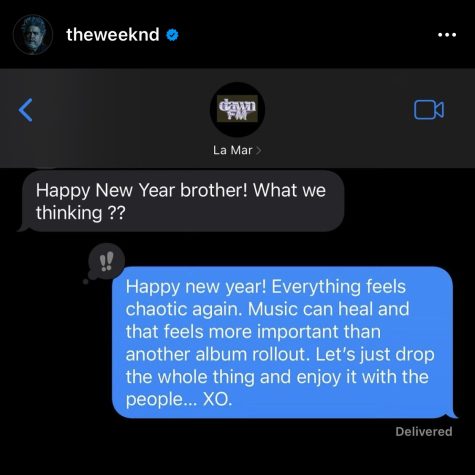 In the lore of the Weeknd's albums, Dawn FM follows the death of Tesfaye's character in After Hours and represents the second stage—purgatory—in what is anticipated to be a trilogy (a callback to his origins?) of albums: After Hours, Dawn FM, and…well, we'll have to wait and see (fans are already speculating it'll be called After Life).
******
Dawn FM
The title track proves to be a worthy intro and sets the tone for a formidable album. It also marks the beginning of the album's plot—following the Abel from After Hours after death in his journey to the underworld—as the melodious ad-libs really capture the feeling of transcending the physical realm. 
Gasoline
On my first listen-through, I wasn't a huge fan of this track—the monotonous pseudo-deep voice verses soon became repetitious and left me itching to get to the chorus. However, when that chorus came it was like a cool glass of water quenching a previously dry throat. After a couple of listens, the entirety of the song has grown on me.
How Do I Make You Love Me?
This song is the first taste of the disco-y sound hugely prevalent in this album, which I think fits very well with the overall futuristic vibe. It is also the first example of another feature of the album—the seamless transitions between tracks, as the ending beat blends perfectly into that of the subsequent "Take My Breath."
Take My Breath
As the only separately-released single on Dawn FM, "Take My Breath" was first heard on August 6th, 2021. However, this version includes an extended intro and outro, which plays into the aforementioned transitions and adds context. It makes sense that this song was chosen as the single, as it is probably the catchiest and has the most mainstream appeal in an album that is comparatively more niche. I've listened to this song already many times, but it remains one of my favorites.
Sacrifice
"Sacrifice" was the first music video released for Dawn FM (excluding "Take My Breath"). The song's "electro-funk guitar loop accompanied by '80s sounds", as Genius describes it, makes it great dance music and a likely mainstream hit. I predict this will be the "Save Your Tears" of Dawn FM.
A Tale By Quincy
A track that isn't really a track at all—there's somehow simultaneously not much to say about "A Tale By Quincy" and too much to delve into. Track 6 is just audio of music producer Quincy Jones speaking about his formative experiences and how they shaped him into the person he is. His childhood mirrors Abel's in that lack of emotional support and stability led to lasting issues in forming relationships with others. The introspective monologue ends with a remark about the taxing nature of reflection on one's past mistakes and learning how to learn from them.
Out of Time
Keeping with the preceding track, "Out of Time" is all about reminiscence, realization, and regret. Abel reflects on how his trauma influenced a lot of bad decisions he made in the past while everyone around him grew up and moved on, leaving him stuck in the same dark place. The song ends with a return to the radio, with Carrey's voice espousing a "soma-like" reassurance straight out of Huxley's Brave New World:
"Soon you'll be healed, forgiven, and refreshed / Free from all trauma, pain, guilt, and shame / You may even forget your own name / But before you dwell in that house forever / Here's thirty minutes of easy listening to some slow tracks / On 103.5 Dawn FM"
Here We Go…Again (ft. Tyler, The Creator)
When I was listening to this song, I kept grasping at a faint sense of recognition that I finally figured it out: "Here We Go…Again" reminds me a lot of "Until I Bleed Out" from After Hours—the slower tempo, lighter, airy vocals that dress understatedly sad lyrics. The feature from Tyler, The Creator was pretty non-impactful; it didn't add anything to the track, but it didn't necessarily worsen it.
Best Friends
This song is, quite simply, a bop. The syncopation in the beat is one of the best production choices on the album and underscores his vocals perfectly. "Best Friends" may be one of the few times I wish the radio motif was omitted, as I feel like the ending chord and riff offered an impactful resolution, but I understand it was necessary for the transition into the next song.
Is There Someone Else?
Another one of my favorites, this song is like if Starboy and After Hours had a baby. Naturally, the progeny of two of Abel's best albums is fantastic in its own right. "Is There Someone Else?" incorporates smooth vocals that continue the concept of trying to improve yourself but watching others move on before you can fully do so.
Starry Eyes
Perhaps one of the less memorable but still impactful songs, "Starry Eyes" leans further into The Weeknd's journey in purgatory, as he examines how his past behavior hurt people and vows to be better, but recognizes that the damage is already done.
Every Angel is Terrifying
This is the track that got all of the XOs speculating about the title of the last album in the trilogy. The track is essentially a radio commercial for something called "After Life", urging listeners to "order now for $4.95 plus shipping and handling." If the Weeknd did put a commercial for his next album in this one, well played.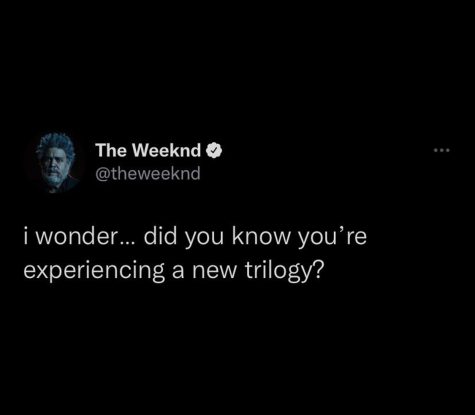 Don't Break My Heart
"Don't Break My Heart" like a lot of the Weeknd's songs, becomes better the more I listen to it. The call-and-reply chorus is extremely catchy, and the song is kind of like a less energetic version of "Take My Breath." 
I Heard You're Married (ft. Lil Wayne)
More 80s disco vibes, more influence from his pop-R&B Starboy era—overall solid track. While I think I will learn to like both features in this album, they aren't as exciting as I was hoping for (though it may just be because neither can hold a candle to "Moth to a Flame").
Less Than Zero
I have a hunch that this track will be an underrated song—it has a much more mellow feeling but still has a strong melody. The (my dear?) melancholy of the lyrics is juxtaposed by the upbeat sound that evokes nostalgia and remembering. It sounds like something that would play in a movie soundtrack in the closing credits.
Phantom Regret by Jim
The finale is a poem read by Jim Carrey that explores the ideas of death, the soul, and heaven. Particularly the latter is a major theme in this track, bridging the content of this album, focused on regret and repentance, with presumably the one to come: "Heaven's for those who let go of regret." This track sounds like a great setup for the third album that he teased on Twitter and leaves listeners with one last pearl of wisdom: 
"In other words / you gotta be Heaven /
To see Heaven / May peace be with you"
While each individual song on Dawn FM is strong, the overall experience is heightened when listening to each in the context of its peers. The album may not have the most popular appeal compared to some of his older works, but its unconventional style cements it as more of a concept than merely a collection of songs.
As we eagerly await the final component of the triptych of albums after the Dawn, one thing's for certain: the sun isn't setting on the Weeknd's empire anytime soon.