Matt McBuckets
McBuckets, Matty Ice, Big Cat Matt…The man with many names is making history on the Varsity Basketball Team.
This season, boys' basketball in the WPIAL has looked closer than ever. Teams are battling in close contests every single night to earn themselves the honor of a playoff spot, in hopes of competing for a title.
With such a competitive league, the Tigers have been working harder than ever to perform as a team, winning games with a 'We over Me' attitude. However, every army has a general; every kingdom has a king; every story has a hero. This season, the Tigers have looked to no man more than Matthew McDonough. 
McDonough, a 6"1 combo-guard, is one of NA's most electrifying athletes. Although his main draw might be his ability to shoot from beyond the arc, McDonough has the ability to score on all three levels with staggering efficiency. If that isn't impressive enough of a resume, McDonough also serves as the starting lineup's main ball handler and shot creator.
Simply put, not putting your best defender on him will result in him torching your team all night. 
McDonough has the numbers to back these claims as well — averaging almost 29 points a game while shooting a red-hot 51% from 3 last season. This season alone, he has had some monster games, including 34 points in an OT thriller over Pine-Richland, 41 against Hempfield, and 30 against Erie Prep, giving him his 1,000th career point. 
"It was amazing to celebrate with my teammates after achieving the 1000 point milestone since they were a huge part of it," McDonough recalled. 
Assistant Varsity Basketball Coach and NASH history teacher Mr. Pirring was ecstatic over his star player's accomplishment. 
"I couldn't be happier for [Matt] getting to his 1000th point. It was just an incredible moment to be a part of," Pirring said. 
However, despite his Herculean feat, McDonough's greatest strength may just be his composure. Good or bad, miss or make, Matty Ice has earned his nickname — cool no matter the circumstances. Despite being 'The Man' for the Tigers this season, it seems that McDonough could care less about his personal stats at the sound of the final buzzer. He has only one goal in his sights. 
"The main goal is winning NA's first WPIAL title," he said. "Lately, we have been on a losing streak, but I feel like we will turn it around and finish the season strong. We just need to get into the playoffs, and I'm confident we can beat whoever we play."
McDonough has been the go-to guy in the clutch for Coach DeGregorio this season, and likely no shot will be as memorable as his last-second three to send Pine-Richland to overtime, where the Tigers would come out on top.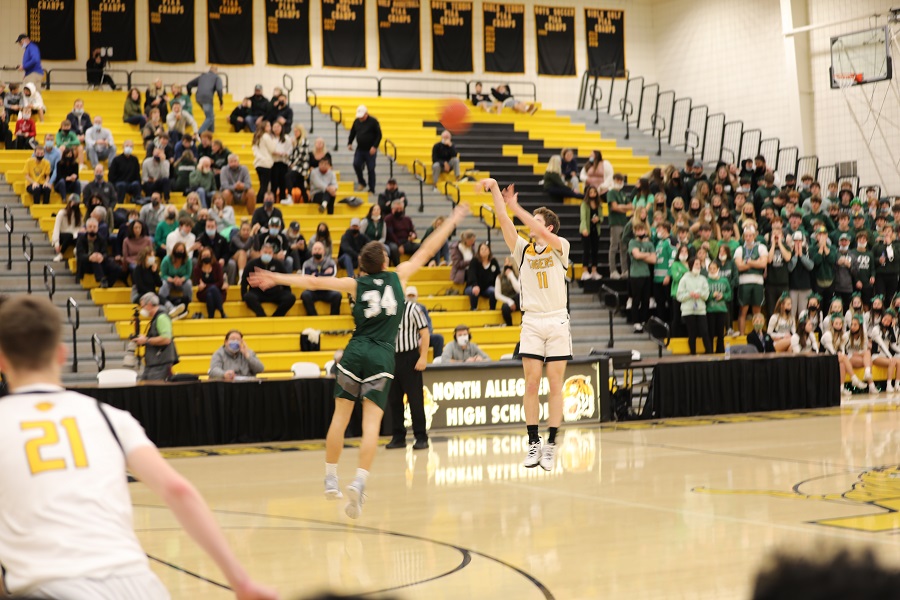 McDonough broke down the moment. "The plan was to try to get a quick two and then foul to extend the game. I came off a screen and saw that I had some space so I decided to shoot it. Luckily it went in, and we were able to get a huge win in OT."
And even the stone-cold shooter had to acknowledge the moment he created in retrospect.
"I might not show much emotion on the court, but I was pretty fired up after that," he explained.  "It was great to cap it off with the win." 
McDonough has always focused on being the best player he can possibly be, but he also strives to be a good teammate and a strong leader.
McDonough is co-captain of the team, along with lifelong friend and back-court partner Robby Jones. 
"Playing with Matty Ice is a once-in-a-lifetime opportunity," Jones explained. "We love to joke around with him, but he brings nothing but hard work into our practices and games. We have won many games due to McBuckets."
McDonough first picked up a ball at six years old — the same time as Jones. Playing together from such a young age, the two formed an immediate bond and chemistry on the court. 
"We have great chemistry and our mindsets are very similar," said Jones. "We work together very well and try to make the locker room have the best morale it can possibly have."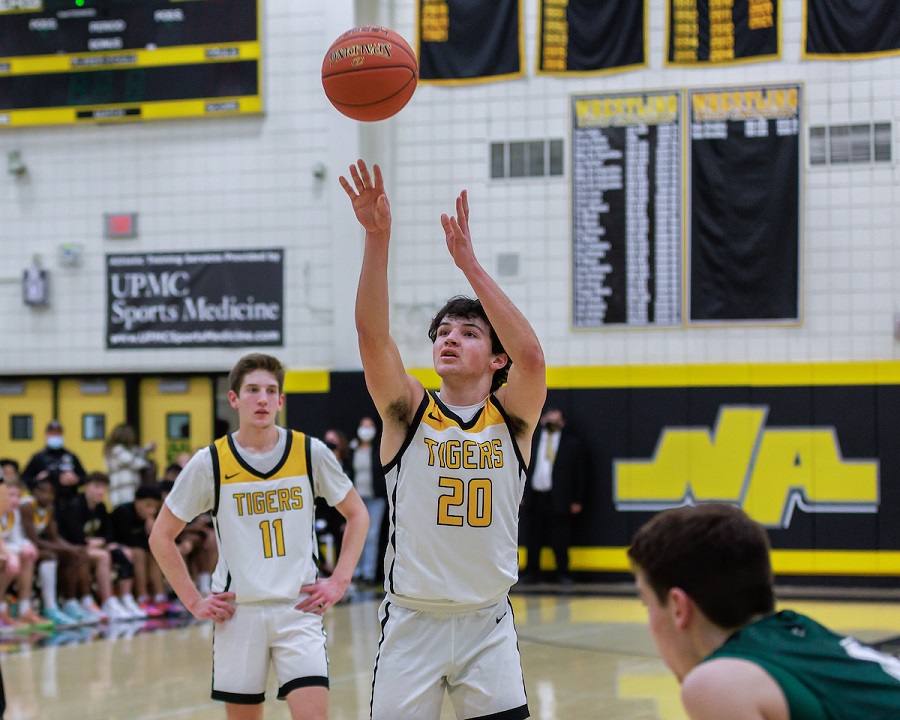 To an athlete, no opinion matters more than that of your coach. Mr. Pirring has nothing but praise for McDonough, calling extra attention to his incredible work ethic.
"You see Matt shoot the ball the way he does and handle the ball the way he does, and can just tell how hard he works at his craft," Mr. Pirring emphasized. "He's the first player in the gym, and the last to leave. He's just that type of guy who is willing to do the extra work."
Even though the path he will take is not certain, everyone who has seen McBuckets play knows what future lies ahead of him. 
"I plan to play somewhere for college but not sure where yet. I'll decide after the season is over," McDonough explained.
At the end of the day, what makes Matty Ice the one-of-a-kind player he is? Phenomenal shooting? Dangerous passing? Humility and leadership? 
If you were to ask him, it's a safe bet what he would say —
It does not matter. Time for the WPIAL title to come home to the Tiger's Den.