Boys' Lacrosse eyes another title-winning season
Last year's WPIAL champs, the team begins its regular season on March 25th.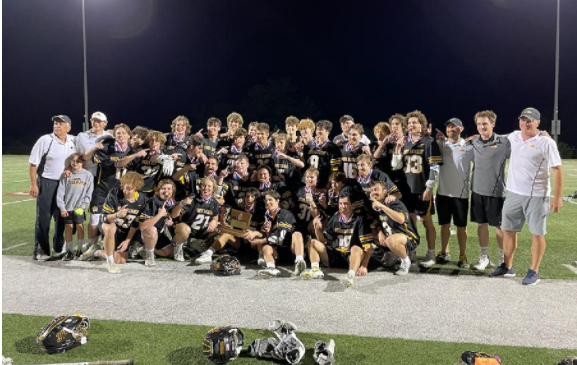 March holds much significance at North Allegheny. It means spring break is getting closer, the third nine weeks is ending, and a new sports season is on its way.
And among the most popular spring sports is boys' lacrosse.
This year the North Allegheny Boys' Lacrosse Team has high hopes.
"I am looking forward to defending our championship title and making memories with the boys." said senior Aidan Soriano.
Junior attacker Rigg Milliken has been playing lacrosse for eight years.
"I am looking forward to a good season this year and hopefully being able to go back to the WPIAL championship game," said Milliken.
Returning junior varsity players hope to move up the ranks this season.
Junior Chase Ferraro said, "[I'm looking forward to playing] varsity, hopefully, and hopefully winning WPIALs two times in a row."
Beating out Shadyside Academy for the WPIAL title last year, the Tigers advanced to the PIAA quarterfinals where they unfortunately lost in to Conestoga High School.
This year, the team believes they have what it takes to win states, and there can be no denying that they want redemption.
"Based on how far we got last year, I do think we can get to states this year. I think there is a high chance," said junior Mason Dean.
Ferraro added, "We have the seniors that won WPIALs last year and some of the juniors that played in the WPIALs last year, too, so we have a good team."
Practicing every night for at least two hours, the team feels very prepared for the regular season that begins later this week. But their preparation began long before spring arrived.
"In the off-season, we have the fall tournaments and practices. In the winter, we do conditioning three nights a week and weight lifting," said Dean.
Senior Marko Kosanovich added, "We have prepared in our usual ways of fall ball and winter conditioning. I think most of us as well put in the work outside our scheduled practices and got on the wall and made ourselves better."
Before games, the team has a tradition that strengthens their focus and their bond.
"We listen to music in the locker room to get hyped up. I love listening to music before games because it sets a mood for the whole team and it makes us want to get out there and go crazy on the field," said Milliken.
As most team members have been playing together for all their three or four years of high school, funny memories come readily to mind.
"My favorite lacrosse memory was freshman year when Sean Boal and Marc Bartolomucci kept arguing, so our coach made them run a lap around the field holding hands," said Milliken.
But their best memories involve victory.
"Winning WPIALs last year was the best. And the path we took to get there was awesome and the redemption we got with both Shady Side and Lebo was super fun," said Kosanovich.
The Tigers' first regular season game is against Upper St. Clair on March 25th at USC. Let's hope the boys start the season strong and get the results they've worked so hard for.