The Story Behind the Scam
The Hulu mini-series "The Dropout" retraces the true and compelling story of Elizabeth Holmes.
A black turtle neck, some jeans, and — if you are feeling fancy — a blazer. This was a staple outfit for Apple's past CEO, Steve Job and has been adopted by various business moguls throughout the years. One infamous CEO and scammer, Elizabeth Holmes, idolized Jobs and embraced his look to a tee. Unfortunately, Jobs' outfits were the only habit she picked up from him. In June of 2018, Elizabeth Holmes was convicted of fraud over her biotechnology company, Theranos. 
After the disappointing news of Holmes, many documentaries, articles, and podcasts came out. Most recently, the Hulu mini-series The Dropout decided to tackle the complicated and enthralling story. The show is directed by comedian, writer, and producer Michael Showalter, stars Amanda Seyfried and Naveen Andrews, and dives into all of the crazy side stories that comprise this rollercoaster of a story. The show is set to release eight episodes and has so far released four.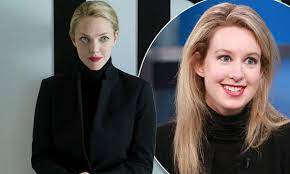 Taking a very accurate approach, The Dropout opens with Holmes set to attend Stanford in the fall for bioengineering. It is very obvious straight off the bat that Holmes was an incredibly smart and determined child and teenager. Many times, in the beginning, she says her goal in life is to be a billionaire while also changing the world.
The summer before she started at Stanford, Holmes participated in an immersion program in Bejing to acquire global skills. This is where she met her future significant other and business partner, Sunny Balwani who would go on to influence Theranos immensely. 
Once she enters her freshmen year at Stanford, Holmes's persistence and knowledge allow her to join a graduate research group led by Dr. Channing Robertson, a department head at Stanford, who would eventually be one of the first members of Theranos's board of directors. 
At present, TV is at the peak of its scammer docuseries era. Shows such as Inventing Anna about Anna Sorokin and Dirty Money about Martin Shkreli also dive into the stories behind the scammers. However, The Dropout takes a different approach by also trying to unpack the motivations and reasons behind Holmes's actions — almost making it hard to hate her.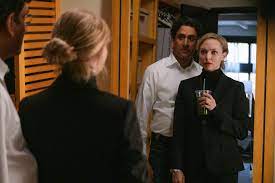 In the show, Holmes's is always seen as an outcast, never really fitting in with the people she is with. However, once she comes up with an idea for a business during her sophomore year and recruits people to join her team and give her advice, she drops out of Stanford and starts Theranos. Her struggle to maintain respect and authority while her company grows shines through exceptionally. 
Amanda Seyfried plays Elizabeth Holmes amazingly well. From the big blue eyes to the blonde hair, the actress has all of the key characteristics of Holmes. However, outside of their matching looks, Seyfried had to work hard to master Holmes's signature deep voice. The awkward pauses and intense staring paired with the direct statements really make the character feel real and eerie. 
Since the show has only released half of its episodes, the peak has yet to be reached. It will be exciting to see how The Dropout will unravel the rest of this true and compelling story.