Growing up is a beast
"Turning Red," now on Disney+, is quirky, relatable, and pioneering.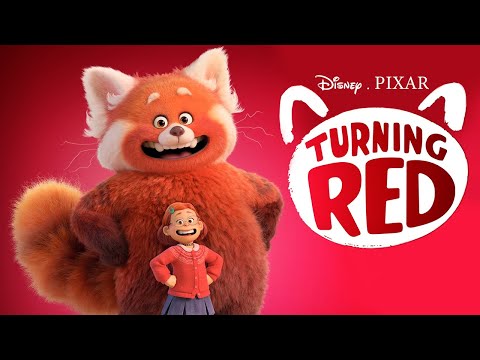 On February 21, 2022, a new Pixar movie appeared in the carousel on the Disney+ homepage. It was the scarcely-advertised movie Turning Red, which represents a lot of firsts for a Pixar.
It is the first full-length Pixar movie to take place in Canada, and it is also the first of Pixar's creations to be led entirely by women, written by Julia Cho, Sarah Streicher, and Domee Shi, who also directed.
Before Turning Red, Shi was best known for her Oscar-awarded Pixar short film Bao. The short film also took place in Canada and followed the changing relationship between a mother and son in an Asian household.
The story of Turning Red follows 13 year old Meilin "Mei" Lee, portrayed by Rosalie Chiang, who is going through a lot of changes in her life. She is growing up and wants to be like every other teenager, hanging out with friends, having crushes on boys, and obsessing over her favorite boy band.
The film demonstrates the complexities of a changing relationship between a mother and daughter. As Mei grows up, she wants to be her own person and realizes she cannot meet all the expectations her mother, played by Sandra Oh, has set for her.
The main conflict revolves around the plot point that whenever Mei gets too excited or angry, she turns into a giant red panda. This is an experience that every woman in her family has to go through and understand for themselves until they do an ancient ritual to get rid of it.
Mei has three best friends, Priya, Miriam, and Abby, played by Maitreyi Ramakrishnan, Ava Morse, and Hyein Park, and they have another dilemma– their favorite boy band 4Town is coming to Toronto and all they want to do is go to their concert, but none of their parents will let them go.
Mei and her friends come up with a plan to attend the concert while Mei is also working to control her panda.
Mei's friend group is a great example of what representation should be in children's movies. For example, Priya Mangal is Desi and finally gives Desi kids someone to look up to. She is also voiced by a Desi actress.
Turning Red is a great addition to the Pixar universe. It perfectly represents middle schoolers in 2002, with cringy jokes and over-the-top early 2000's outfits. It contains many references to the pop culture of that time period, such as The Simpsons, the Tamagotchi virtual pet, and The Fresh Prince of Bel-Air.
The film also features great music, written by Billie Eilish and her brother Finneas, reminiscent of The Backstreet Boys and N'Sync.
Some say the movie is not fit for young children because of its discussion of female puberty and a plot follows a young girl going against her parents wishes. Some even say that it is not relatable to today's audiences, but those criticisms miss the mark.
Almost everyone can relate to growing up and feeling uncomfortable with oneself, or being worried you might be embarrassed by your parents at school, or even rebelling against the idea of what your parents think you should be. There is something for everyone in this movie, and that makes it universally relatable.