Showstopper
What happens when 15-year-old Charlie Spring falls for school rugby star Nick Nelson?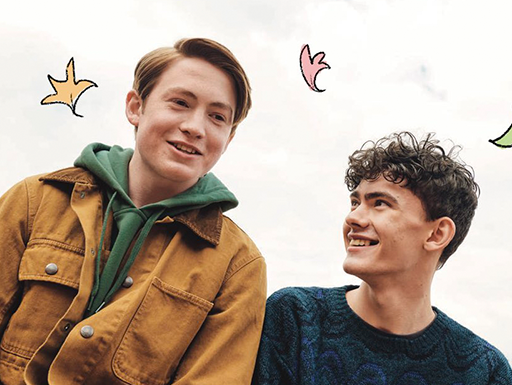 Like most people, I spend my weekends binge-watching whatever Netflix show catches my eye. I've currently been in a Netflix slump, switching between Bridgerton, New Girl and Jane the Virgin. However, while trying to decide what show I'd rewatch next, I noticed that Heartstopper had finally reached the streaming platform. 
I had heard about the graphic novel by Alice Oseman and the praise that came with it, but I hadn't gotten the chance to read it yet. After watching the show and eventually reading the graphic novels, I know that the praise given to the original book was not misplaced. 
Starring Joe Locke (Charlie Spring), Kit Conner (Nick Nelson), William Gao (Tao Xu), and Yasmin Finney (Elle Argent) with Corinna Brown (Tara Jones), Kizzy Edgell (Darcy Olsson) and Tobie Donovan (Isaac Henderson), Heartstopper is a coming of age story for the ages.
The biggest difference between the original WebToon-turned-graphic novel and the Netflix-show is the loss of the character Aled. Aled is one of Charlie's friends and plays an important role in helping Charlie tell Tao about his new relationship.
In the Netflix adaptation, however, Aled has been replaced by a new character, Isaac. The author of the original story stated that the creation of Isaac was because Aled has his own storyline in the book Radio Silence. Creating Isaac allowed Oseman to expand her universe and create a whole other story for a new character. This will also open up an opportunity for Radio Silence to be adapted into a TV show without having continuity errors between both shows.  
The first season of the show mainly focuses on Charlie, who, in one of his classes, is seated next to one of the top rugby players, Nick Nelson. Viewers quickly learn that Charlie was outed as gay the previous school year and was bullied heavily for it. They also learn that Charlie is in a toxic relationship with a boy named Ben who continually tries to keep him a secret. After standing up to Ben and joining the rugby team, Charlie begins to fall for Nick.
Along with its main gay representation, Heartstopper includes many other people who fall under the LGBTQ identity. For example, Elle is a Black transgender student who transfers from Charlie and Tao's all-boys school to an all-girls school. At the all-girls school, Elle befriends Tara and Darcy. who viewers quickly realize are a couple. 
While the nature of Heartstopper as a coming of age story dealing with queer teens contains a coming out scene, it is not the central plot of the show. Unlike previous media about LGBTQ people, newer shows have started to showcase LGBTQ characters at the forefront of stories, characters who aren't surrounded by their identity. For Charlie, the story is about falling in love for the first time and standing up for himself. 
While Heartstopper has some common situations that are found in LGBTQ media, it feels fresh and not overdone. An example of this is the lesbophobia that Darcy and Tara face when they decide to make their relationship public. The couple is asked many invasive questions about their relationship, such as to why they are dating. These questions reflect the real world. It is rare to see a lesbian couple in the media that isn't hypersexualized or shown as just an "experiment". 
Many young queer people go to the internet to Google "Am I Gay?" quizzes. Many queer youth also find statistics of hate crimes and conversion therapy and are understandably frightened. The scene where Nick is looking up these things online is followed by the Orla Gartland song, "Why Am I Like This?" which helps to drive home Nick's initial confusion around his identity. 
As LGBTQ media evolves, more and more queer kids are able to finally see themselves in a truthful light. Heartstopper adeptly shows what it is like to fall in love and be LGBTQ in the modern era.