Culture at NASH
Take a closer look, and a world of cultures is present at North Allegheny.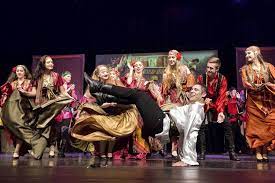 Every day hundreds of students walk the hallways of NASH. They go to the same classes as us and eat lunch in the same cafeteria. However, many of these students lead a life completely different than the ones we see during school hours. Pittsburgh and even Wexford are extremely diverse areas that host families, events, and food from multiple cultures. Some of these cultures seep into NASH students and display a whole new side to them.
One example is NASH senior, Lindey Glinoga. Glinoga is part of FAAP or Filipino American Association of Pittsburgh, which she describes as an "organization that participates in various activities including cultural dances, festivals, and charities. Embedded within the organization is the YFAP (Young Filipinos Americans of Pittsburgh), which is centered around the youth."
After participating in the organization for over seven years, Glinoga acted as the Vice-President of Internal Affairs and then pPresident of the group. She continues to participate in YFAP because "growing up as a Filipino in America, I recognize the importance of balancing both my heritage and the American culture and societal values and participating and being an active member in the FAAP helps relieve that cultural disconnect. I also love learning about my culture and being able to make connections and relationships with other Filipinos in our community."
YFAP is an essential part of Glinoga's life, "because I have learned more about the Filipino culture and have created long-lasting relationships through these activities. For example, recently the YFAP officers visited the Deaf Brown American Mom art exhibit in downtown Pittsburgh and we were able to discuss with the artist Fran Flaherty Filipino history and what it means to be Filipino. I personally loved the experience and felt like it helped me grow a deeper appreciation for my culture and understand what it means to be a Filipino." 
Zach Brkovich is another NASH senior who partakes in his own cultural activity.
"I am part of the Tamburitzans which is a performance ensemble group from Duquesne University that performs folk songs and dances from countries all over Europe," Brkovich explained. "I just got into the Tamburitzans, but I have been a member of the junior group since I was six or seven years old. I continue to participate in the dance group because it is such a unique experience and it has given me and my family so much connection to our family in Europe. I definitely consider this activity an essential part of my life because I have been doing it basically for as long as I can remember. It is also how my parents met so I have truly been raised around this culture and experience and I have just formed so many amazing memories from it."
Maya Sivakumar, a NASH junior, is a Bharatanatyam dancer.
"I take Bharatanatyam classes. Bharatanatyam is a type of Indian classical dance that originated in Tamil Nadu, the place in India I was born," Sivakumar said. "I have been doing Bharatnatyam since I was five years old so 12 or so years. My mom is a dancer too, so signing me up for dance classes wasn't something I had a say in originally but have grown to love."
Sivakumar described her reasoning to keep learning dance.
"Even though I didn't start dancing on purpose, it became so ingrained in my life that it just stuck," she said. "I feel like I have an advantage with dance since it runs in my family, but I have grown to love performing and expressing myself through dance. Since Bharatanatyam also has a religious component with Hindu roots, dance allows me to get more in touch with my heritage and my culture. Honestly, dance is one of the only parts of Indian culture that I am really invested in which is why I definitely believe it is essential to my life. It helps me learn more about my culture and keeps me in touch with my family. Watching myself improve over the years by refining my expressions, my technique, and my connection to dance reminds me of how much I care about it. At the end of it, I'm just a dancer, but I feel like the tradition I practice has helped me grow into my cultural identity." 
All of these students provide insight into the unique and vital cultural activities students at NASH engage in.