A Long-Awaited Concert
Conan Gray takes the stage at the UPMC Events Center for his latest and much-anticipated tour.
At around 8:30 on the night of September 22, a single red rose was projected on a white screen in the UPMC Events Center. Suddenly, the curtains parted and in the center stood a solo 23-year-old singer, Conan Gray.
The Pittsburgh show was opened by singer Kacy Hill, who performed as hundreds of concert-goers filed into their seats. Applause followed every song, but the crowd was eagerly awaiting Gray's entrance. Hill performed several songs, most notably her most popular numbers "Arm's Length" and "Simple, Sweet, and Smiling."
Gray opened with "Disaster" from his newly released Superache album. The stage was lit with green and purple arrays, with Gray alternating between upbeat and tearjerker songs.
The Superache tour is Gray's second, and Pittsburgh was Gray's fourth stop. In 2021, the performer went on tour for his first official album titled Kid Krow.
Later in the evening, Gray went on to perform another one of my favorite songs, "Best Friend," which is fitting because I was at his concert with my best friend.
Gray is set to perform 20 shows around North America on the Superache tour, before setting off to Australia and New Zealand to perform four shows. The Pittsburgh show was a key stop in his tour.
After opening with "Disaster," Gray went straight into performing my personal favorite song, "Fight or Flight" from his Kid Krow album.
An irresistible enthusiasm permeated the show last Thursday. Gray ran around the stage jumping and dancing while singing and during instrumental interludes. The stage was divided in two with an upper and lower half, which Gray alternated between throughout the show.
The back of the stage was decorated with a heart with a screen inside that displayed different colorful lights in sync with the beat of the song, with occasional white curtains falling over the back of the stage to allow a projector to cast a variety images. During Gray's song "Astronomy," the back of the stage was covered with different stars and planets. His new song "Movies" had the back of the curtain of the stage plastered with different film rolls of famous movie couples.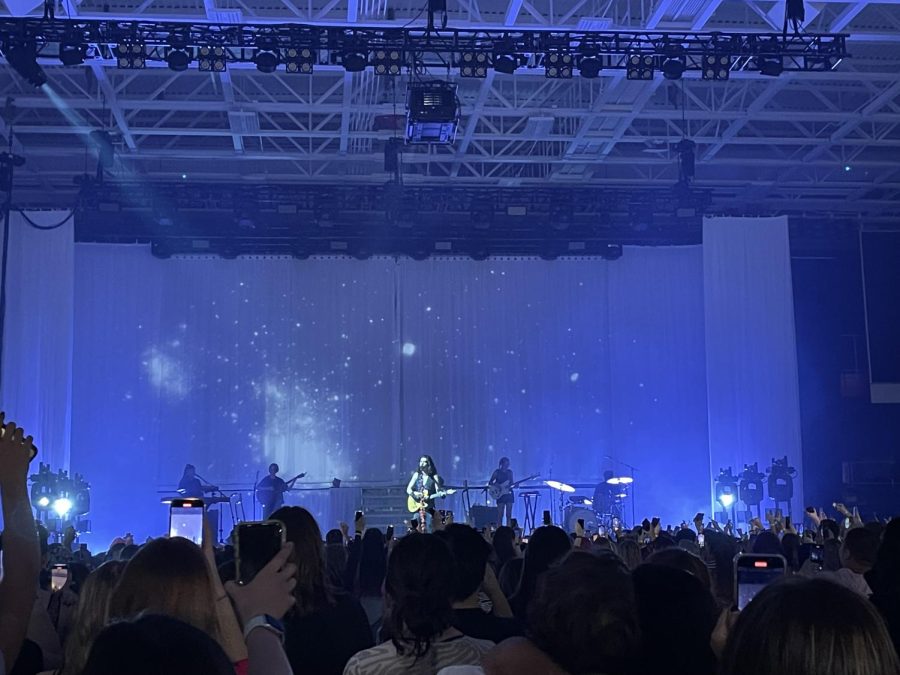 The young artist was accompanied by a four-person band, including bass, drums, guitar, and keyboard. Gray himself played guitar for a couple songs, including the TikTok hit "Heather" and "The Story," both from Kid Krow.
Throughout the show, Gray took the time to talk with the crowd about what certain songs mean to him, also reading posters made by fans and even taking the opportunity to lead the crowd in singing "Happy Birthday" to a girl in the pit.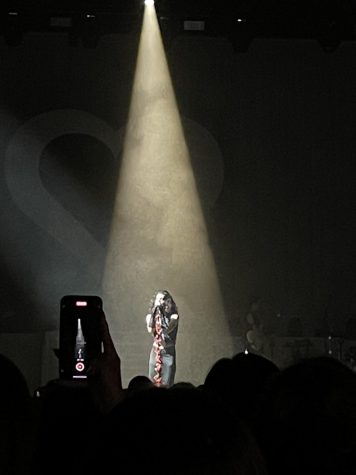 I have listened to Gray's music since 2018, when my best friend showed me his YouTube videos in eighth grade.  Attending one of Conan Gray's concerts with my best friend has been on my bucket list for years. Our anticipation for the show made this concert even more meaningful.
I am not an avid concert-goer, but this is probably my favorite out of the two concerts I have been to. Although this is up against Taylor Swift's Reputation tour, which was an incredible concert, I think I enjoyed Gray's concert more.
Swift held her concert in what was once Heinz Field, now Acrisure Stadium, which can accommodate just under 70,000 people. While Gray's concert in the UPMC Events Center maxed out at 4,000 people. The smaller setting made the concert feel more intimate rather than being a thousand feet away and up in the air at a stadium.
Gray ended his concert with "Maniac" from Kid Crow and then "Memories," his latest hit, from the Superache album. He waved goodbye and then ran off the stage. The lights came up and showed concert-goers tear-stained faces after a night of dancing, singing, and crying tears of sadness and joy.