Up Close at Rise of the Phoenix
Singer-songwriter Tessa Violet delivers a sensational show earlier this week in Pittsburgh.
Flashing lights, extravagant costumes, and rhinestone-covered guitars were just a few of the splendors the audience saw on the stage of  Mr. Smalls Theatre at Tessa Violet's Rise of the Phoenix tour this past Tuesday. From the basement of an old school to Mr. Smalls Theatre, the singer-songwriter has paved her way through the music industry one captivating performance at a time.
As the crowd filed into the venue, the concert started with the high-energy, alternative-indie band, Daysormay. The crowd went crazy as lead singer Aidan Andrews jammed out on the guitar. Accompanied by twin brothers Nolan and Carson Bassett on bass and drums, this band quickly grabbed the attention of the audience. 
After a short but entertaining performance by Daysormay, British singer Will Joseph Cook took the stage accompanied by Eric Radloff. Performing for close to an hour, they sang some of their biggest hits, such as "Girls Like Me," "We Met on the Internet," and "BOP." Some lucky audience members received guitar pics, and others, setlists. By the end of their set, everyone was in good spirits and eager to see the artist of the night — Tessa Violet.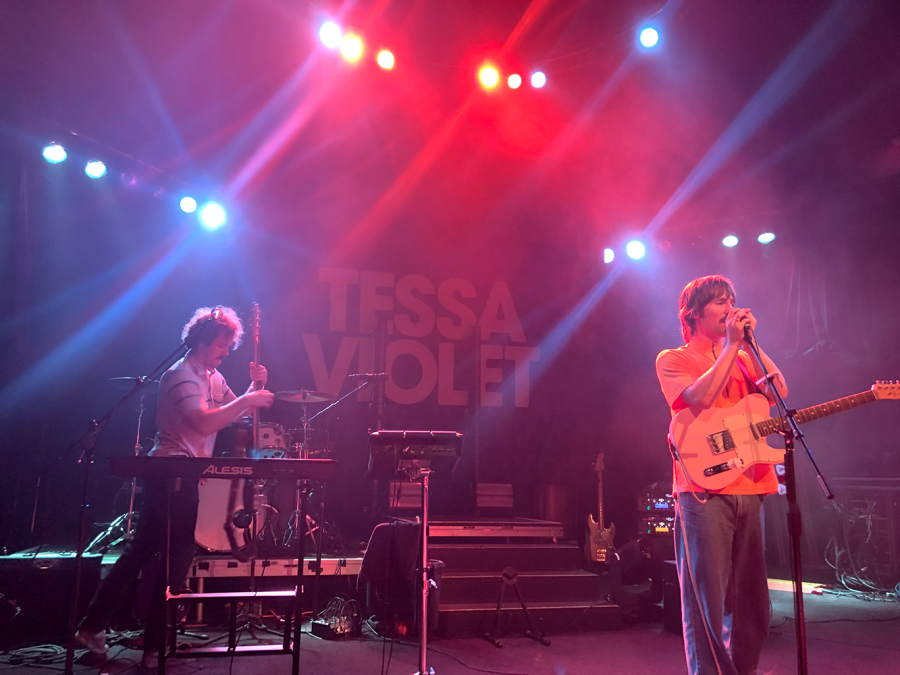 Tessa Violet could be found under the spotlight from a young age. Growing up in Ashland, Oregon, she performed in her high school's theater productions and gained attention from her daily YouTube vlogs. Gaining over a million followers on YouTube, Violet decided to take her passion for entertainment and channel it into another outlet — music and songwriting. 
She began releasing singles, EPs, and albums, climbing the charts and gaining popularity from teenagers and adults alike. 
The crowd waited in anticipation as the lights went out and the background music stopped. She opened with an undeniable fan favorite, "YES MOM." As the performer strutted around the stage singing about her contagious God complex, the crowd went wild chanting along with her as drummer Mike Avenaim banged out a sick beat. 
Arguably, the most exciting part of her concert was Violet's costume change into a glorious, multi-layered, baby-pink, tulle dress. Designed by Athena Lawton, this elaborate piece was most definitely a hit. Violet changed into this dress before singing her new song, "Kitchen Song."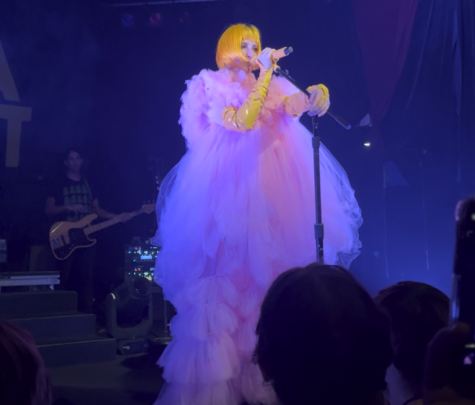 "Kitchen Song" is a sweet love tune written to describe the feeling of giving all the love you have to someone. Dedicated to her fans, Violet sang the chorus to a sea of people watching her with loving eyes. "I'll give you all my love, I'll give you all my love." There was not a dry eye in the house.
But it's not just Violet's flashy personality and talent that brings in fans. It's her passion to connect with her fans and have them see her as not just an artist but also a person. As a vocal mental health advocate and ally for the LGBTQ+ community, she has worked to make her concerts and fanbase a safe space for all different kinds of people from all different walks of life.
At around 11:30pm, Violet thanked her fans for a wonderful show and exited the stage. Fans spilled out into the lobby with smiles on their faces, either rushing to the merch stands or hoping to beat the post-concert traffic.