Rihanna to Headline Super Bowl Halftime Show
Rihanna announced her halftime show participation days after Taylor Swift was said to perform.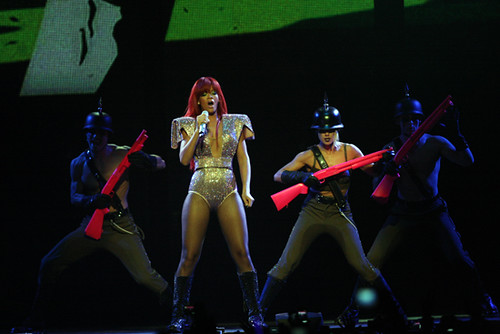 The well known singer, Rihanna, posted an image of herself holding an NFL football on Instagram, announcing her participation in the 2023 Super Bowl halftime show. The iconic singer/songwriter has been an influential figure in society since her debut album on August 12, 2005, Music of the Sun. Since then, her success has spread throughout the beauty, fashion and music industries. So why would she not be picked to play in the 2023 super bowl halftime show?
The situation was quite complicated.  There was a teaser put out days before Rihanna's announcement indicating that Taylor Swift was going to be the next performer at the Super Bowl. Later that week, Rihanna announced her commitment to performing.
"At least it's not Taylor Swift, but I don't really like Rihanna either. I think Kanye West is the best option. He would no doubt give the best performance the Super Bowl has ever seen," NASH senior Kyle Tomino said. 
Yet others prefer Swift over Rihanna, whose lack of involvement in the music industry over the past few years has shifted the spotlight. Rihanna has been focusing on her business and other endeavors, which prompts many to rather watch Swift perform.
"Honestly I think Rihanna is a great performer, but she is kind of irrelevant now. She hasn't come out with a new album or song in a long time. Taylor Swift would definitely be the better option. She has new music coming out every few months, not to mention how many different songs she's had and stadium tours she's done," senior Anna Mitterer said.
There are many other NASH students who support Mitterer's opinion of Taylor Swift deserving the spot as the halftime performer. The common opinion is that they feel a stronger connection to her music and feel she has been more active in the music industry.
 "I'm not really a big fan of Rihanna. I've always been a huge fan of Taylor Swift since I was little, so I would prefer it be her instead of Rihanna, just because I've never really listened to her music. I do think both are great options though, because they are both great performers," senior Julia Berger said.
While many prefer Taylor Swift, some still are more interested in a Super Bowl performance from Rihanna. The varying levels of performance and song style seem to be the main reason many differ in their opinions of the two singers.
 "I think Rihanna is an amazing performer. She also has a lot of amazing music that is super upbeat and fun that everybody knows and loves," junior Jamie Frisco said.
Yet all of the artists who were on the short list to perform are pop artists who produce a style of music that is not favored by all.
"I remember when the Red Hot Chili Peppers performed," senior Logan Gobbel said. "It was awesome and crazy. That is my type of show."