Opinion: A One-of-a-Kind Populist
In the Pennsylvania Senate race, John Fetterman mixes an embrace of progressive change with a traditional, working-class mindset.
Braddock, Pennsylvania is one of the poorest communities in Allegheny County. Aside from a few patches of hope–take the busy community bread oven, for instance–Braddock's main street is mostly composed of boarded-up storefronts, and several homes are in a serious state of disrepair.
Yet despite being largely destitute, Braddock is a central topic in a statewide political debate. Its former mayor, John Fetterman, is running for the U.S. Senate seat currently filled by retiring Republican senator Pat Toomey. Opposing Democratic candidate Fetterman is Republican Mehmet Oz, a retired surgeon made famous as a TV show host.
As mayor of Braddock from 2006-2019, Fetterman's campaign depicts him as a hero of the failing steel town, bringing new jobs and an end to violent crime. However, Braddock has played a central role in the Senate race for both parties. While Fetterman uses the town as a symbol of pride, Oz frames Fetterman's work in Braddock as a shameful part of his career, saying that the former mayor did little to reform the town's record of crime.
In Fetterman's first term as mayor, crime rates in Braddock declined, but they had already reached an all-time low in the five years before he took office. Fetterman maintained the low rates and took the town's safety personally, tattooing the dates of nine homicides on his arm.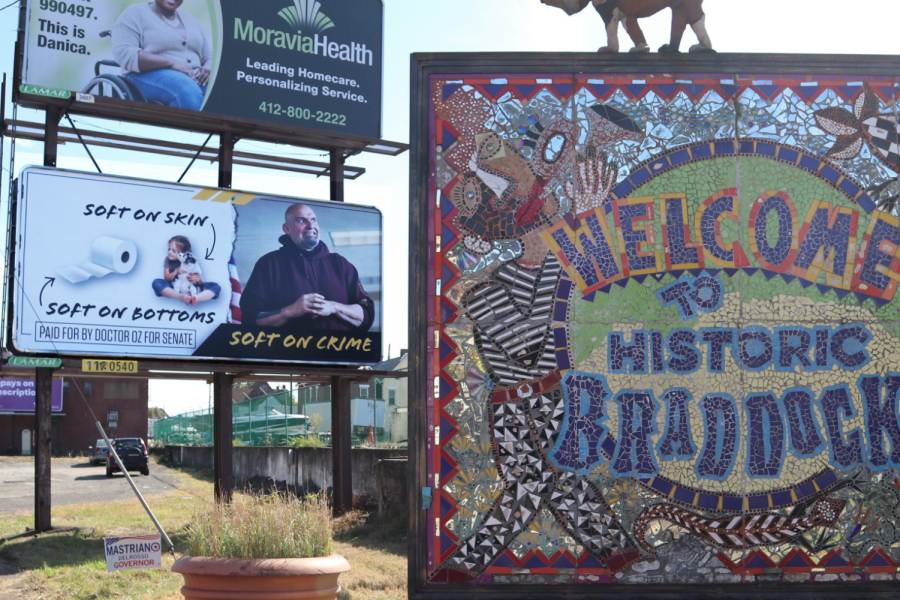 The contrast between the two candidates is blatantly obvious in Braddock, especially when arriving in town from the west. A billboard promoting Oz is placed directly above the Braddock welcome sign, with scathing humor directed at Fetterman's position on crime. While the billboard's placement is clearly purposeful, it is also bewildering, as Allegheny County has traditionally been a stronghold for Democratic candidates, and Fetterman is sure to win in the county where he spent years as mayor of Braddock.
Fetterman supports clemency as part of criminal justice reform, leading to the pro-Oz billboard. But according to a Gallup poll conducted in September, only 4% of Americans believe that crime and violence are the foremost issues facing the country. Abortion was labeled as the chief issue by 4% of the population as well.
Overwhelmingly, the nation's chief concerns–identified by 38% of the group surveyed–are economic issues, including high inflation.
On the east end of Braddock, it's a different story. Across from the Edgar Thomson Steel Works–the last major steel mill in Greater Pittsburgh–is a grouping of Fetterman yard signs in a community garden. An illuminated sign hangs on the neighboring building (the home of Fetterman and his wife), with neon lights spelling out the town's name.
With the pro-Oz billboard at one end of town and what is basically a Fetterman shrine at the other, Braddock is bookended by ads for the two Senate candidates.
Along with competitive races in Wisconsin and Nevada, the battle for the Senate seat in PA is key in this year's midterm elections. The Senate is split evenly between Democrats and Republicans, but Vice-President Kamala Harris holds a tiebreaking vote, maintaining a fragile Democratic majority in Congress. 
A single shift of power could either benefit or hinder the goals of the Biden administration, focusing all eyes on swing states such as Pennsylvania with a Senate seat up for election. 
---
Only in Pennsylvania…
John Fetterman preaches a unique brand of populism that bluntly speaks to voters who are less educated, less wealthy, and less urban. He heads the issues page of his website with a crude directive–"make more sh*t in America"– that is reminiscent of Trump's campaign, but elsewhere on the page are the progressive goals of Fetterman, such as supporting abortion and LGBTQIA+ rights.
"
The fact that a liberal candidate like Fetterman centers his rhetoric around a hard working, made-in-America steel mill town is distinctly Pennsylvanian. "
 Pennsylvania–especially western Pennsylvania, where Fetterman lived for years–is notorious for never fully letting go of its economic might. But even with the glory years of heavy industry decades in the past, nostalgia remains for when the Rust Belt was the center of American manufacturing. Fetterman clearly plays into this sentiment, with one of his TV ads picturing him with the billowing smokestacks of Braddock's ET Steel Works in the background.
But the self-proclaimed "blue-collar tough guy" received a master's degree in public policy from Harvard University and hails from an affluent York, PA suburb. Despite his upbringing, Fetterman's main source of income came from his parents into his 40s, as he only received $150/month as mayor of Braddock. The fact that a liberal candidate like Fetterman centers his rhetoric around a hard-working, made-in-America steel mill town is distinctly Pennsylvanian.
In political terms, Pennsylvania is sometimes jokingly generalized as being like New York at either end and Kentucky in the middle. With redder counties making up the central part of the state, Democratic candidates often focus solely on the areas surrounding Philadelphia and Pittsburgh, where they are likely to earn the most votes. 
However, Fetterman has pushed an inclusive message that emphasizes every county in the state. With the working-class demeanor Fetterman developed while growing up in a conservative household, he hopes to win over independent voters in Pennsylvania counties that have traditionally voted Republican. He has also directed rallies specifically at Pennsylvania women, as there are 12% more women than men registered to vote in the state.
As is the case for many populist candidates, Fetterman's personality is certainly better known than the issues being discussed. In Pennsylvania's fractured political landscape, he preaches hometown and local pride while furthering many left-wing policies.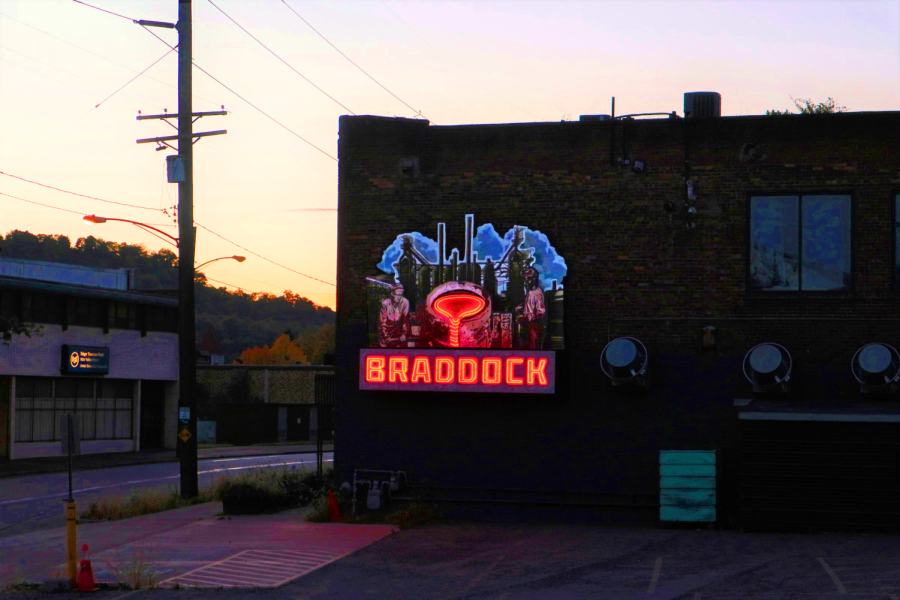 Perhaps Fetterman's liberalism can be summed up by the old quip: It takes two Pittsburghers (or Pennsylvanians, for that matter) to change a light bulb: one to change it, and one to reminisce about how great the old one was.
Fetterman is changing the lightbulb, so to speak, but he clearly holds a sentiment for Pennsylvania's established ways of life as well.
Drawing on the industrial past of several decades ago is to Fetterman's advantage, as Pennsylvanians are relatively insular. Seventy-four percent of the state's residents were born here, yet only 25% of Nevadans can say the same. Most residents here feel local and patriotic pride, but that should never be a barrier to political progress, nor should it overshadow actual issues that are necessary to address. 
---
One day it may be forgotten that the balance of the Pennsylvania midterms–and perhaps the future of the US Senate–could be traced back to the small town of Braddock. Next week, however, Pennsylvania will be watching as Oz and Fetterman debate for the first time. Occurring after early voting has begun, the debate is unlikely to cause major shifts in voters' decisions, but it will be one of the first times Fetterman has spoken at length in public since he experienced a detrimental stroke in May. Although Democratic voters are energized by the overturn of Roe v. Wade this past summer, Fetterman's difficulty processing speech due to the stroke contributed to his nine-point lead in July tightening to six points at the end of September.
Click on each candidate's name to see how their opponent's rating changed over time. Fetterman's stroke may have gradually hurt his lead as he gave more disjointed speeches in public.
In a state where it can sometimes seem like the status quo is reflexively accepted, Fetterman's unique presentation of openly liberal values is a pivotal test in Pennsylvania, a crucial swing state. In just a couple of weeks, we will find out if Fetterman's campaign actually wins over independent voters who have recently leaned Republican — and if these additional votes are enough to net him a win. 
Long after the tongue-in-cheek veggie tray vs. crudité wars of 2022 have subsided, however, one thing will remain for certain throughout Pennsylvania: Many residents will stay devoted to their hometowns for decades to come. The question before them this November is if Fetterman's reverence for homegrown pride balanced with an embrace of change is the message they've been longing to hear.
_____________________________________________________________________________________
Editors' note: All opinions expressed on The Uproar are a reflection solely of the beliefs of the bylined author and not the journalism program at NASH.  We continue to welcome school-appropriate comments and guest articles.