Look At This!
NASH senior Sadie Han uses her art both as personal therapy and as a platform for positive change.
Long before she was president of National Art Honor Society at NASH, Sadie Han began to hone her artistic skills at a young age. 
"My mom says that when I was four, I couldn't stop drawing cows after seeing them while driving past a farm. I drew a lot from observation as a kid," she said.
Beyond these early sketches, Han's love for art wasn't always encouraged by her family.
"My biggest challenges were cultural and societal beliefs," she said. "My mom wasn't opposed, but my dad wanted me to go into the medical field and reminded me of the whole 'starving artist' thing every day," Han said.
Despite her talent, Han also found challenges in developing self-confidence.  
 "Although I was set on going into the art field, I still held on to the belief that I wouldn't make it far… I had a period of disconnection with art, and I often doubted my capabilities after seeing other artists," she explained.
However, Han was able to overcome her doubts and channel her inspiration. She enjoys creating art that reflects her own life. 
"I just like making art for myself and for others," Han said. "Maybe I get inspiration from wanting to memorialize the good moments in my life. I like drawing pictures from my camera roll or just fun little doodles in the moment to create a personalized picture."
Enrolling in AP Art and Design was an influential moment in Han's artistic journey.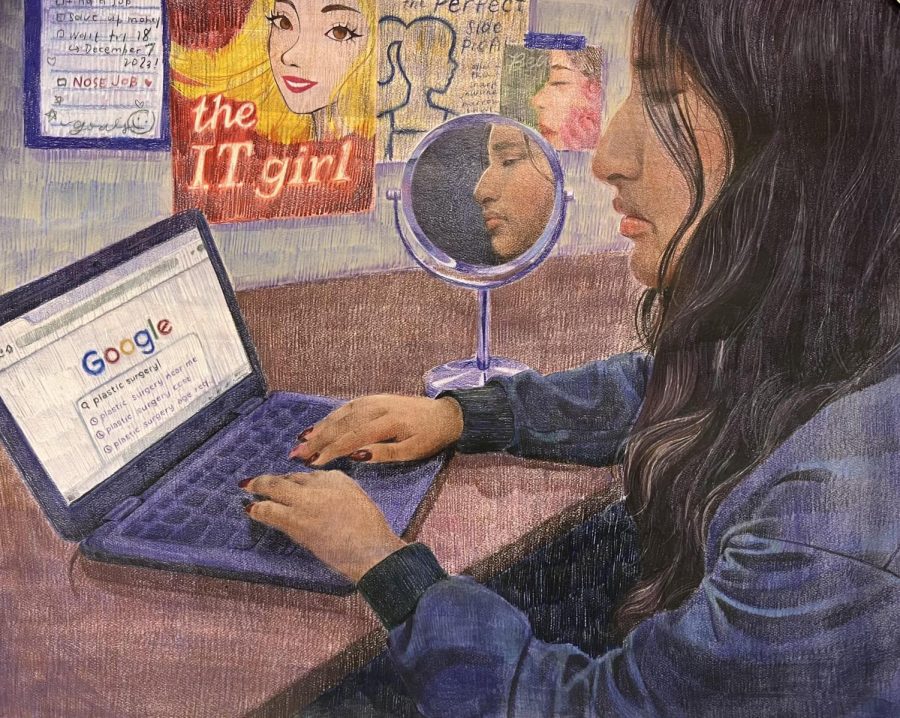 "This is my first work for my AP portfolio," she said. "My inquiry is about losing cultural identity, specifically for East/South Asian Americans. The artwork is focused on the common desire for many South Asians with hooked noses to want nose jobs and fit with the western beauty standards," Han told The Uproar.
The longer one looks at the artwork, the thoughtful details included by Han become more obvious.
"I started with a purple gouache base to set the melancholy tone, and then I layered colored pencils on top," Han added. "The composition directs the eyes from the main figure on the right, down to the laptop with a search history of plastic surgery, and then to the mirror with a dark reflection. The papers and posters on the wall add more details to the whole message, with the far right profile paralleling the subject," she said.
 Han is developing her emerging talent by exploring which materials she prefers.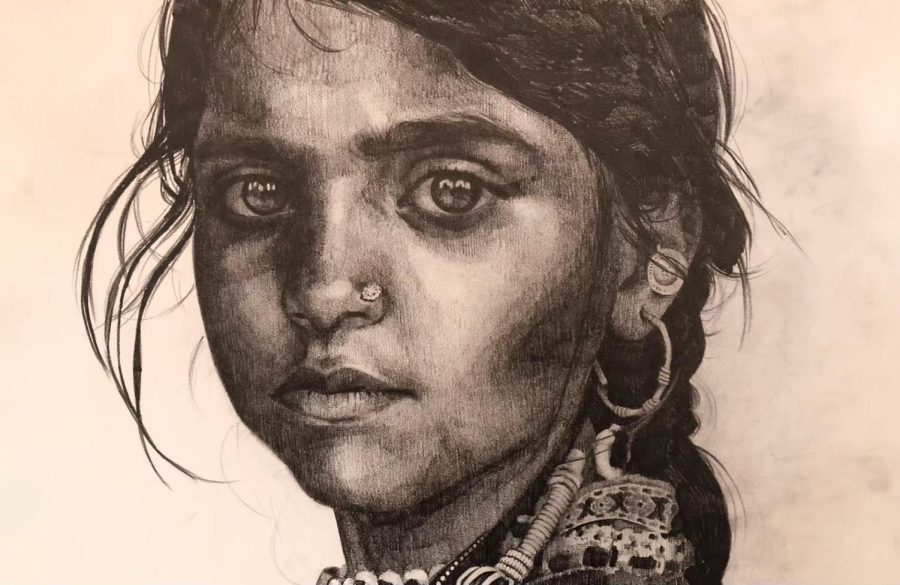 "My favorite style of art is definitely graphite realism. I'm not a big fan of painting because I find mixing paint tedious and also because I think it's easier to add detail with a pencil tip rather than a brush," she said. 
The gaze of the subject entrances the viewer, effectively providing a contemplative mood.
"To be honest, there isn't a story behind this piece. It was mainly a drawing exercise to practice my technique with rendering and values. It was also a challenge as to whether I could illustrate the emotions that were depicted in the reference image," she said.
Han also enjoys capturing a personality in her work.
"I like drawing people as the main subject in my art, especially my friends. Adding in the small details and being able to see the resemblance to my reference makes me really happy."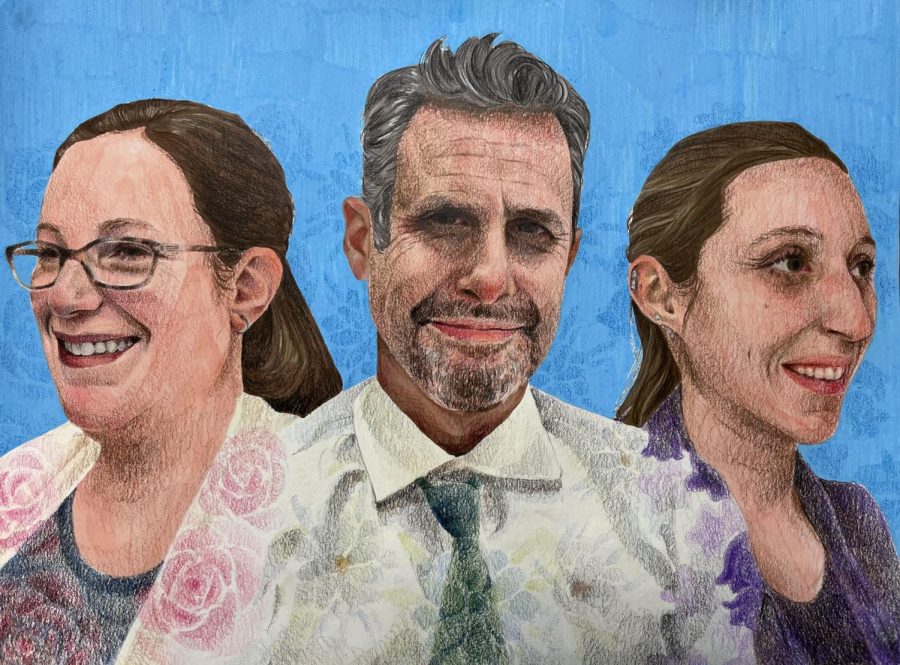 Han also finds inspiration in her day-to-day academic life. Combining appreciation for three of her teachers with a faithful artistic portrayal, she created a considerate tribute to their likenesses.
"This piece was made as an appreciative work for my teachers. From left to right, I drew Mrs. Lavelle (orchestra), Mr. Venezia (APUSH), and Mrs. Swan (Art). For each teacher, I incorporated a flower that meant appreciation. The camellia on the left means adoration, the epiphyllum means admiration, and the campanula means gratitude. The overall theme is just gratefulness for my teachers who have done so much for me," she said.
In the past, Han felt her abilities were restricted by tedious art classes. However, she now realizes art is just as much an enjoyable hobby as it is an academic pursuit. The piece below illustrates this turning point in her artistic journey.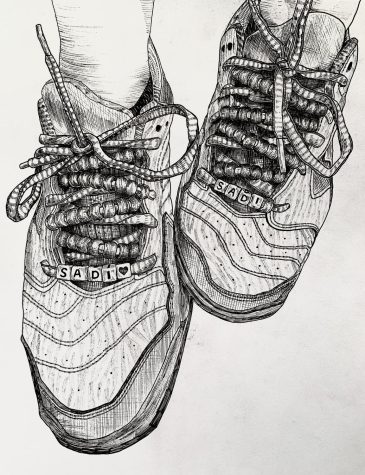 "The drawing of [my friend] Helen's customized shoes was the first work that I created simply because I wanted to," she explained. "I previously attended art classes, but they only demotivated me because my teacher was so focused on awards and her studio's reputation, often using me to recruit students rather than teach me how to improve."
Changing her focus gave Han a new perspective on art, one that taught her a lesson essential to pursuing any passion.
"After leaving those classes, I started making art for my own enjoyment. This piece marks the shift in my purpose for creating–I realized that art was supposed to be fun," she said.