Stick It To The Screen
With hundreds of plain black Dell laptops circulating NASH, students are taking it into their own hands to add some pizzazz.
When students started their high school journey at North Allegheny, they were gifted a shiny new laptop. However, the only sticker stuck to the screen was a lonely, plain white name tag. Not content with such a bland insignia, many students set out to place their own signature stickers on the fronts of their computers.
The stickers came from far and wide. Teachers gave stickers as rewards for good grades, or they were handed out as encouragement during the day. School sports and clubs promoted themselves with stickers. Some students purchased stickers from Redbubble, Amazon, and more. 
While many stickers appear random, all hold many great memories of one's high school years.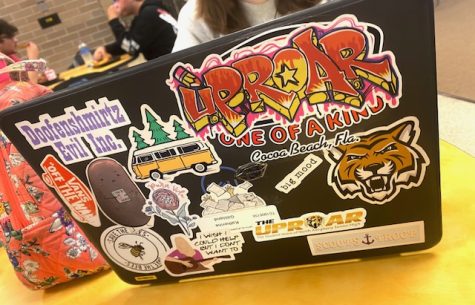 For many NASH students, their laptops are a representation of their interests. For senior Kate Gilliland, her laptop stickers are just a small piece of the student she is. 
Many NASH students adore representing their clubs and organizations on their laptops, including Gilliland, who has two Uproar stickers and some nature-oriented stickers as mementos from being a counselor at Camp Kon-O-Kwee.
"My stickers represent my love for writing," she said. Plus it's easy to pick my laptop out of a crowd."
For so many students, their stickers may be a piece of their personality, but they are  also used for so much more.
For senior like Avery Snowden, a lifelong love for their hobbies shines through on the laptop they use daily.
"Music is a big passion of mine, and after being on the Field Hockey Team for three years, I knew I had to represent," Snowden stated.
While some of her stickers are random, Snowden knows that her greatest passions shine through on the school-issued laptop.
Certainly, many NASH students value quality over quantity when it comes to the stickers they display. These students have carefully selected stickers that in some cases have been with them since freshman year. Their stickers are more than just thowaway items; they are a wonderful introduction into their lives and personality.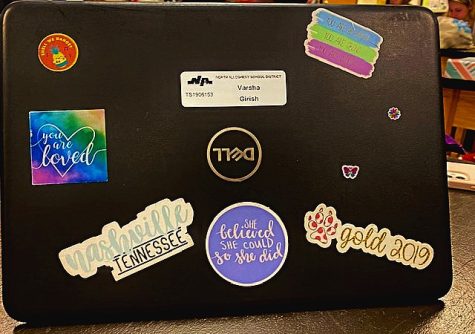 For senior Varsha Girish, her stickers are a piece of her childhood. 
"My Tennessee sticker reminds me of my childhood. It's where I grew up," Girish explained.
Allowing herself to be reminded of home has allowed Girish to excel in all her classes. 
"It's positive reinforcement," Girish added. 
Without a doubt, NASH seniors love getting educational encouragement from teachers who gift them with stickers after receiving high grades on exams.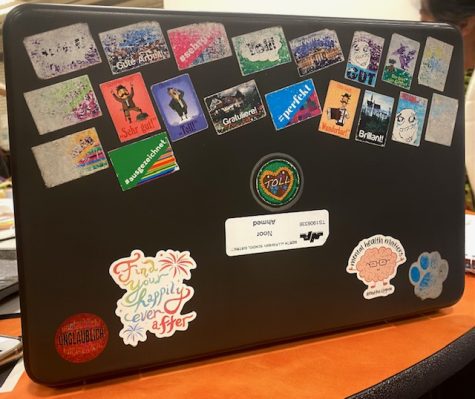 NASH senior Noor Ahmed has been learning the German language since middle school and has a passion for furthering her knowledge of languages, as she already speaks Arabic and English.
"I have had these stickers with me for what feels like forever," stated Ahmed. " I just feel so proud." 
Not happy with stickers reflecting school clubs and hobbies, other NASH students desired a little quirkiness on their screens.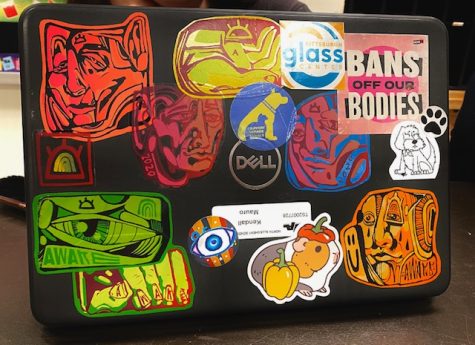 Kendall Mauro, a NASH junior, desired uniqueness and chose to shop from a small artist out of Oregon. 
"I found the artist—AWAKE—so randomly and just bought a few of his clearance stickers, and they have become a great conversation starter and pop of color," Mauro stated.
She is proud that her laptop represents her morals. 
"I am big into art and creating, plus fighting for women's rights," expressed Mauro, as she explained her less notable stickers. 
There are hundreds of colorful and creative laptops wandering the halls of NASH. So look around the next time the screen of a laptop brightens up, and see what sticks out.