Hair Raiser
In its 16th year, Facial Hair February inspires staff and students to drop the razor in support of those who are grieving.
Although most students have seen the flyers with beards and mustaches around the school promoting Facial Hair February, many are likely unaware of how the tradition originated. 16 years ago, the event began as a fundraiser-challenge for students and teachers to go the entire month without shaving their faces.
Mr. Tom Mooney, NASH English teacher and member of the Student Assistance Program, explained how Facial Hair February started.
"Initially through the Student Assistance Program, we toured the Highmark Caring Place facility to understand what resources were available in our region for grieving children," Mooney said. "I was really emotionally impacted from walking through that facility because it deals with how grief and loss affect people's lives."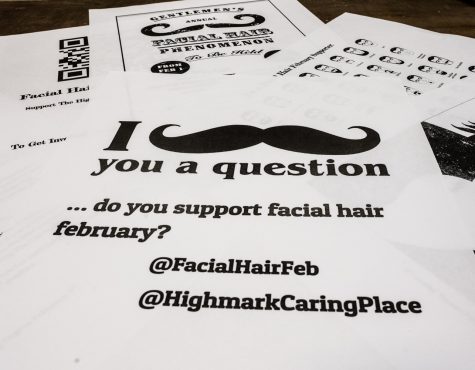 The tour gave Mooney an idea.
"I wanted to do something that raised awareness, but I wanted it to be fun, not morbid and depressing," he said. "So I had teachers and students agree to not shave for an entire month, which was a nice way of donating money while also having a constant visual reminder of work for a good cause."
Mooney went about incentivizing student involvement by accumulating raffle prizes. Participating students are entered into a raffle held on the last day of the month in the NASH Library during homeroom.  This year's prizes include a free faculty parking spot, free bowling at the Perry Park Lanes, a free Prom ticket, a regular season pass to home football games next season, free musical tickets, shirts, hats, mugs, and more.
But according to Mooney, Facial Hair February is about a lot more than the prizes.
"Some people do it because they themselves are dealing with grief, or maybe they have gone through The Caring Place themselves," he said. "A lot of other people just recognize how much grief there is in the world around us and especially in our student population. I think that the idea of visibly supporting people who may be dealing with grief in the quietest ways is probably something people are interested in as well."
The fundraiser, which includes 16 NASH teachers and over 80 students this year, has grown to the point where Mooney welcomes the assistance of his colleagues. 
"This year, Mrs. Omasits is helping me because I needed somebody to help me coordinate," Mooney said. 
"
I wanted to do something that raised awareness, but I wanted it to be fun, not morbid and depressing."
— Mr. Mooney, NASH English teacher
Mooney has also been working with NAI teachers and students, and their fundraising total from the month will only add to the charitable donation made to The Caring Place in early March.
After 16 years of managing the month-long event, Mooney is still delighted to see the creative ways in which students contribute.
"A student I don't even have in class, named John Voit, shaved half of his face to raise money just among his friends. They match every donation dollar to dollar, and he's raised about $100, which is $200 for The Caring Place."
This year, over $2,000 was raised at NASH alone.