Opinion: All In for Post Prom!
Senior parents announced the return of Post Prom, and it's shaping up to be a must before graduation.
With the planning of the most entertaining senior events now underway, the addition of Post Prom has been announced. The event will take place at 11:30pm at NASH, right after Prom concludes downtown at 11:00pm.
The last time the senior class participated in Post Prom was in 2019. The tradition did not survive the pandemic, but this year, due to a group of dedicated senior parents, the event will return.
Because I am much younger than my siblings, I have known what Post Prom was since I got to listen to all the amazing memories my siblings have from it.
Prom and Post Prom have been something I've looked forward to since my older sister and brother got to go. I was so jealous of them, as they got to dress up, go out, and have fun with their friends. I was ecstatic when I found out that Post Prom is back on the list of senior events this year. The late-night event is more than just a way to hang out with your friends all night. It is a great opportunity for seniors to make memories that will last a lifetime.
Post Prom is an event that is organized and run by NASH seniors' parents. This year's Post Prom theme is Wild West.
"We first met back in October to start the discussion, and we talked about previous themes so that parents had an idea of what it is like," said Susan White, mother of NASH senior Brendan White. "We brainstormed some ideas, and we thought that "Wild West" would be a really fun theme to work around with decorations, food, and games."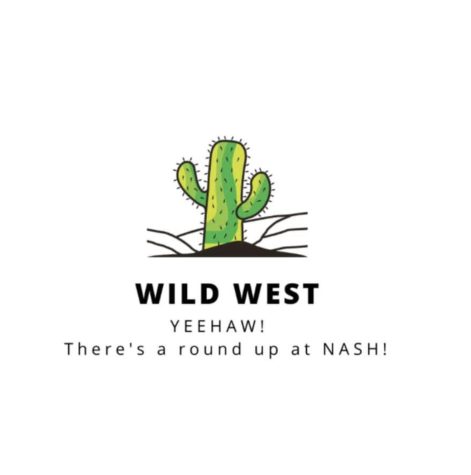 Mrs. White explained that the return to normal school activities following the pandemic inspired the parent group to take the possibility of a Post Prom at NASH seriously..
"A group of parents who helped to organize Post Proms for their older children wanted to bring back this tradition," she said. "They saw how much fun the previous senior Post Proms were and wanted to provide the same opportunity for their current seniors." 
Most seniors don't know what this event entails, so I asked Mrs. White why she thinks students should attend Post Prom.
"It's going to be really fun!" she said. "How often do you get to stay up all night with hundreds of your friends and classmates?! I imagine the seniors having a blast downtown at Prom and then stepping into the "Wild West" and being blown away at how it doesn't even look like the school anymore!"
It's important for seniors to be part of the community here at NASH and have an enjoyable experience with their graduating class before receiving their diploma. And Post Prom is among the most enjoyable events for seniors, as it entail far more than a dance. 
"So far we have booked Dave Gray running games in the gym, a caricature and airbrush artist, a Tarot card reader, a magician, a DJ, and a hypnotist," Mrs. White said. "We are exploring having some casino tables and also maybe someone to lead line dances!"
Of course, no one should feel forced to attend Post Prom.  But honestly, I think you won't have any regrets if you do, especially when you're older and reflecting on your high school days.  You should want to take advantage of every teenage opportunity before you go out into the real world and become an adult, and Post Prom promises to be a one-of-a-kind night that will surely sit atop your fondest memories in the future.