Down to Earth
Although Earth Day is a couple of weeks away, the NASH Environmental Club is already at work cleaning up the campus.
With the celebration of Earth Day coming up on Saturday April 22, the NASH Environmental Club celebrated a little early this year. Earth Day is an annual celebration that honors the achievements of the environmental movement and raises awareness of the need to protect the planet's natural resources for future generations. 
The Environmental Club was created with the hope to make NASH more sustainable and to educate the student body about environmentalism. Behind the scenes, the club has been working on reinstating recycling bins and contracts for next year as well as bringing sustainable period products to the NASH bathrooms.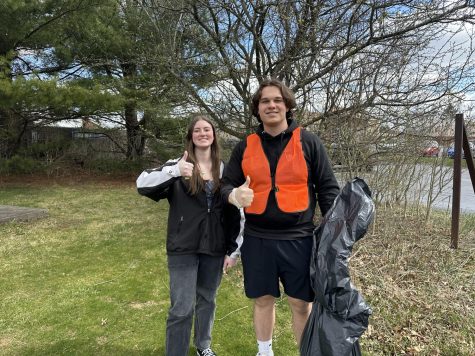 Club leader Mrs. Baschnagel has been overseeing the club for many years.
"My favorite part about being the sponsor of Enviro Club is getting to see my students share their passion for the environment," the science teacher said. "It gives me such joy to see students, future leaders, care about the world they live in and the impact we all have on the environment." 
On Tuesday March 28th, the club organized an outdoor clean up for club members and volunteers to bring awareness to the campus of NASH.
"We saw what was happening to the state of the campus after the fall sports season. It was something we originally wanted to do in the fall, but due to the weather, we waited until to do a campus-wide clean up," said Co-President Kat Klinefelter.
The club's other Co-President, Samhita Gudapati, added the group's initiative is not yet complete.
"Since Earth day is on a Saturday this week, we plan on having Earth day festivities throughout the week during lunch periods," Gudapati said.
During the days leading up to Earth Day, the club already has some of its plans in place.
"On Wednesday, we will have a DIY plant planting station, and on Thursday we will have a trivia contest during lunch," Klinefelter explained. "Throughout the week, we will be having a waste collection box during breakfast times for people to dispose of food they haven't eaten."
Co-president Greyson Treater shared that the club hopes to also create a plant nursery where NASH students and faculty can drop off their ailing plants at the greenhouse and club members can help restore their health. 
The Environmental Club plans to continue bringing awareness inside and outside of North Allegheny School District in small and large ways. The group meets on a weekly basis to discuss and plan their next projects. Students who are interested in joining can reach out to Baschnagel ([email protected]) or Klinefelter ([email protected]).