A Memorial Master
Maya Lin is the designer behind some of the most impactful and expressive exhibits in the nation.
If you make your way to the second floor of Washington D.C.'s National Portrait Gallery, you will be met with the One Life: Maya Lin exhibit. Curated by Dorothy Moss, the exhibit illustrates the work of American designer, Maya Lin, who has been producing memorials since her undergraduate years, when she was awarded the opportunity to design the Vietnam Veterans Memorial located in D.C. She has used her work to bring awareness to women's rights, Native American rights, and many other causes. 
The museum highlights her work with her What Is Missing? memorial.  What Is Missing? is an incredible illustration to further the understanding of the relationship between humans and the earth, and the ecological past, present, and future of our planet. 
The past portion of the exhibit covers the earth and its environment prior to over-population. The present portion examines conservation, and the future portion, Greenprint, predicts the future and proposes different paths humanity could take to bring change to these issues.  The exhibit highlights different animals that have gone, or will go, extinct in our lifetime. 
To the right, you will find an interactive portion of the exhibit. Brown paper circles litter the walls as a bin of pencils sits nearby. Visitors can write messages on the circles and paste them on the wall. Messages such as "Save the Bees," "Stop the Willow Project," and "There is No Planet B" can be found.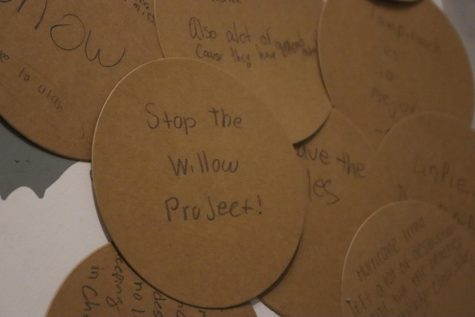 The exhibit also examines Lin's personal life. She was born in rural Ohio, and her upbringing fostered her love and respect for nature. Her parents, Henry Huan Lin and Julia Chang Li, were Chinese immigrants. She credits them for instilling in her a strong work ethic. As a child, she was precocious artist.
An undergraduate from Yale, she was thrust into the limelight when she was chosen to design the Vietnam Veterans Memorial. As a 21-year-old Asian woman paired with no professional experience, her credibility was questioned. Her ideas were quite controversial, particularly her inspiration to draw from the agony of war. She wanted her work to "create an opening or a wound in the earth to symbolize the pain caused by the war and its many casualties." Time would heal the gash cut into the earth for the memorial. 
In her book, Boundaries, she discussed the goals she wishes to achieve with her work.
"I see myself existing between boundaries, a place where opposites meet; science and art, art and architecture, East and West. My work originates from a simple desire to make people aware of their surroundings." Lin wrote. 
Maya Lin has broken boundaries throughout her entire career. Her work should be shared and celebrated globally. Her fight for marginalized communities, paired with her intelligence and lifelong effort to better the world around her, is truly inspiring.