Tile by Tile
The mosaics of artist Laura Jean McLaughlin have made their mark in locations throughout western Pennsylvania, including the Andy Warhol Museum.
At an old elementary school in Lawrenceville, a mosaic mural promotes sustainability, with students using a recycling bin outdoors and a cartoon sun smiling on the landscape. Although many students pass the mural every day, it was an intense labor of love for my dad's third-grade class, who collaborated with a local artist to create it. The mastermind behind the mosaic is Laura Jean McLaughlin, who is both my aunt and the creator of more than one hundred ceramic murals that have been installed throughout western Pennsylvania and as far away as Denmark.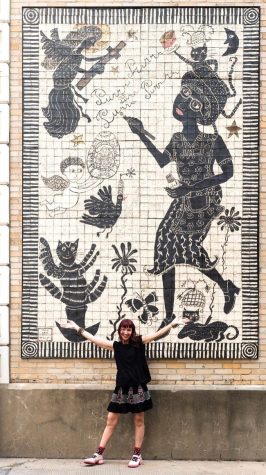 Looking back at her artistic career, McLaughlin cites one of her most recent works as the commission she was happiest to receive. In 2022, a porcelain tile mural titled Julia was installed on the back side of the Andy Warhol Museum, a coveted location for any artist to showcase his or her work. "Julia" is a tribute to Andy Warhol's mother Julia Warhola, which required McLaughlin to learn about Warhola–an artist herself–to draw inspiration for the piece.
"The research proved very inspirational to my artwork," McLaughlin said. "It was a very satisfying project to finish because I carved every part of it."
Before her work could be permanently installed was at a nationally-recognized art museum, however, McLaughlin originally graduated with a degree in medical technology before turning to art.
"I worked in a lab for three years before an instructor in a clay class I was taking encouraged me to apply to graduate school," she said. "Only then is when I really got my start."
Today, with her work having been exhibited in over one hundred museums and galleries, McLaughlin realizes the benefits of working as a self-employed artist.
"You can totally set your own schedule, but you have to work a lot," she said. "I'm in my studio every single day, but it's fun for me, so I don't even consider it as work. It feeds my soul."
McLaughlin has never tried to create art she thinks will receive widespread public praise; rather, she is driven by a passion for her unique, stream-of-consciousness style.
"Don't make art that you feel like people will like, just do what you like and what you want to create," she said.
2004 was the year that McLaughlin installed her first tile mosaic, an endeavor that has become a prolific part of her career and a source of reliable work.
"My friend who was a professor of design at Carnegie Mellon asked me if I wanted to create a mosaic on the side of a Whole Foods," McLaughlin said. "At this point, I had never created a mosaic in my life, so I had to learn how to do it entirely by myself."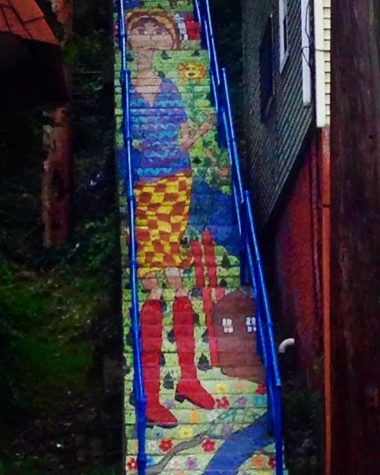 After the mural is designed, McLaughlin often relies on the community to create the mosaic themselves, breaking tiles into small pieces and gluing them to the mural backing. The process is almost like a color-by-number picture. McLaughlin's most famous mosaic is titled "South Side Schlumpy-Funk," a project she also credits as her most difficult work. However, it is no ordinary one-dimensional mural, instead covering 77 separate steps that make their way up a hill on Pittsburgh's South Side. The work's title comes from McLaughlin's own art movement, a unique style she named herself.
"My art movement is called 'Schlumpy Funk,' and it's almost like cloud watching where you start creatively envisioning things," she said. "It's also about embracing imperfection and letting things happen intuitively."
The steps were a considerable undertaking for McLaughlin, as each individual step was given to a different community group to complete. In the end, residents of the South Side collectively beautified their community by working together to create a piece of art.
"Residents of the South Side would take one of the risers home and work on it as a community," she said. "Allowing people to take pride in something they just completed is a big part of the experience that lets them remember people they met along the way."
The South Side steps installation also posed an additional challenge, as the overall effect is not viewed from a singular perspective.
"Figuring out how the perspective was going to work and coordinating its visual effect was the most challenging project I've undertaken," McLaughlin said.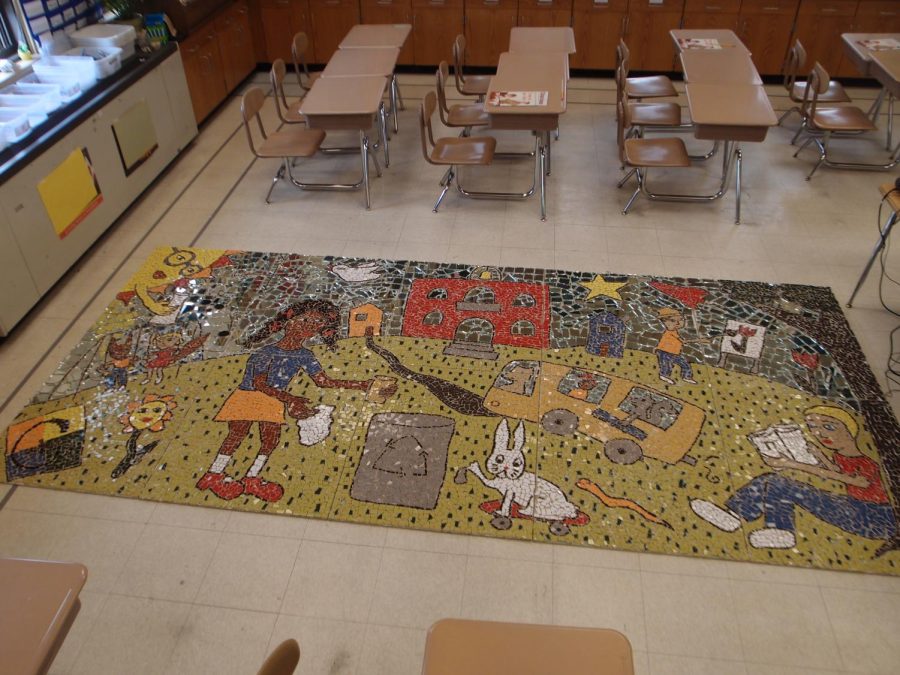 The mural on the South Side steps is just one of McLaughlin's many collaborative mosaics. Although combining different panels like a puzzle can be a challenge, working with the community allows McLaughlin to create an expansive piece of artwork in a shorter amount of time than if she worked on it herself. Additionally, the finished product is a learning experience and a source of pride for an area's residents. 
"Participants help to come up with the imagery, and they learn every step of the process," McLaughlin said.
When asked if she could provide any advice for aspiring artists, McLaughlin reinforced that artistic passion must come as a unique form of expression.
"Keep on creating and don't worry what people think of the work," she said. "I think it really shows in the artwork when you're not having fun."
2016 feature on WQED about the Woolslair Elementary mosaic