Hauling a 44-pound suitcase through Pittsburgh International Airport helped me to finally understand the importance of the phrase "pack light." As I traveled throughout Europe this past summer break on trains, ferries, and flights, this unfortunate lesson hit home more than once. 
I started my summer studying abroad in Toulouse, a city in the south of France also dubbed "la ville rose" or in English, "the pink city" for the blush hues seen in the terracotta bricks of the buildings. I stayed for four weeks through the organization CIEE (Council on International Educational Exchange) in their French Language and Culture program.
The first two days of orientation were a sharp adjustment with all of us jet lagged and still acclimating to the grueling six-hour time difference. During lunch hours those first days, the program leaders conducted short interviews in French to assess our proficiency and place us in levels accordingly. 
In orientation, they also provided some examples of common culture shocks to be aware of as we all settled into living in a homestay. These simple differences mostly consisted of later meal times and using resources more economically. For me, the biggest adjustments (which were really minute changes in my routine) involved shortening the length of my showers and staying diligent in turning lights out after leaving my room, though I try to do this at home.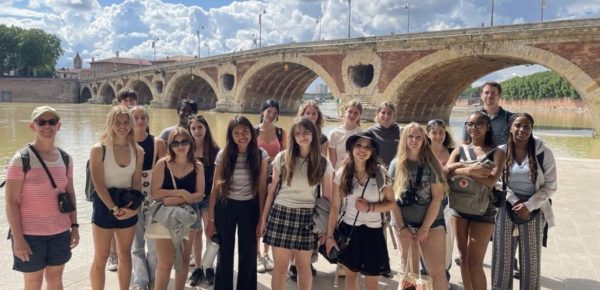 Weekdays consisted of class for three hours, then lunch usually followed by a cultural activity. The cultural activities ranged from canoeing on the Garonne to learning a hip hop routine at Ldanse. 
CIEE also organized multiple excursions for the weekends. We visited Carcassonne, a medieval, walled city and took a walking tour around it. We also spent one of the weekends in the Pyrenees, a mountain range between France and Spain. 
The program focused heavily on staying in the target language at all times, including class, cultural activities, and everything in between. But we students didn't adhere to this policy 100 percent of the time, switching between English and French to clarify directions or simply to get to know one another. While we all had come with the purpose of learning the language, English remained critical to fully express ourselves as we participated in new and exciting experiences together. 
However, I had no choice but to adhere to this policy with my host family, as they spoke little to no English. In fact, the majority of my learning—both of the language and the culture—occurred within my homestay. 
While meals remain an important part of family life for the French, they do it a little differently. Every day, dinner consisted of three parts: the main dish, cheese, then dessert. Over dinner, which naturally lasted at least an hour, we reconnected after our respective days and often discussed the differences between cultures—which, of course, we all felt curious about. One night after dessert, my homestay family even attempted to teach me how to play a board game. Although it was a challenge to communicate at times, these nightly dinners taught me the true value of cultural immersion when learning a new language.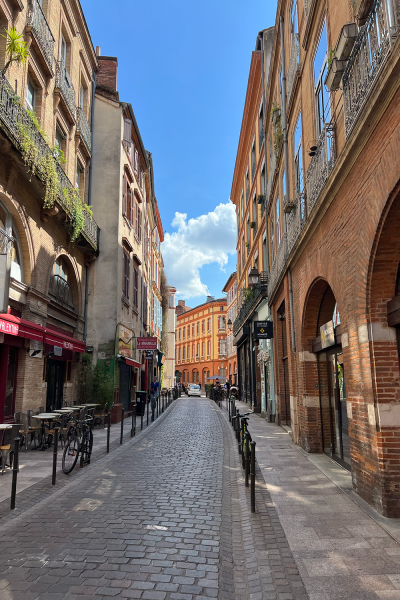 As my proficiency in the language increased, it became incredibly rewarding to see how much I had grown. My daily interactions at restaurants, stores, cafes, and bakeries became smoother, too. This brings me to one of our daily assignments, called Ozlefrançais. Essentially, we were tasked with interviewing locals in the community about different topics each day. This felt especially daunting since the French have a reputation for curtness. However, the stereotype didn't ring true for me as most locals were more than happy to share their thoughts.
Often doing assignments like this together, I formed many special friendships with the others in the program over the course of the four weeks. After spending such a condensed amount of time together, it felt even harder to say our goodbyes knowing that we'd all be scattered across the country once we returned to the States.
An advantage of foreign exchange programs in Europe is how feasible it is to travel once your studies are over. After concluding the program, I spent four weeks in another French city, Bordeaux, with my sister, Liz, who lives there with her boyfriend, Lucien. Then, jumping on the opportunity, the rest of our family joined us towards the end of the summer for a two-week vacation throughout the south of France, northern Italy, and Croatia.
The benefits of my time abroad are innumerable, and I can attest that it helped me to know myself better, and consequently, helped me to determine what I want for my future. With my senior year just around the corner, spending almost the entire summer abroad gave me a glimpse into the reality of attending university without the support of home. Additionally, it helped me to identify and explore my passions, one being language. I hope to—at least in some way—continue my learning of language, whether that involves studying French, a new language, or linguistics itself.