TuneWarp: Greta Van Fleet
Led Zeppelin Reincarnated?
Hang on for a minute...we're trying to find some more stories you might like.
Around this time last year, I was driving down the highway listening to the radio and my ears were delightfully greeted by the opening riff of a song I had never heard before. As I intently listened for the song to kick into full gear, I wasn't sure exactly what to expect, but I certainly didn't imagine the blazing scream of what I thought was Robert Plant that was about to blast through my speakers.
The hair on my neck and arms immediately bolted upright and chills ran through every limb of my body. "What Zeppelin song is this?! Some kind of deep cut?", I wondered, but I soon realized it wasn't Led Zeppelin at all! The voice was Josh Kiszka, the band was Greta Van Fleet, the music was rock n' roll, and it was clear to my ears this was the future of the greatest genre in music history.
So who is Greta Van Fleet? Do they have the potential to be as big as the kings of rock n' roll? Let's dissect this phenomenon.
Caution: Prepare for TuneWarp!
When Greta Van Fleet left their small town in Michigan to pursue their career in rock n' roll, nobody, and I mean absolutely nobody, was expecting a group of four boys from Frankenmuth, aka "Little Bavaria," to make the impact they've made.  Especially at first glance, one can easily write off the band as inexperienced kids who come from a small town: but then you hear them play. BOOM! Your mind is blown, teleported back to the 1970's, and your perception of this new group completely changes. Josh Kiszka's vocal talent is absolutely insane, and I was blown away when he opened his mouth and let out a wail that is the closest thing I've ever heard to Robert Plant's signature scream.
But ok, a lot of people have given Greta Van Fleet significant heat for being "Zeppelin wannabes"; I think that statement is not only unfair but extremely false. Every successful rock group is inspired by previous groups, and a lot of time that style is so influential it translates heavily into that band's original writing. Of course, the similarity is unmistakable, but Greta Van Fleet certainly set themselves apart with their writing and don't just try to copy Led Zeppelin (which I can promise you is an impossible feat regardless). There are definite differences in song structure, as Zeppelin really pushed the limits of length, tempo, rhythm, etc., while Greta Van Fleet is more traditional and straightforward in their song format and style in general. On the topic of vocals, Kiszka and Plant are extremely similar there is no denying it, but I think the real difference is seen in live performances. Plant was an animal on stage, with his bare chest displayed in a pose that can only be defined as confident and sexy. Kiszka, on the other hand, is much more reserved and composed on stage; he's not ripping Plant's stage presence or his vocal style.
At the end of the day, the opinion that Greta Van Fleet is a team of Zeppelin rip-offs is uneducated and pompous. Robert Plant himself actually loves the group of rockers, describing them as "Led Zeppelin I" and showing interest to warm up for them on a leg of their current tour. If that is not a strong seal of approval, I don't know what is. I also think Greta Van Fleet's style and songwriting is incredibly refreshing because we haven't seen anyone as energetic and game-changing as them since the 1970's. Justin Timberlake brought sexy back earlier in 2006, and Greta Van Fleet is bringing classic rock back in 2018. Led Zeppelin is by far my favorite rock band of all time. and Greta Van Fleet is slowly climbing the ladder to meet them because they pay homage to the greatest band in history while still developing their own style and encouraging other bands to do the same.
Aside from their resemblance to Led Zeppelin, Greta Van Fleet truly deserves recognition. They are exceptional musicians and songwriters, and they produce a solid and powerful sound. I love the way Sam Kiszka plays bass, backing up the drums perfectly and delivering clean, thick licks at the perfect moments. His brother Jake kills it on the guitar as he understands the importance of balancing subtlety and raw aggression in both his rhythm playing and soloing. Josh is absolutely the highlight of the band with that amazing voice which pulls everything together, and while Danny Wagner is no Bonham (and no one is, might I add), he drives the band and is a very solid drummer that fits perfectly in the group. These four young men certainly have potential to make it big and be a true force to reckon with as the years progress. They are currently selling out shows months in advance on their tour with only one studio album of eight songs in the repertoire! The true test will be their sophomore album release, but I'm confident that Greta Van Fleet has what it takes to crush it in today's rock scene and rise to a level of respect that Zeppelin reached in the 1970's.
If you haven't heard From the Fires yet, make it a priority! Top songs are "Edge of Darkness", "Highway Tune", "Safari Song", and "Flower Power". But then again, that's half of the album, so don't stop there! Keep listening!
Let us know in the comment section below what you think of Greta Van Fleet, and stay tuned for more music news and rising artists coming your way on The Uproar's best music column — TuneWarp!
About the Writer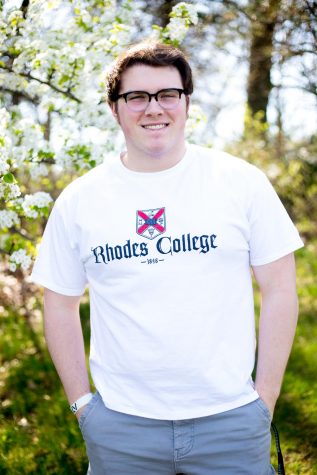 Davis Creach, Arts Editor
Davis is a senior at NASH. The sweet venom of poetry flows through his veins as a substitute for blood, because all the blood is located in his cephalic...