Summer Day Trips
Hang on for a minute...we're trying to find some more stories you might like.
At last, it is almost summer. In a couple of days, all will be calm and right with the world. No more early mornings and late nights studying, finally we can just kick back and relax. But once those relaxing days of doing nothing start to lose their shimmer, it is time to grab some sneakers and hit the road. Here are five summer day trip ideas to help fill your sunny summer days.
First up on the list is Moraine State Park. About a 45-minute drive, depending on where you live, Moraine State Park is home to beautiful Lake Arthur. It is the perfect place to go on a hot summer day. You can rent a canoe, kayak, or pontoon boat and spend the day floating adrift or opt for one of the sandy shores and alternate between sunbathing and swimming. Moraine also has some great hiking trails for those who prefer a little shade. For lunch, pack your favorite meal and enjoy it at one of the many picnic tables along the lake. A great way to end the day is stopping at The Snowman, located a little before the entrance ramp to 79, and treating yourself to a sweet, icy treat before you get back on the highway and head home after a long, relaxing sunny day.
Neighbor to Moraine is McConnells Mill State Park. To get there, instead of turning right off 79 towards Moraine, take a left and then turn right onto 19. Not too far up the road, on your left, will be Cheeseman's road, a back entrance into the park. McConnells Mill has trails that run along both sides of Slippery Rock Creek and is the perfect place for a day's hike. Most known for its red covered bridge and waterfall that use to power the mill, McConnells Mill is a great place to visit. There are so many amazing spots to discover along the trails and my favorite place to eat lunch is on one of the many big rocks that jut out into the rushing water. Make sure to bring a backpack for water and food as you will work up a sweat, even under the dense shade of the forest. If you have spent the majority of the day hiking, believe me you'll have worked up quite the appetite so before you head back home, travel down 19 for about 9 miles to the Log Cabin Inn. It is one of my favorite restaurants but is a lot of other people's too so make sure to call in a reservation beforehand. Once there, ask to eat outside, they have a beautiful covered deck that makes you feel like you are right back in the woods of McConnells Mill. It is the perfect way to end a perfect day.
For the next day trip we are extending our reach outside of Portersville and into Foxburg Pa. Located here, about an hour away from bright and beautiful Wexford, is my absolute favorite restaurant, the Allegheny Grille, which sits right along the Allegheny River. Again, I recommend outdoor seating as the view of the river is gorgeous and is a wonderful place for lunch. After a relaxing and delicious lunch, you'll hit the road again and travel up a little farther for about 50 minutes to Cook Forest. Cook Forest State Park sits along the Clarion River. You can rent a canoe or kayak and paddle your way through the day, but my recommendation is to hike along the many different trails. The park is a national natural landmark and is home to some really cool places. While hiking you may come across the fire tower that offers an amazing view at the top or the suspension bridge that connects you across one of the trails, either way your day will be well spent here.
Heading south, this next day trip is about a 1 hour and 40-minute drive. Laurel Caverns is Pennsylvania's largest cave with over three miles to explore and is possibly the largest sandstone cave in the world. There are many different tours to choose from and whichever you do choose, you will not be disappointed, just remember to bring a jacket as it does get chilly in the caves! Almost as great as the tours is the view from the observation deck that features the stretching landscape of the beautiful town of Farmington. Keeping in line with the incredible views, for dinner take the 10-minute drive over to Historic Summit Inn Resort and eat outside at Mae's Dining, the view is absolutely immaculate and is the best way to end an already amazing day.
The last day trip is a two-in-one, headed south again, and is about a 1 hour and 30-minute drive. The first stop is at Fallingwater where you can tour Frank Lloyd Wright's infamous architecture and design. Afterwards take your backpack and packed lunch over to Ohiopyle where you can either spend the rest of your day riding the waves of the Youghiogheny River, enjoying a beautiful hike through the Laurel Highlands, or biking on the Great Allegheny Passage along the banks of the Youghiogheny River. Whichever you choose you are in for a treat and will not regret this trip.
Whatever you choose to do this summer, go outside and explore. Although Pennsylvania may seem underwhelming and Wexford boring at times, there are actually so many beautiful places and parks to discover right around us, so hit the road and go find them, summer only lasts so long.
About the Writer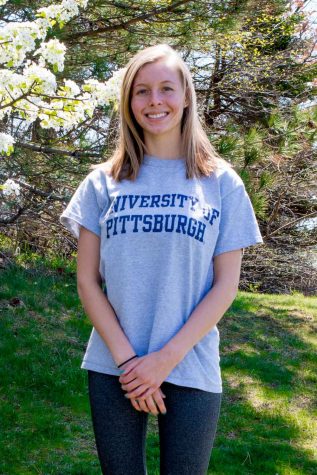 Lea Hendricks, Advice Editor
Lea Hendricks is a North Allegheny senior who has attended NA since Kindgergarten. This is her first year on Newspaper and as a proud Tiger she enjoys...