Good Talk: Officer Ray
Meet NASH's new School Resource Officer
Hang on for a minute...we're trying to find some more stories you might like.
How long have you served on the police force?
I've been a patrolman with the town of McCandless for twenty years.
Is there anything in particular that drew you in to working with North Allegheny?
Working in a school environment is far different from what I've done as far as being a patrolman for the town of McCandless. There is a crisis response team that I am currently involved in. In addition to that, there is a student assistance team, and we work with Jeff Longo. We are trying to develop a program, more of a base-type program, geared toward NASH and its students. What I mean by that is beyond just security and the safety of students, we would like to build a program of relations with the students. We want to be able to look at it from their perspective on what we could be doing better for our patrolmen, you know, why we developed the program.
Had you always pictured yourself having a career in law enforcement?
Yes, I did. I would say it goes back maybe to the 8th grade when I knew that my intentions were to enter the service, which I did. I served 23 years in the service in addition to 20 years as a police officer.
How do you feel about the proposition of more stringent gun control laws?
I guess there are different ways of looking at that. I think I would prefer to look at it more like gun violence.  For example, in the town of McCandless, gun violence isn't as great as it is in inner cities. It's hard to give a clear "here's my perspective" on this when there are people who live through this in their day-to-day environment. It's hard to say how much of a difference stricter gun control would make, because gun violence varies from community to community.
What do you wish to accomplish during your time here at North Allegheny?
I would like to develop the program in a way that exceeds the expectations of the students; I want to build the bridges with them. I want them to look at me as a resource, a mentor, those types of things, as opposed somebody who is here only at the level of security. I just want students to have an understanding that I'm here to provide them assistance.
What are your thoughts on being "back in high school"; do you think things have changed since you were a student?
Being back in high school but now as a police officer is far different from what I expected. I'm getting more comfortable as each day goes by. I'm trying to look at how schools are vulnerable, especially this particular school. I'm looking at your safety in regard to any potential incident that could happen here, and I'm trying to show students that we are not just here to issue citations but also to give them guidance. We are trying to find ways for you to come to us versus finding yourself in a position where you're facing criminal charges. I would like the students here to understand I know that they're great kids but that a crisis could happen anywhere. There is a greater reason why we find ourselves here.
What were you like in high school? What clubs, sports, or classes were you involved in?
Early on in high school, in ninth grade, I was involved in wrestling, ice hockey, and ski club.
Outside of work, what do you find yourself enjoying in free time?
I just got involved in Bigs in Blue through the McCandless Police Department. We're reaching out to third and fourth graders as role models to them. I am also trying to get involved in All About the Lawyer. I look forward to reaching out to them get to get involved in that program as well.
Are you especially looking forward to anything in particular that this year has to offer?
It's day by day, adapting to the position here and making it a safe environment for each of the students here. What I mean by "safe" is that it's not just about getting to school and getting home safely — it's also about trying to get great kids to make the right choices.
What do you wish more people knew about your job?
I think it's important that high school kids understand how certain decisions can lead to criminal charges. I think it's more important that they understand how certain offenses here could lead to being charged. Again, that's not our intent — instead, our intent is to get the information out in order to be more of a deterrent.  I think it is important that students are aware of their actions as far as what happens here. We would like to see a decrease in the number of students we wind up charging, especially so that we can find other purposes for the School Resource Officer being here.
What is your favorite part of the day?
2:45. I look forward to being here, but everyone looks forward to going home. I feel good every day knowing that all of our kids are home safe. 
Click the link below with questions for Officer Ray!
https://docs.google.com/forms/d/e/1FAIpQLSdU-C5ne92wEQxsKfQppCxkX82FLA_jz6tlFkZQPo_0lMBLLA/viewform?usp=sf_link
About the Writer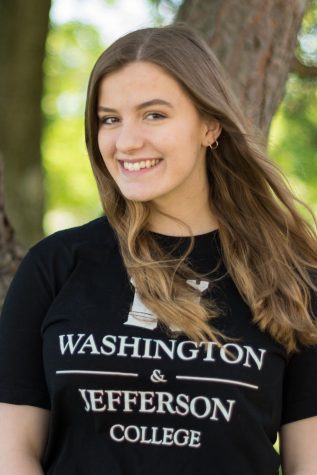 Cassidy Kufner, Reporter
Cassidy is a senior at NASH and hopes to study chemical engineering in college. She serves as a Spanish Club officer, and a member of student council....