Brightest House on the Block
Adam Snider's family made the extra effort, and Santa was watching
Hang on for a minute...we're trying to find some more stories you might like.
From the moment the Thanksgiving plates were placed in the dishwasher, the festive holiday lights appeared. For some households, simply putting up a tree with a strand or two of lights was enough for the season.  Others, however, could never imagine stopping there. 
For as long as he can remember, Adam Snider and his family have created an extraordinary holiday display for their neighbors to behold.   It's not uncommon to see cars idling in front the countless lights and figurines that adorn the Snider's house and yard.
This particular Christmas season, the Sniders' holiday display brought in a special visitor.
"There was this guy," Adam said. "He pulls up to our house, and he gets out of his car. I didn't know what he wanted at first, so it was kind of weird."
The visitor then proceeded to ask Adam and his brothers if they would mind if Santa decided to pay their house a special visit.
"This guy, he looked exactly like Santa," Adam explained. "Mall Santa was basically that guy.  Then he was like, is it okay if he shows up next Sunday around 9?"
Surely enough, at the appointed time Santa arrived at the Snider residence, handing the brothers  light up hats and scarves and the Snider parents parents a $100 Visa gift card for decorating and other costs.
Just as Santa Claus spread a little holiday joy to Adam and his family, the Sniders hope to spread the Christmas cheer to others through their winter light spectacular. Every year, Adam says they go above and beyond with their decorations "because some kids can't afford to go to the big fancy ones, so it's something that we do for people that are less fortunate."
Adam said his favorite part each year is seeing the reactions of people who drive by their house.
"Every time we are decorating and a car drives by, there are kids in the back smiling and having a good time, so that means a lot," he said.
About the Writer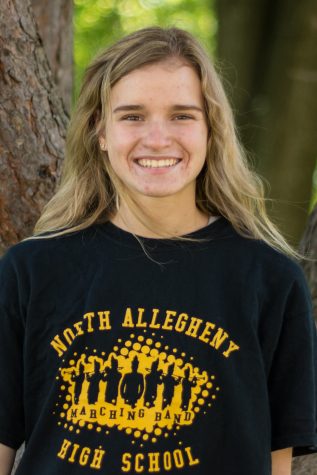 Maddie Kantz, Assistant Sports Editor
Maddie Kantz is currently attending NASH as a Junior and is a member of the NA Girls Lacrosse team. She enjoys spending her time binge watching Youtube...