NASH Library to Host Edible Book Festival
Check out one of NASH's newest events!
Hang on for a minute...we're trying to find some more stories you might like.
Along with the usual happenings in the NASH Library, there is a new event taking place on Wednesday, May 22 after school. Ms. Wienand, the NASH Librarian, and the Library Club are hosting NASH's first annual Edible Book Festival.
Students and teachers are tasked with creating a food display that is inspired by or themed around a book in some way. The entries will be on display for judging, and after the winners are announced, everyone can enjoy the food and talk about their literary inspirations together.
"I think the Edible Book Festival is going to be a really great capstone event for Library Club," said Ms. Wienand. "It's a way to combine some of our favorite things, which are all things literary, all things bookish, and all things related to food."
The Library Club members have been working hard to plan the event, including coming up with ideas and designing and hanging up posters around the school. The group will meet again on Monday to make the final preparations for the event.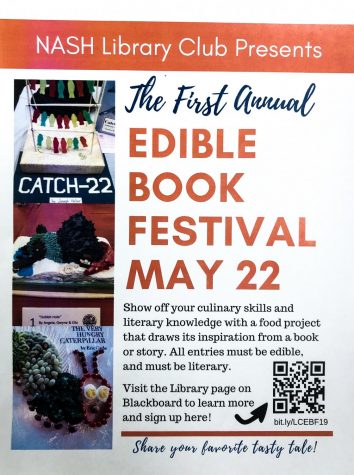 "I'm super excited for the Edible Book Festival," said senior Elizabeth Belden, "because I can combine my love of books with my love of baking. Library Club has been talking about this for months, and I can't wait to see how it all turns out."
Along with members of the Library Club, other students have shared their interest in the event.
"I'm super excited to be a part of this creative festival," said junior Aleni Antalis. "Since it's the end of the year, it's a great opportunity to have a little fun with friends and a distraction from the stress of finals."
This will be the final meeting of the year, so now is the time to stop by, especially for juniors. This event is a great way for juniors to check out the club before next school year starts.
"It's going to be a really nice chance for us to hang out together, be creative together, and talk about books one more time before summer," added Wienand.
Anyone can sign up by scanning the QR codes on the posters in the hallways, or by clicking here, and anyone who needs ideas can check out the NASH Library Blackboard page or search "Edible Book Festival" on Pinterest.
Update: Roman Hladio and Samantha Solenday tied for "Most Delicious," Maria Cima won "Best Design," and Elizabeth Belden won "Best Pun." Check out @TheNASHLibrary on Instagram and Twitter for more photos of the Edible Book Festival.
About the Writer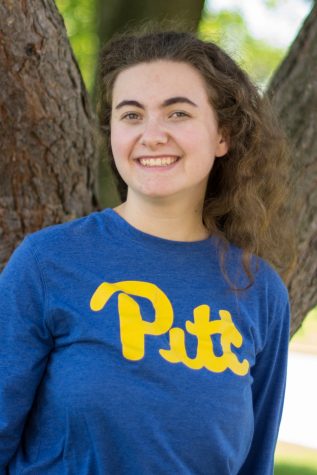 Samantha Solenday, Assignments Editor
Samantha Solenday is a senior at NASH this year. Among other things, she is a member of the NASH choirs and speech and debate team. Next year, Samantha...