Changing Sides
A recent controversial post by NA for Change has sparked division within the district.
Since its founding last spring, NA for Change has remained steadfast in its commitment to "educate friends and families about structural inequalities and propose solutions," as their Instagram account highlights. But the organization's focus on encouraging the community to become advocates for greater diversity and allies to those affected by prejudice has not always been met with unanimous support, as one recent Instagram post revealed. 
On September 4, 2020, NA for Change issued a post labeled "North Allegheny Student Testimonials," which featured quotes from past and present students who feel that they have been discriminated against in the schooling system. The comment section is what really drew the attention, as it resembled something of a war zone.
"Both sides [of the political parties] feel attacked and the other side won't listen to what is true," said McKenna Mitchell, Class of '21,  who identifies as a right-leaning student. "Everyone was pointing fingers and labeling others as racist. I think that it has now hindered me from trying to form a friendship with any of those people, and I feel like that could be the same for them."
The testimonial that set the comment section into action was a quote from a Black student who expressed how he felt unwanted because of his race. He reflected that the confederate flags, whose owners "were white students who were known to hate Black people and use the n-word constantly," were a reminder that he was "hated by a very large portion of my classmates just for being Black."
Emilie Whitewolf, a senior who identifies as left-leaning, found the post to be especially eye-opening.
"I realized just how much inequity and racism truly exist at NA," Whitewolf said. "So many comments were full of ignorance and hatred, especially towards the experiences of other students".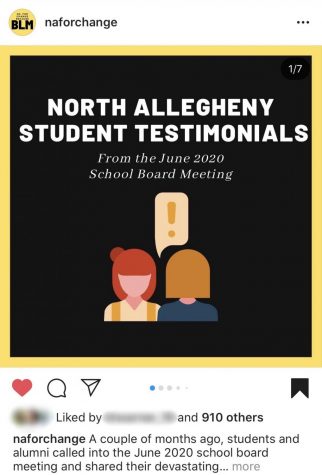 Jack Birch, a junior who identifies as right-leaning, took a more pragmatic view of the controversy.
"I understand that in a perfect world there would be no confederate flags, and no one would care about skin tone," Birch said, "but I don't think the world will ever be like that. It's better to learn to put up with different opinions than to be sheltered from them."
Many students, however, believed that the NA for Change post was taken out of context, that the comment section strayed from the original point and instead became a place to call out others' views.
"I truthfully don't think either side is solely at fault here—we all have our own biases," said senior Emily Thompson, a senior who identifies as a moderate liberal.  "But we're at a point where people are so willing to argue and not seek compromise." 
Another student, who identifies as right-leaning and asked to remain anonymous, questioned not the content of NA for Change's platform but the way it is being delivered.
"I would support the whole movement [NA for Change] if they weren't so biased and self-righteous," the student said. "Their cause does not drive people away. The way they go about it does."
But for organization co-founder Jaime Martinez, Class of '20, the differing views surrounding NA for Change are unfortunate.
"NA For Change is, at its core, a strong message of unity," Martinez said.  "Our focus is neither partisan politics nor ingratitude, but equity, empowerment, and positive progress."